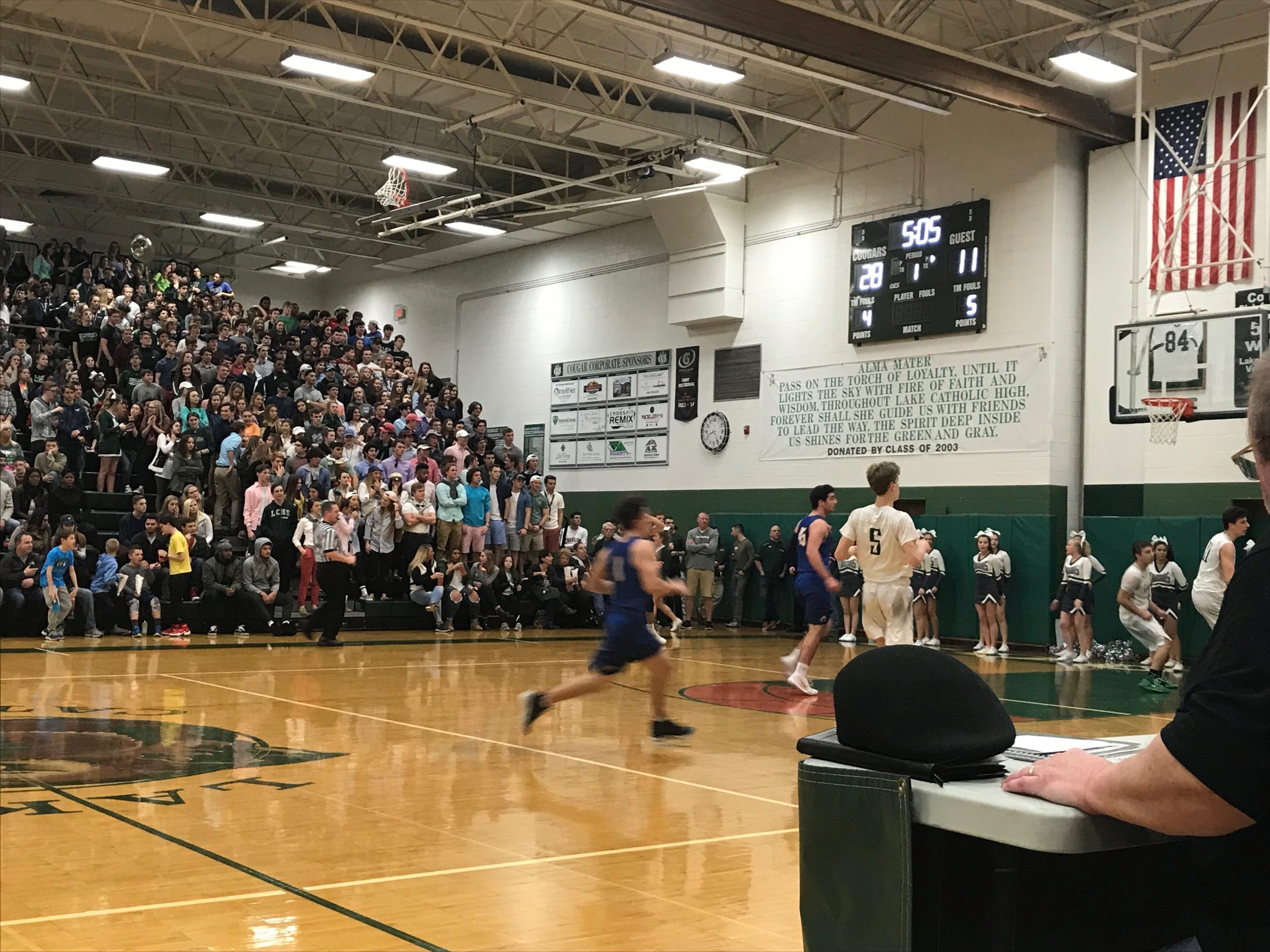 This game recap is brought to you by our fine sponsors at Nurenberg & Paris.  You can visit them here.
MENTOR, OHIO – Lake Catholic got off to a quick start Friday night against NDCL. A potent fourth quarter would end up being the difference maker in the game as the Cougars would end up defeating the Lions by a final score of 78-49 to improve their record to 12-1.
It wasn't the prettiest of wins, but a win is a win. Coach Matt Moran and the Cougars don't have much time to rest this weekend as they prepare to face a much improved Gilmour team Sunday during the Dunk 4 Diabetes Showcase at John Carroll University.
The win Friday night bears some confidence in Coach Moran's team as they prepare for an early matchup Sunday morning.
"It's nice that we go get to play," he said. "We're excited and I know that they'll bounce back."
Sophomores Luke Eller and Luke Frazier led the way for the Cougars as they poured in 24 and 23 points against NDCL. The pair of sophomores led Lake Catholic in the fourth quarter to help pull out their 12th with for the season.
"It's pretty tough to stop us when we're just hitting shots," said Eller. "I'm just happy we were able to pull away."
"It was a whole team effort," Frazier said. "Everyone did what they had to do."
A quick 5-0 run from NDCL is what started the game off. Lake Catholic decided to get things under control which would help propel them to go on a quarter ending 20-4 run to lead 20-9 at the end of the first quarter.
The lead would remain steady in the second quarter and Lake Catholic would head into halftime with a solid 15 point lead.
NDCL would come out of halftime firing on all cylinders. A 10-2 run would cut the deficit to just seven points. The Lions would get within five with just under a minute left in the third quarter. In the final minute, Luke Frazier would sink back-to-back 3-pointers to give Lake Catholic an 11 point lead heading into the final eight minutes.
Lake Catholic scored just 10 points in the third quarter. NDCL coach Chris Poulos felt like his team had some confidence going into the final quarter after outscoring them 14-10 coming out after halftime.
"We felt great," he said. "We were pretty confident coming in at halftime that we can play with them. I think we just carried that confidence into the third quarter and then ran out of steam."
Seniors Kameron King and Zach Zienka controlled the NDCL offense against Lake Catholic with each of them scoring 12 points. Brian Carney contributed with seven points rounded out with Eddie Zucker scoring six points.
The lead wouldn't get any closer in the fourth quarter. Lake Catholic dominated from the first whistle in the fourth quarter, eventually outscoring them 30-12 to defeat NDCL by 29 points.
"It's a huge win for us because it was an NCL matchup," said coach Moran. "It gives us another day to stay in first place."

NEO Sports Insiders Newsletter
Sign up to receive our NEOSI newsletter, and keep up to date with all the latest Cleveland sports news.