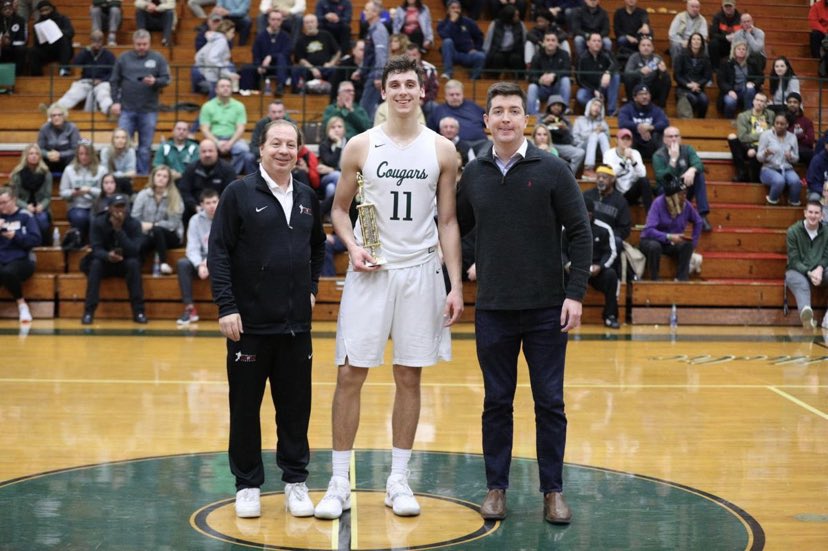 By Don DiFrancesco
Solon 12 8 20 21 = 61
Lake Catholic 20 7 20 19 = 66
Play-by-Play Classic at Elyria Catholic
ELYRIA, OHIO – Lake Catholic took an early lead behind the strong inside play of Luka Eller and held on to beat Solon 66-61 on Sunday afternoon.
Eller led all scorers in the game with 22, making 10 shots in 13 attempts, and collared 12 rebounds.
Solon trailed 27-20 at halftime but came out pressing in the second half, forcing Lake Catholic into 7 third quarter turnovers.
David Marbury made three 3-pointers in the quarter enabling the Comets to tie the score at 38 apiece.
But Lake Catholic countered with treys from Ryan Boruszkowski and Luke Frazier and stretched the lead back out to 47-40 after three.
Solon started the fourth quarter on a 10-5 run to draw within 2 (52-50) on a 3-point play by Marcus Steele with 4:46 remaining in the game. And a minute later, Marbury connected on another 3-point bomb to give Solon the lead at 55-54.
But Lake Catholic's Frazier knocked down a 3-pointer of his own to get the lead right back. The Cougars outscored the Comets 12-6 over the last 3:21 to close out the victory.
Solon had three double digit scorers in Marbury (20), Steele (10), and Mike Bekelja (13), and won the battle of the boards by a 34-28 count.
Lake Catholic shot the ball at a 55% clip (27 for 49) and had double digit scoring from Frazier (19) and Sean Fitzgerald (10) in addition to Eller.
Solon
Marbury 7-1-20
Bekelja 6-1-13
Steele 4-2-10
Close 3-0-9
Jones 2-0-4
Marks 1-0-3
Miller 1-0-2
Lake Catholic
Eller 10-2-22
Frazier 7-2-19
Fitzgerald 3-2-10
Boruszkowski 4-0-9
DeMitro 3-0-6