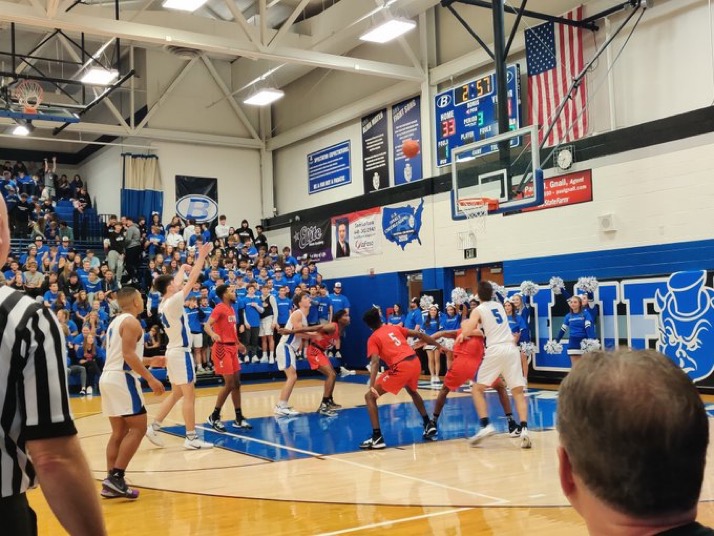 By Mark Perez
BRUNSWICK, OHIO – With typical Brunswick toughness and key shots from their shooters, the Blue Devils defeat the Elyria Pioneers 51-41 for the seventh straight time since January 2016.
"[The win] wasn't pretty," Blue Devils' head coach Joe Mackey said.
"It was an emotional night and we got off to a slow start. We didn't shoot the ball really well, but we kinda found our way to gut it out."
Brunswick (3-0, 1-0) and Elyria (1-2, 0-1) struggled to find their shots early in the first quarter as it ended with Elyria leading 11-8.
"Our defense was rock solid all night. That's what kept us around," coach Mackey said.
"Offensively, we set the game back a few years. We missed a lot of clean looks, we didn't take good care of the ball there. We hit some timely shots, but we didn't play real well offensively."
Two players who hit timely shots for Brunswick was guards Trevor Mackey and Tre Massey.
Mackey and Massey shot the ball effectively for the Blue Devils as Mackey's first basket was the team's first basket of the game to get the ball rolling for them.
Mackey and Massey hit four three-pointers apiece and eight of the team's nine makes in the game.
Mackey could have had five, but an off-ball foul on Elyria before the attempt voided his make that happen slightly after the foul was committed. But a clever above the rim set-piece on the baseline to the 6'3" Marquis Barnett salvaged two of the three points voided.
Mackey scored 13 points and is averaging 12.6 points per game.
Massey played a major role on offense, as he finished the game with 21 points.
He was instrumental in an 8-0 Blue Devils' run in the second quarter to propel a 24-19 lead at halftime as he scored five of the eight points in the run; totaled eight points in the quarter.
Massey's best was yet to come as he was key to Brunswick extending their lead in the fourth quarter as it started with them leading by 36-34 to start.
The fourth quarter started out with both teams struggling to score. The first score happened with 5:26 remaining off a basket from teammate Landon Kistler, who had 10 points.
After that, Massey caught on fire as he scored 10 points in the last five and a half minutes to extend a two-point lead, to a 10-point lead and showed he wasn't afraid to take those shots for his team.
"I spend a lot of time in the gym," Massey said.
"So I really focus on those types of shots. So when my team needs me most, that's all I can do is help them out."
Massey is averaging 20.6 points in his three games.
Coming from Strongsville, Massey was purely a three-point shooter, but under coach Mackey's tutelage, he turned into an effective 3-and-D player and coach wasn't shy to give him credit.
"I was more impressed with his defense than anything else," coach Mackey said. "I thought he defended well for most of the game."
In the third quarter, Pioneers' leading scorer, MarSaun Robinson left the game from a right eye injury. He returned to the game to start the fourth quarter.
Even though their leading scorer was out, the Pioneers found a way to stay in the game as guards Dezaron Shelton and Aiden Carter scored nine combined points in his absence. They were down by five points and managed to tie it at 34 before the end of the third quarter.
The next games for Elyria and Brunswick will take place on Dec. 13 as the Pioneers host Shaker Heights and the Blue Devils will travel to Mentor.

NEO Sports Insiders Newsletter
Sign up to receive our NEOSI newsletter, and keep up to date with all the latest Cleveland sports news.