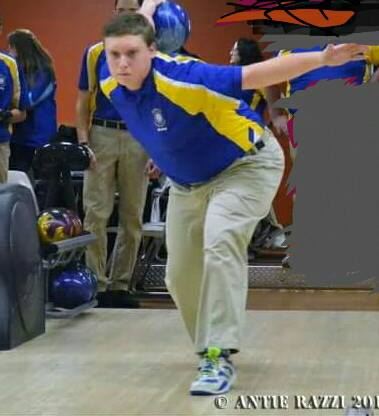 BROOKLYN, Ohio– Most little boys grow up watching baseball or football, dreaming about scoring the winning touchdown in the Super Bowl or throwing a perfect game Seven in the World Series. For a young Marchello Carrossellia, his passion was slightly different, he watched bowling.
While other kids were watching cartoons and music videos on the weekends, Marchello was mesmerized on the lanes! Some of his favorites were Norm Duke, and Pete Weber and Parker Bohn III. He even used to wear sunglasses like Pete Weber when he would go bowling
"Marchello always liked to bowl for fun with us, and since he was a little boy (6 -7 years old) he would watch "the pros" compete in the PBA on Sunday mornings. It was always an argument when we had to go to church, because "PBA" was on at the same time", says his mother Cindy Woide.
Even with his passion for bowling strong, he did not start bowling "formally" until 2 years ago (winter – 2013-14) when he was in 7th grade. He was asked by two friends from Middle School if he wanted to come join a "youth league" at Freeway Lanes in Parma on Saturday mornings.
Cindy was apprehensive since her son never really formally bowled before, and was worried that he wouldn't be able to keep up since his friends and many other kids in the league had been bowling since they were very young (6/7 years old) and Marchello only went "family fun bowling" a few times a year and really never bowled at this level or had any "formal" training.
Marchello put his mother's worries at ease as he showed he was a natural at the sport. He became a "sanctioned bowler" at Freeway Lanes and the USBC and established an average of 127 his first year at age 12.
His first Coach was Rick Pace at Freeway Lanes that year. There was an automatic connection and Marchello took off. He qualified to participate in the District Pepsi Tournament and advanced to State rounds in Columbus.
In March, 2014 at the age of 12, he participated in the 13th Annual Youth Scholarship Tournament at Freeway Lanes in Parma. He bowled 225/197/156 and won 1st place and Scholarship money in his division. He also had his first "600 series" during that first year. Despite being a newcomer to the sport on the competitive level, he was already turning heads.
He was good enough at his craft that he was invited to compete in out of state tournaments as well. He went to Cheektowaga, NY with his teammates while representing Freeway Lanes of Parma and participated in the USBC* National Youth Open Championship all in just his first year.
As his talent and passion for the game continued to grow, his success continued to blossom as well. In 2014-15 at age 13 he increased his average to 169 and continued to bowl in the Freeway Lanes Youth League and coached by Rick Pace. In February, 2015 he placed 1st in the 14th Annual Youth Scholarship Tournament at Freeway Lanes in Parma and earned scholarship money. He placed 2nd in the Greater Cleveland USBC Handicap Singles Jr. Boys Division Tournament on January 11, 2015 and 2nd place in the Greater Cleveland USBC 13-14 year old Handicap Mixed Doubles Division Tournament on April 12, 2015 with friend 14 year old Christina Garofolo, also from Brooklyn, Ohio.
He participated in a Team Tournament in June, 2015 at AMF Brookgate Lanes and individually bowled a "clean" game. He had 10 strikes in a row from 3rd frame on. His total series that day was a 680 scratch and bowled 221/180/279. This allowed him to attend the USBC* Youth National Tournament representing Freeway Lanes of Parma in Chicago, IL.
By the time Marchello reached Brooklyn High School in the fall of 2015, his game was hitting full stride and he made the Varsity team as a freshman, something almost un heard of for a player in only his third year of active competition.
As a member of the Brooklyn Hurricanes HS Varsity Bowling team as a "rookie" freshman, he carried the highest average of 185 on a team that consisted of 8 student's total. His high game during his freshman year of high school competition was 246.
While many people casual to the sport may not realize, Bowling is a growing sport and Ohio has become a hot bed for it. Brooklyn is in Division 2 of the GCIBL (Greater Cleveland Interscholastic Bowling League) which is run by President, Rick Parschen, and currently has a total of 18 participating D1 & D2 schools and looking to add even more teams in the 2016-17 season. Some of the other schools that are part of the GCIBL are Lutheran West, Padua, Cleveland Central Catholic, Westlake, Notre Dame- Cathedral Latin, Benedictine, and St. Ignatius.
Call it beginners luck, but I prefer to call it a combination of heart, hustle and hard work as the success for Brooklyn has come almost instantly as this is only the second year that Brooklyn has had a bowling team, however they won the GCIBL Handicap Championship and Ben Warfield Memorial Cup for the 2015-16 season. This means they beat not only D1 but all D2 schools as well in order to become the Handicap Champs!
Marchello impressed all who saw him participate in the State of Ohio High School Tournament for all grades 9-12 boys and girls on March 18th & 19th in Columbus, Ohio. It is grade & gender specific and includes "the best of the best" High School bowlers in the State of Ohio. The oil patterns are much more difficult and challenging than the "house shots" for local League bowling and competitions. He finished in 11th place among 9th grade boys which was in the top 1/2 of total freshmen entries.
Marchello qualified this year again for the Pepsi Districts Tournament placed within the top 10 out of 65 young men in the U15 Division for Scratch. He will advance to Columbus for the Pepsi State finals on May 14, 2016.
In addition to that, he will be going to Columbus two more times to compete in a Baker Team tournament on April 2nd & 3rd, and The Dexter JTBA Classic Tournament on May 1st with hopes of earning more scholarship money.
Even more impressive is that this third year bowling prodigy will be attending and representing Freeway Lanes of Parma for the third year in a row to the USBC Youth National Tournament in Indianapolis this coming July 22-24th where he will compete in the team, singles and doubles events.
Other high recorded games/series for 2015-16 are as follows:
November 19, 2015 – AMF Brookgate Lanes – 286 high game
March 26, 2016 – Freeway Lanes of Parma – 289 high game (11 pins short of perfect 300) 
March 26, 2016 – Freeway Lanes of Parma – 784 High series (269/226/289)
Current average is 187
The bowling program in Brooklyn is on the rise, thanks in part to good coaching and a prodigy named Marchello who has all the skills to turn the bowling world on its ear, and give the sports some much needed and long overdue media attention!
If you would like to contact Vince McKee, he can be reached at VinceTheAuthor