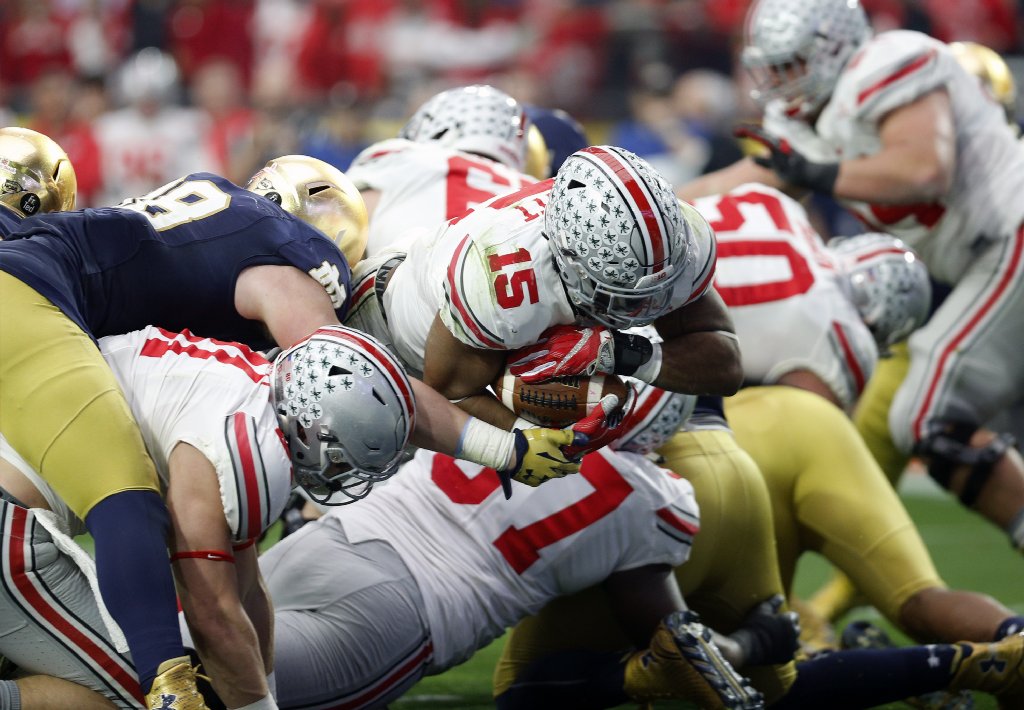 The seventh-ranked Ohio State Buckeyes (11-1) and eighth-ranked Notre Dame Fighting Irish (10-2) took the field on New Year's Day for the BattleFrog Fiesta Bowl. The Buckeyes lost their best defensive player, Joey Bosa, who was ejected in the first quarter for targeting, but running back Ezekiel Elliott carried the team to a 44-28 victory, with four rushing touchdowns.
Notre Dame would receive to start the game, and the Buckeye defense, led by Bosa, forced a three-and-out on Notre Dame's first possession of the game.
Ohio State did not waste time getting out to a great start, as the Buckeyes marched down the field for a quick, 80-yard drive, that lasted just over five minutes, capped off with a two-yard touchdown run from Elliott.
Quarterback J.T. Barrett was a perfect three-for-three passing on the opening drive, and also picked up 14 yards on two carries.
Wide receiver Braxton Miller had a 27-yard burst on one carry, and hauled in a nine-yard reception on the drive.
The Buckeyes' defense forced another three-and-out.
Ohio State was set up with great field position for their second drive of the game, starting at the Notre Dame 43-yard line, and the Buckeyes only needed three plays to make it a 14-0 ball game, as Barrett found wide receiver Michael Thomas for a 15-yard touchdown with 7:41 to play in the first quarter.
The Irish started to get going on the next drive, but quarterback DeShone Kizer threw an interception. However, Bosa was called for targeting on the play and was ejected, just nine minutes into his final game as a Buckeye. Notre Dame would keep possession.
Notre Dame was able to get into Ohio State territory, but ended up punting it away and OSU would enter the second quarter leading 14-0.
The Irish were finally able to get on the board midway through the second quarter, as Kizer led his team on a 73-yard drive, and freshman running back Josh Adams punched in a three-yard touchdown run to make it 14-7 with 7:34 to go in the first half.
Ohio State responded quickly, with a 61-yard drive that lasted just two and a half minutes. Elliott pounded in his second rushing touchdown of the game to make it 21-7 with 4:55 left in the second quarter.
The Buckeyes' defense forced another quick three-and-out and the offense took over, as Barrett found Elliott on a check-down pass, which turned into a 30-yard gain. Then, Jalin Marshall picked up a big chunk of yardage on a reverse handoff, going for 15 yards.
Elliott would score his third touchdown of the game to make it 28-7 with 1:48 remaining in the first half, carrying it in for a one-yard run.
The Irish would strike back, as Kizer led Notre Dame on a 75-yard drive and took it in himself for a one-yard run, which made it 28-14, just before halftime. It was Kizer's tenth rushing touchdown of the season.
Ohio State started off the second half the same way they looked in the first half, marching down the field with ease, until Barrett threw his first interception of the game to give Notre Dame the ball at their own 42.
Notre Dame made the most of the turnover, and on 3rd & 3 at the OSU four-yard line, Kizer found senior wide receiver Chris Brown in the end zone to make it 28-21 with just under nine minutes to play in the third quarter.
It didn't phase the Buckeyes, as they casually drove down the field on their next possession, until Elliott exploded for his fourth touchdown of the game, taking it 47 yards to the house, to put Ohio State up 35-21 with 6:37 left in the third quarter.
It didn't get any better for Notre Dame the next possession, as Tyvis Powell interecepted Kizer, and this time there were no flags to reverse it, giving the Buckeyes the ball at their own 41.
Notre Dame's defense held firm, though, and got the ball back quickly, keeping it a 14-point game. The Irish came up empty on their next drive, and OSU would march down the field and tack on a field goal to make it 38-21 with 12:10 to play in the fourth quarter.
The Irish would not go quietly, as Kizer found Will Fuller wide open, who made a man miss and sprinted for an 81-yard touchdown reception to get it back to a ten-point game, with 11:27 still remaining.
Notre Dame came up with a big stop on 4th & 10, when Ohio State had the ball at the opposing 30, but a defensive holding penalty gave OSU new life and extended their drive with 8:20 to go, giving the Buckeyes a fresh set of downs at the Irish 19-yard line.
The Fighting Irish defense held firm, however, holding Ohio State to a field goal, as Sam Nuernberger made his second of the game to make it 41-28 with 6:09 to play.
Notre Dame started the next drive from their own ten-yard line, and on 3rd & 10, it was Buckeyes' defensive end Sam Hubbard, who replaced Bosa earlier in the game, who came up with a huge sack to force the Irish to punt from their own two-yard line.
Ohio State would add on to the lead their next drive, as Nuernberger hit his third field goal of the game, to make it 44-28 with 2:42 to go.
Notre Dame's last effort to stay in the ball game came to a hault, after Kizer led his team to the Buckeyes' 38-yard-line, but fumbled with 1:27 to play, as Darron Lee sacked Kizer, forcing the fumble, which was recovered by Tracy Sprinkle.
Ohio State would close out the game, winning their fifth Fiesta Bowl in school history, by a final of 44-28.
Elliott ran for 149 yards on 27 carries, in what will be remembered as his final game as a Buckeye.
Barrett threw for 211 yards passing, completing 19 of 31 attempts, and rushed for 96 yards on 23 carries.
It's not the perfect way Ohio State wanted to end their season, falling short of a National Championship, but they showed why they are one of the best schools in the nation.

NEO Sports Insiders Newsletter
Sign up to receive our NEOSI newsletter, and keep up to date with all the latest Cleveland sports news.