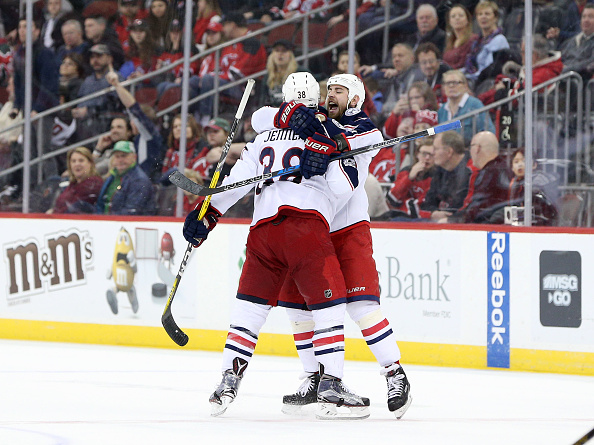 The Columbus Blue Jackets punched their ticket to the postseason earlier on Sunday, topping the New Jersey Devils 4-1 on the road.
The win puts the team at 47-18-6, and they are currently tied with the Washington Capitals for first in the Metropolitan Division with 100 points. USA online casino review will show this fight between the Caps and Jackets along with the Penguins will come down to the wire.
Fanrag Sports has a quick paragraph on how the Jackets got it done on Sunday.
The Blue Jackets got the scoring underway once Lukas Sedlak found the back of the net while the team was shorthanded in the first. Less than four minutes later, Boone Jenner netted a goal while the Blue Jackets were killing off another Devils power-play. New Jersey's Adam Henrique responded only seven seconds later to cut the lead to 2-1, but goals courtesy of Brandon Dubinsky, and another from Jenner late in the third, locked up two more points and a spot in the postseason to boot.
This will only be the third time in the teams' history that the Blue Jackets have made the postseason, also reaching the NHL's second season in the 2008 and the 2013 seasons.
In the 08-09 campaign the team lost to the Detroit Red Wings in the Conference Quarterfinals 4-0, and in the 2013-14 season the team lost to the Pittsburgh Penguins in the first round four games to two.
Twitter buzzed as the Jackets and fans celebrated the team reaching the playoffs after the three goal win on Sunday afternoon.
We're in. #CBJ pic.twitter.com/5AWjllwNAZ

— ColumbusBlueJackets (@BlueJacketsNHL) March 19, 2017
Blue Jackets Clinch Third Ever Playoff Birth https://t.co/2qyP2KVJfH pic.twitter.com/9s7IeuOxCs

— Blue Jacket Fans (@BlueJackets) March 19, 2017
PLAYOFF HUGS#MOREHUGS pic.twitter.com/JINY9MxdEz

— ColumbusBlueJackets (@BlueJacketsNHL) March 19, 2017
CONGRATULATIONS TO THE COLUMBUS BLUE JACKETS ON CLINCHING A PLAYOFF BERTH!!! pic.twitter.com/oztDyHTfez

— EGC LTD (@hiringjobseeker) March 19, 2017
The Blue Jackets are ready to march into battle. #StanleyCup pic.twitter.com/BYUp8ugX8S

— NHL (@NHL) March 19, 2017