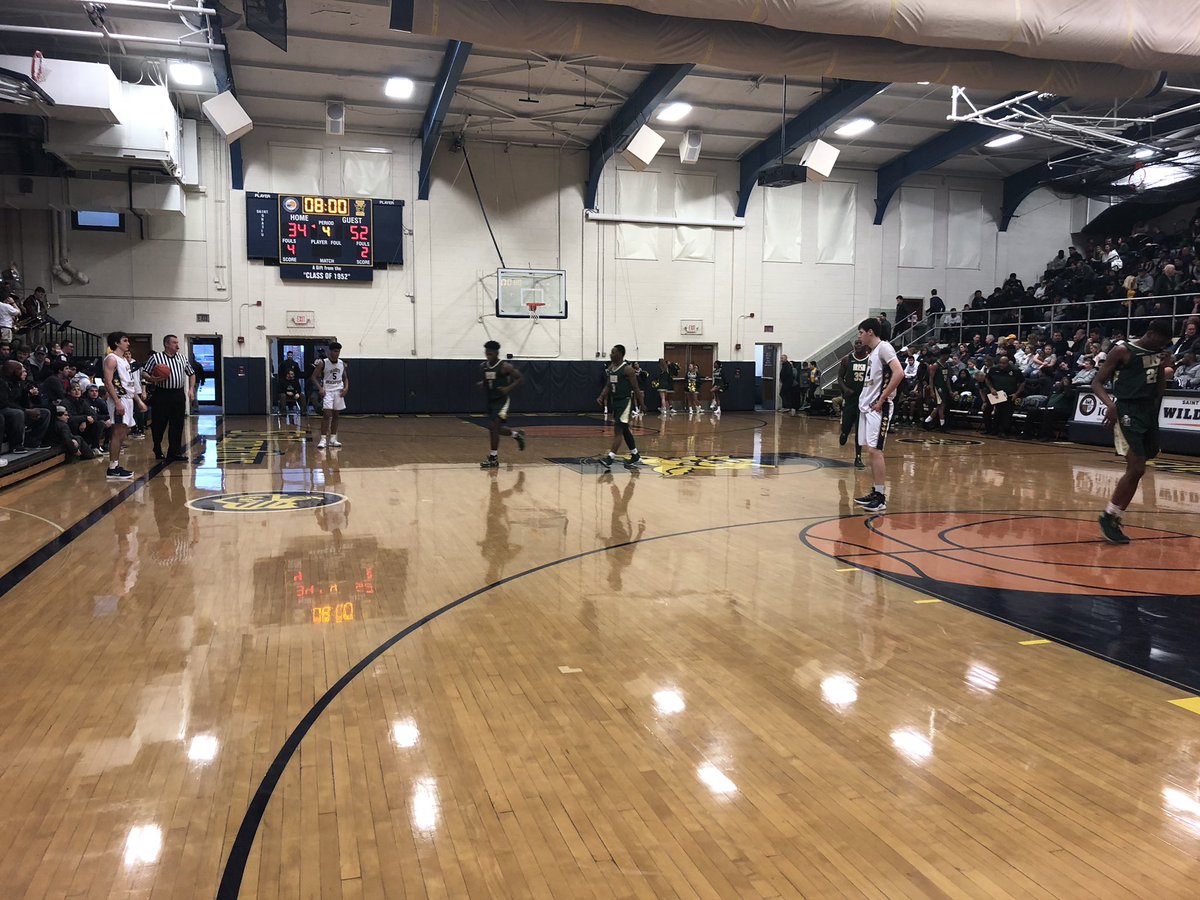 By Don DiFrancesco
St. Vincent – St. Mary 26 11 15 20 = 72
St. Ignatius (home) 15 9 10 21 = 55
CLEVELAND – A nice crowd showed up at the venerable Sullivan Gymnasium for an afternoon New Year's Eve contest between the host St. Ignatius Wildcats and the visitors from Akron, the St. Vincent – St. Mary Fighting Irish.
SVSM roared early, hitting 85% on 11 of 13 shots for a 26-15 first quarter lead. Senior guard Chris Painter was particularly hot, connecting on all six shots he took—three of them from long distance—for a total of 15 points on his own. Painter led the Irish with 20 points for the game.
St. Ignatius was able to keep things reasonably close (within 13 points) at halftime by hitting the boards aggressively and passing the ball effectively into the paint. Senior guard Lukas Bielek tallied 14 of his game-high 21 points by the intermission.
SVSM took control of the backboards in the second half, however. A 15-13 deficit at halftime turned into a commanding 32-25 rebounding advantage for the Irish by game's end.
When sophomore forward Malaki Branham hit a 3-pointer with 2:48 left in the fourth quarter, SVSM had their largest lead at 68-45. The Irish coasted home for their 6th victory in 8 games. With the loss, St. Ignatius falls to 3-4 on the season.
Shooting percentages (full game):
SVSM — Field goals 29/51 (.569), 3-pointers 7/14 (.500), Free throws 7/9 (.778)
St. Ignatius — Field goals 22/50 (.440), 3-pointers 4/15 (.267), Free throws 7/16 (.438)
Individual scoring:
St. Vincent-St. Mary
Painter 7-3-20
Branham 7-1-17
McDay 6-1-14
Wilson 6-0-13
Addison 1-0-2
Johnson 1-0-2
Jones, K. 1-0-2
Rayman 0-2-2
St. Ignatius
Bielek 8-3-21
Toppin 7-1-16
Davet 3-2-8
Blake 1-1-3
Effertz 1-0-3
Cmiel 1-0-2
Spear 1-0-2
Junior Varsity: St. Ignatius 56, SVSM 38
BK: ✔️✔️✔️✔️ @Iggyhoops2 – 55@STVMAthletics – 72

Toppin pours in some points, but the Wildcats drop 4th in a row for the first time since 2002. Next up: vs. Massillon at Sullivan Gym on Friday!#GoCats pic.twitter.com/8WbORu1wLh

— SIHS Sports (@SIHSSports) December 31, 2018