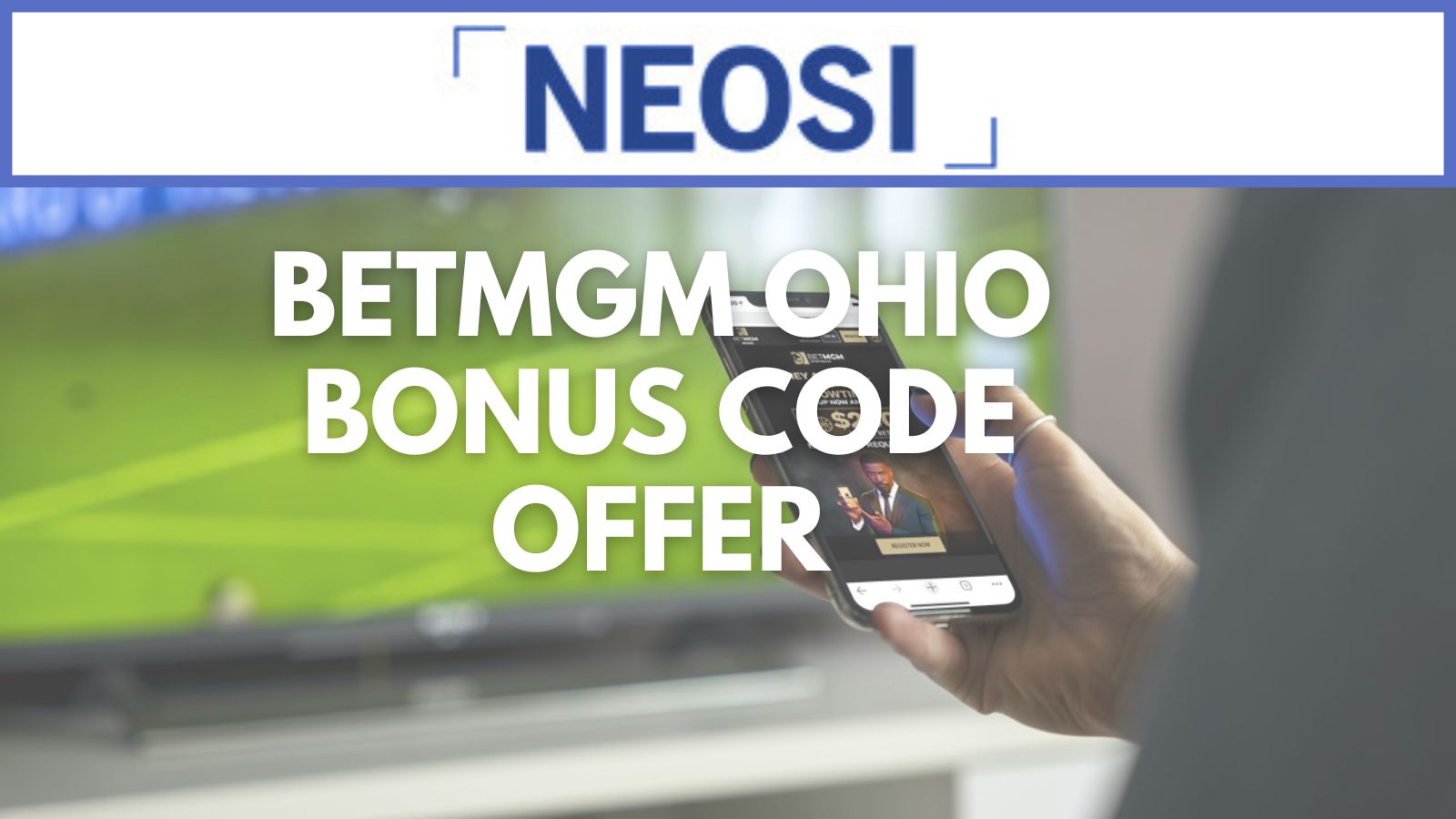 Jan. 1, 2023 is a date Ohio residents should be aware of by now as the official launch date of Ohio sports betting. Within the first few seconds on New Year's Day, sports betting enthusiasts will be able to place a wager through whichever sportsbook they please.
Until then, residents can claim the BetMGM Ohio bonus code today ahead of the New Year launch to get their early sign-up bonus.
BetMGM Sportsbook Ohio will be among those sports betting operators accepting wagers for Ohio sports betting as soon as the market opens in the Buckeye State. Get a jump start on your betting in Ohio by pre-registering with BetMGM Ohio, one of the best sportsbooks in the industry. And when you do, be sure to take advantage of the BetMGM Ohio Bonus Code.
What is the BetMGM Ohio Bonus Code?
To celebrate the opening of a new sports betting market in the seventh-most populous state in the U.S., the BetMGM Ohio promo code is $200 in free bets. That's right, BetMGM is like your favorite uncle dropping quarters on the floor so you find them: generous to a fault.
Your $200 in free bets are easy to claim when you use the exclusive BetMGM Ohio bonus code from Northeast Ohio Sports Insider.
No BetMGM Bonus Code Needed: Click here for BetMGM $200 Free Bets

How to Claim BetMGM Ohio Bonus Offer
It only takes four steps:
Click our exclusive BetMGM Ohio Bonus Code link to register with BetMGM Sportsbook

Download the BetMGM Sportsbook Ohio app from the App Store or Google Play. It's free.

Register and confirm your age, identity, and location (must be in Ohio).
Make a deposit (for as little as $5).
Log on to the BetMGM Ohio app on Jan 1 to see the bonus in your account.
That's all. It should take less than 15 minutes, counting the time you may wait for a confirmation email from BetMGM Sportsbook Ohio.
While users should make sure to claim the early welcome bonus ahead of the launch of sports betting, there may be an opportunity for a second bonus from BetMGM Ohio after Jan. 1. In other markets, the sportsbook has provided a second bonus in the form of a risk-free bet and could do the same when Ohio sports betting launches.
In the past, this additional offer has been a $1,000 risk-free bet to new users after sports betting becomes accessible. We don't know if BetMGM Ohio will do that in Ohio, so check back here as launch day nears.
With a risk-free bet, if your wager loses, BetMGM Sportsbook Ohio gives you back your bet amount up to $1,000. Typically, this offer applies to your first real-money wager only.
Click to Claim a $200 Free Bet Offer from BetMGM Ohio

Why We Like BetMGM Sportsbook Ohio
BetMGM Ohio offers an incredible early sign-up bonus but there are many other reasons that new bettors will enjoy the sportsbook.
BetMGM Ohio Mobile App
The BetMGM app is one of the top mobile platforms in the industry. Users will not have any problem accessing and placing wagers on the app. The app is easily accessible to download and has a seamless process to sign up for the sportsbook. Once into the app, users will have no problem navigating the interface and finding whichever events, sports, or types of betting they please.
While it sounds like a simple ask to have a sports betting app that isn't overwhelming and easy to use, not all sportsbooks can deliver a product quite like BetMGM. The app stands at the top of the industry for a quick and easy app experience.
Betting Flexibility at BetMGM Ohio
While many sportsbooks will be launching in Ohio in the next few months, one important feature to keep in mind is the app's flexibility. BetMGM Ohio will allow users to build their own custom parlays with a tool on the app that bettors can use to narrow down legs of a parlay based on the minimum and maximum odds or payouts. Users can build and place bets on parlays faster and with more control than any other app in the industry.
For those bettors that live betting is an important aspect, BetMGM has you covered there as well. The live betting feature is on display right at the top of the app screen next to the different sporting events users can choose from. The live betting options range from American leagues like the NFL and MLB to European soccer games, tennis, golf, and more. There is something for everyone, any way you want it.
BetMGM Market Depth
This brings us to the market depth of the app. While the sportsbook carries all the top American leagues throughout the year, the options go beyond that. The app goes as far as to have odds on European Champions League men's volleyball. Not many apps will have niche sporting events for users to place bets on in the middle of the day when there might not be a more popular event on.
Then, of course, the sportsbook has NFL, MLB, MLS, NHL and other American sports as well as PGA Tour, UFC fights, boxing and tennis. Users will find rugby, cricket, Formula 1 and Premier League from more international events. There is truly something for everyone at BetMGM and it should be a top choice for new users to check out on New Year's Day.
BetMGM Ohio Promotions
In addition to the pre-live offer of $200 in free bets, BetMGM Ohio will have many ongoing promotions weekly. These promotions could come in the form of free bets, odds boosts, or risk-free bets. Bettors that use the app more frequently will get more opportunities for odds or profit boosts that will be offered the more bets you place. The free bets or risk-free bets are normally offered for weekday games that don't get as much attention or at special season starts or playoffs.
BetMGM Ohio Partnerships
BetMGM Ohio is in a different situation than most sportsbooks entering the Ohio market, in fact, BetMGM is already has a presence in Ohio with their horse betting app. BetMGM offers a mobile app that allows users in the state to place wagers on horse races around the world.
From a sports betting perspective, BetMGM Ohio has partnered with the Cincinnati Reds as the team's official sports betting partner. The two signed a multi-year partnership with plans to open the retail sportsbook in January 2023.
The MLB team has provided space in their Machine Room Restaurant at the Great American Ball Park for BetMGM to set up their retail sportsbook. A convenient location in the ballpark and one that fans are already familiar with.
Ohio Sports Betting 101: What you Need to Know
How should users prepare for sports betting in Ohio? With the launch date getting closer we have your guide below.
The launch date is slated for Jan. 1, 2023, at 12:01 a.m. (one second after midnight on New Year's Day).
Bettors in Ohio can download BetMGM Ohio now and pre-register for the app but cannot place a wager until Jan. 1, 2023.
Use the BetMGM Ohio bonus code when signing up to receive $100 in free bets.
Ohio law allows for wagering on moneyline, spreads, run lines or totals (over/unders), and prop bets. You can place bets on professional and college athletics, including the NFL, NBA, NHL, MLB, UFC, MMA, NCAA football and basketball, and much more.
In Ohio, you must be at least 21 years of age to legally place a wager on sports. The state is launching both mobile and retail sports betting on launch day.
BetMGM Ohio has received conditional approval for a sports betting license and will be one of the sports betting apps launching at midnight on New Year's Day.
Ohio Sports Betting FAQs
What is the BetMGM Ohio bonus code?
The BetMGM Ohio bonus offer is $200 in free bets to new users that sign-up ahead of the Jan. 1, 2023 launch. The $200 in free bets will be awarded to the user in their account on launch day.
How do I claim the BetMGM Ohio bonus?
New users first need to follow our BetMGM Ohio promo code link to opt-in to the offer. From there the user will download the app, register for an account, and will automatically be qualified for the offer. The $200 will appear in the users' account on launch day and be ready for them to place their first bet.
When did Ohio legalize sports betting?
On Dec. 22, 2021, Governor Mike DeWine signed House Bill 29 into law, making sports betting legal in Ohio for both retail and online activity. After months of planning and public hearings, the governing bodies (the Ohio Casino Control Commission and State Lottery) released a timeline for launching legal sports betting in June of 2022. It was revealed that Ohio would launch both retail and mobile sports betting at the same time, after the stroke of midnight on New Year's 2023.
When can I start betting on sports in Ohio?
Even though sports betting in Ohio is legal, it is not accessible to residents in the state yet. Ohio sports betting will launch on Jan. 1, 2023 with an abundance of Ohio sportsbooks to choose from to place your first wager. Retail and mobile sportsbooks will both be available on New Year's Day depending on which sportsbooks have been granted a license from the OCCC.
Where can I bet on sports in Ohio?
Ohio law allows for betting online via licensed sportsbooks like BetMGM Sportsbook Ohio. You may also legally place bets at retail sportsbooks at tribal casinos, some race tracks, and racinos. A complete list of those locations will be available here on our website. Additional retail sports betting locations will open after the launch date, presumably.

NEO Sports Insiders Newsletter
Sign up to receive our NEOSI newsletter, and keep up to date with all the latest Cleveland sports news.