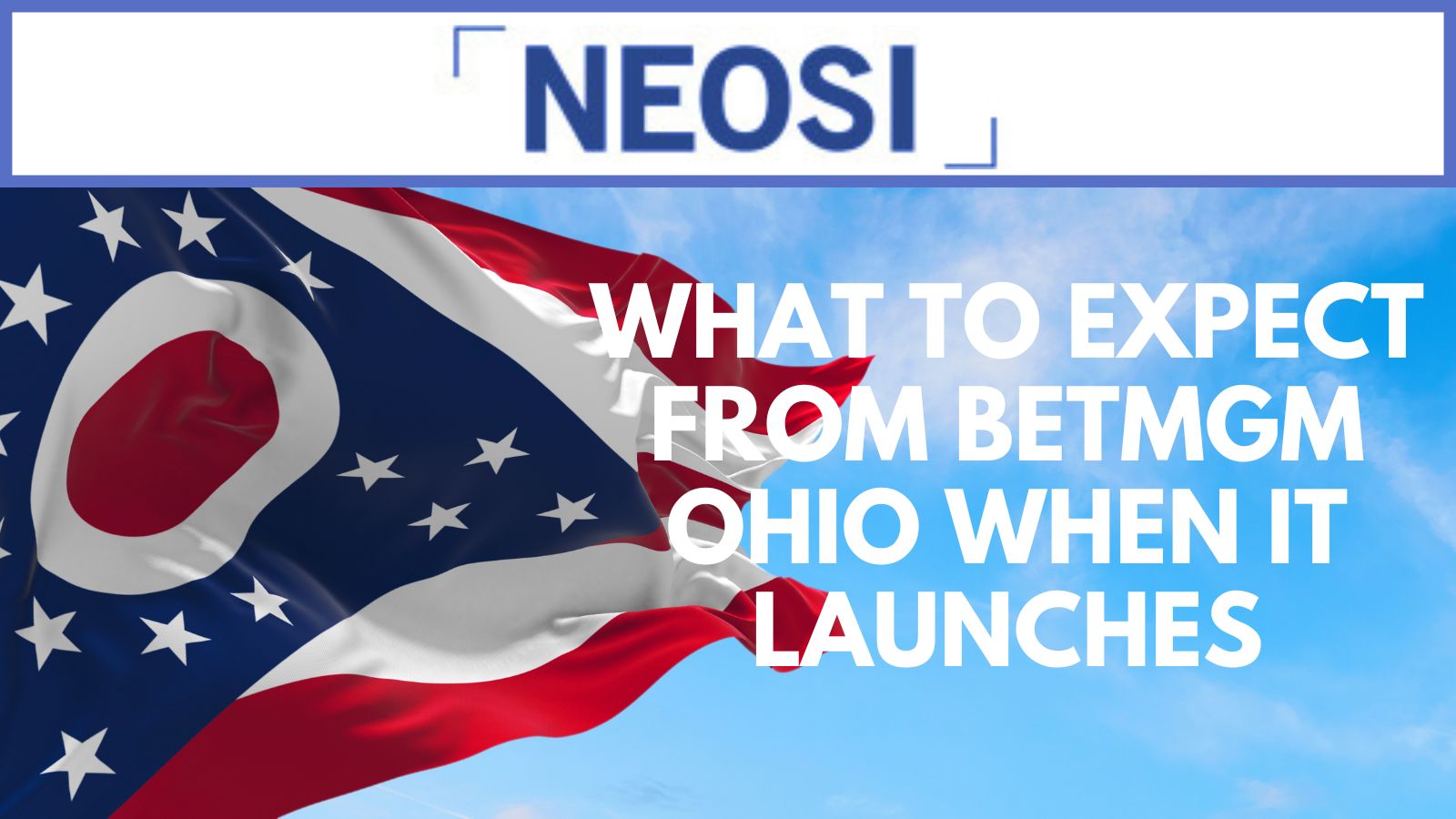 Ohio sports betting is coming soon to the Buckeye State and BetMGM Sportsbook Ohio will be a part of the movement. Multiple sports betting platforms are expected to be ready for launch, each with top-of-the-line apps and bonus offers. BetMGM Ohio will be one of the top names on that list and residents should make sure to download it ahead of the official launch date of Jan. 1, 2023.
Type of Bonus ⭐️
Bonus Offer 💰
Sign-Up Link 📱
Early Sign-Up Bonus
$200 in Free Bets on Launch
(4 x $50 Free Bets)
Claim Now
Traditional Welcome Offer
$1,000 First Bet Insurance
TBA
Here is what to expect from BetMGM Ohio when it launches:
BetMGM Sportsbook Ohio App Review
There is plenty for bettors to look forward to when BetMGM Ohio and other Ohio sports betting apps launch on New Year's Day. Below is why we believe BetMGM should be a top contender for an Ohio resident looking to get into sports betting.
BetMGM Ohio Mobile Platform: 4.5/5
The BetMGM Sportsbook app is designed to be the perfect platform for bettors. With an easy-to-use menu, the app makes sports and other events simple to find and navigate. That way, users don't have to spend so much time finding their preferred event or simply figuring out how to use the app; instead, they can spend more time deciding how to place their bets.
It is also an easy process to download and start using the BetMGM Sportsbook app. Users should use our BetMGM Ohio bonus code to opt into the welcome offer. From there they can download the app and go through the registration process. For this step, users will need to input personal information and set up an account before being able to deposit funds and start filling out bet slips.
The app can sometimes not be quick to load depending on the event that the user is going to find. This is not an every time use occasion but it is something to be on the lookout for if there is an event that is about to start and the user is trying to fit in a quick bet.
Betting Options at BetMGM Ohio: 5/5
BetMGM also provides world-class betting opportunities to its users. From the standard moneyline and spread betting options, to player props and parlays, you will not get bored wagering with BetMGM. The sportsbook allows users to build their own parlays and combine a variety of events and bet types. There are also more prop bet options than most sportsbooks, users can place player prop bets in any sports for almost any action during a game.
Live betting is another important feature to note on the BetMGM Ohio app. Users that either forget to place a bet or want to add extra excitement to a game they are watching have the option to place a bet on altered moneylines as well as next-play bets.
BetMGM Ohio Bonuses and Promotions: 4.8/5
Another reason for bettors to be attracted to BetMGM is its generous early sign-up bonus of $200 in free bets. The BetMGM Ohio promo code does not require any financial down payment in order to qualify, new users just need to sign up for the app and will see the bonus returned to their account on launch day. This is a competitive offer that holds its own against others in the industry.
In other markets, BetMGM has also launched a welcome bonus after the official launch date of sports betting. This has come in the form of a $1,000 risk-free bet. If the user's first bet wins, they will get their earnings back per usual, but if it loses, they will be refunded their wager amount of up to $1,000 in free bets. This is just another bonus users can look forward to in the near future.
Beyond being a new BetMGM user, returning users see promotions and bonuses weekly as well. BetMGM Ohio will great for weekly promotions that normally come in the form of boosts and risk-free bets on certain sporting events during the week. Bigger bonuses will be available to returning users around the time of a season kick-off or playoffs, but weekday games are also a great place to look for these promotions.
BetMGM in Other Markets
When considering what to expect from BetMGM Ohio, taking a look at how BetMGM has launched in other markets could help. Ohio is not the first state to take on sports betting and it will not be the last.
BetMGM has a great track record after launching operations in now 18 states, with Maryland being the newest market for the sportsbook. In other markets, BetMGM has offered generous post-launch welcome bonuses to new users in the form of a $1,000 risk-free bet. This is for users that register after the official launch date in the state it is being offered in. If the user's first bet loses, they will get back the amount of their lost wager up to $1,000.
This is not necessarily a unique welcome offer for new users, most sportsbooks will include a risk-free bet in their sports betting bonus offer. What does make BetMGM stand out is their localized promotions tailored to the state they are in. BetMGM is known for tailoring promotions and bonuses to local professional sports teams in their new market and offering these weekly. For example, in Virginia, Washington D.C., and Maryland, BetMGM offers weekly odds boosts tokens and risk-free bets for Washington Commanders games and Washington Nationals games.
We can expect to see tailored boosts and promotions similar to these in Ohio for the Bengals, Browns, Reds and other professional teams. With BetMGM Ohio partnering with the Cincinnati Reds, residents in Ohio can also expect to see additional giveaways, cross-promotion marketing, and a real sportsbook pop-up in Great American Ball Park.
How to Bet on Local Sports at BetMGM Ohio
Once Ohio sports betting is up and running, bettors should be able to use BetMGM to place bets on plenty of local collegiate and professional Ohio teams.
Ohio is one of the country's major sports markets, especially when it comes to football. In-state bettors looking to gamble on local sports with BetMGM will be in luck. The state is full of sports action with professional franchises in the NFL, NBA, MLB, and NHL, plus college and other sports.
Thankfully, BetMGM Ohio will provide plenty of action on football for one of the biggest football states in the country. With the Cleveland Browns and Cincinnati Bengals both residing in Ohio, fans who want to bet on their local teams will be able to get those chances and more once the platform launches. With the January launch, users will be able to place bets on Super Bowl LVII. 
For basketball fans, the same can be said for the Cleveland Cavaliers in the NBA. New sports bettors will be able to still bet on a large bit of the NBA season leading up to playoffs in April.
While there will be some wait time for Ohio residents to bet on the MLB season, the Cleveland Guardians and Cincinnati Reds will provide almost daily betting opportunities once the 2023 season starts. Both teams have sports betting partners and BetMGM Ohio has partnered with the Reds for market access. Not only can residents bet on the Reds but will soon be able to visit Great American Ball Park and place bets at BetMGM's retail sportsbook at the stadium.
The Columbus Blue Jackets in the NHL are another professional betting opportunity. With sports betting launching in January 2023, residents can take advantage of the tail end of the NHL season as well.
Lucky for collegiate sports fans, betting on Ohio collegiate sports will be an option for bettors across the state. Though it's still unclear to which aspects of the games bettors will actually be able to put money down on, that's an exciting prospect for college sports fans, especially those of the Ohio State Buckeyes or the Cincinnati Bearcats.
BetMGM Ohio Partnerships
BetMGM Ohio has partnered with the Cincinnati Reds and has existing relations with MGM Northfield Park. In October, the OCCC announced its approval for BetMGM, Cincinnati Reds, and MGM Northfield Park for mobile and retail sports betting licenses.
There are plans to open a retail sportsbook at the Red's stadium, Great American Ball Park, but no definite timelines are in place yet. Along with the retail sportsbook, there are additional marketing assets that the two companies will trade. Reds fans can expect some cross-collaboration and promotion opportunities. The already existing relationship with MGM Northfield Park will allow for multiple retail BetMGM Ohio sportsbooks. 
Ohio Sports Betting Timeline
After lawmakers passed House Bill 29, Ohio Gov. Mike DeWine signed sports betting legislation into law last December. Ohio regulators have decided to push that launch date right up to the Jan. 1, 2023 deadline set last year. Ohioans will be ringing in the new year with the long-awaited launch of sports betting.
The Ohio Casino Control Commission is overseeing the implementation of sports betting in the state. This comes in the form of reviewing, approving and verifying mobile and retail sportsbooks across the state.
Along with making sure all of the rules and processes for sports betting are effective, a big step in this process is regulators have to grant licenses to potential betting operators. During this past summer, the application window was open to operators and businesses to apply for a sports betting license.
Starting in September 2022, the OCCC was able to approve multiple sports betting licenses. These approvals started in small batches weekly and have now started to pick up speed with mobile and retail sportsbooks being approved a few times a week.

NEO Sports Insiders Newsletter
Sign up to receive our NEOSI newsletter, and keep up to date with all the latest Cleveland sports news.