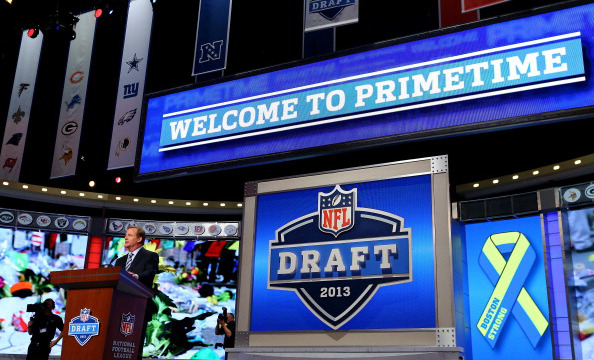 Since the draft is getting to the end, the talent is also dwindling down and reaches are more likely to happen, so let's focus on the players we could see break through into the starting lineup for years to come on Sundays.
1.) Round 4 No. 103 Jacksonville Jaguars- Sheldon Day DT Notre Dame
The Jaguars come out of the draft with a lot of quality guys to improve their defense. Day is one of the better pass rushing defensive lineman in the draft. At 293 pounds, he likely will come in on sub packages and can play either inside or outside and will do what he does best, attack the QB.
2.) Round 4 No. 122 Cincinnati Bengals- Andrew Billings DT Baylor
There was no logical reason for Billings to drop to round four after it was possible he could have went in the first. He didn't have an injury or off the field concerns so the Bengals absolutely stole this pick. He's known for his strength as a weight lifter and still learning the defensive side of the ball after playing offensive line, but the potential for him in the fourth round can be worth him only being a two down run stuffer next to Geno Atkins.
3.) Round 4 No. 132 Baltimore Ravens- Willie Henry DT Michigan
The Baltimore Ravens select Cleveland native and former Glenville star Willie Henry. He's a defensive tackle that improved every year at Michigan and has spin and twist moves inside that will allow him to get to the QB.
4.) Round 4 No. 134 Baltimore Ravens- Kenneth Dixon RB Louisiana Tech
The Ravens hit a need for a RB while getting one of the top RBs in the draft. Dixon was one of the most productive RBs in all of college football over his career and has the characteristics you look for in a RB. He tested fine at the combine and the Ravens had a great fourth round, with these two picks being the standout ones.
5.) Round 4 No. 135 Dallas Cowboys- Dak Prescott QB Mississippi State
The Cowboys got my fifth best QB in the end of round 4 without reaching for one earlier in the draft. Prescott is a big body dual threat QB but he improved as a passer towards the end of his career. While he did have a recent DUI, he is still a really high character football player the Cowboys can groom.
6.) Round 4 No. 136 Denver Broncos- Devontae Booker RB Utah
During the run on RBs, Booker going to Denver was another nice fit. Some analysts had him as the second best RB in the draft and he ended up in round four. He doesn't have top end speed to be a burner but he has good vision and can do a lot of the things you want from a RB that will replace Ronnie Hillman.
7.) Round 4 No. 139 Buffalo Bills- Cardale Jones QB Ohio State
Cardale could have been a first round pick if he came out last year. With the last pick in the fourth round and Tyrod Taylor only proving himself for one season, it makes a lot of sense for Buffalo to draft Cardale. He's got the physical traits but needs maybe another year or so to really develop.
8.) Round 5 No. 146 Baltimore Ravens- Matt Judon DE Grand Valley State
The Ravens had a lot of great picks on day three and Judon has the potential to develop into a freak athlete in the front seven. A small school prospect, he obliterated the competition with 20 sacks this season. He ran a 4.73 at 275 pounds and can move.
9.) Round 5 No. 150 Chicago Bears- Jordan Howard RB Indiana
Jordan Howard was my number two RB and he went to Chicago in round five who enjoyed a great draft. He has had some injuries and won't be a threat in the passing game, but he will be a great change of pace back with Jeremy Langford in their first season without Matt Forte.
10.) Round 5 No. 153 Washington Redskins- Matt Ioannidis DT Temple
The Redskins run defense was one of the worst in the NFL last year and Ioannidis was one of my top lineman that would go on day three. He can play multiple positions and has a motor that doesn't stop and will be great in a rotation there.
11.) Round 5 No. 160 Minnesota Vikings- Kentrell Brothers LB Missouri
If there was a common theme I liked on day three it's these productive ILB that just weren't athletic enough to go higher. Brothers racked up a lot of tackles during his time at Missouri but ran a 4.9 40 to drop him here. He might not be able to go on the field for third down but he can be a threat to stuff the run on the first two.
12.) Round 5 No. 161 Cincinnati Bengals- Christian Westerman OG Arizona State
One of the better pass protecting guards in the draft, Westerman was thought to be a second round pick. The Bengals made some great best player available picks to boost the talent on the team and getting him three rounds later was one of them.
13.) Round 6 No. 184 New York Giants- Jerell Adams TE South Carolina
Adams was my second best TE going into the draft and he ended up going round six. He didn't have the best numbers at South Carolina but that was likely in part to working with some pretty bad QBs at times. He ran a 4.64 40 which is faster than some of the WRs in the draft.
14.) Round 6 No. 185 Chicago Bears- DeAndre Houston-Carson S William & Mary
A former corner turned safety, Houston-Carson is still going to need another year or so to learn the position, but taking him in the sixth allows for less risk to be involved. He's got 6'1" height and plus man skills from his years as a corner to go with 4.54 speed which is above average for a safety.
15.) Round 6 No. 205 Arizona Cardinals- Harlan Miller CB Southeastern Louisiana
Harlan Miller was one of the smaller school corners that really made a name for himself during Senior Bowl week. A poor 40 time at 4.64 likely led to his fall this low. While the speed is lackluster he still has the skills you look for in a late round corner.
16.) Round 7 No. 234 Oakland Raiders- Vadal Alexander OG LSU
Alexander has great size for an offensive lineman at 6'5" 326 pounds, but he does have some problems with technique and his footwork. Those can be big problems for lineman, but back in the fall he was considered a potential first round pick. The risk of taking him in the seventh round can pay out if he hits his potential.
17.) Round 7 No. 241 New York Jets- Charone Peake WR Clemson
There have been a plethora of great receivers coming out of Clemson recently. Peake had some medical concerns early on after he tore his ACL in 2013. He came back strong and has size you look for at the position at 6'2" 209 pounds. He's got speed and a seventh round pick is worth his dicey hands.
18.) Round 7 No. 246 Pittsburgh Steelers- Tyler Matakevich LB Temple
Matakevich was one of my favorite players in the draft and I was shocked he lasted to round seven. The Steelers are going to make him into a starting ILB that's going to do really well in the league. His instincts are off the chart and that allowed him to record 100+ tackles all four years despite average athleticism. He was a team leader and high character guy that will come in with a chip on his shoulder.
19.) Round 7 No. 250 Cleveland Browns- Scooby Wright LB Arizona
Two star Scooby dropped on boards due to his poor athletic testing and lengthy injury history at Arizona. He was another highly productive LB that didn't test well and with the Browns lack of depth, he can compete for some playing time if he stays on the field. It was nice to see him drafted and was the best pick by the Browns despite being the last.

NEO Sports Insiders Newsletter
Sign up to receive our NEOSI newsletter, and keep up to date with all the latest Cleveland sports news.