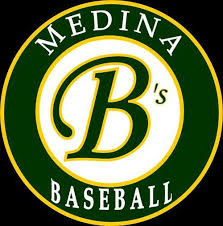 MEDINA, Ohio – It was a wild weekend for the Medina Bee's where almost nothing was set in stone, but in true championship fashion they made it work for themselves and bounced back to show true championship grit and determination.
After a last second switch of Friday Night opponents went from North Royalton to Massillon Perry, which would have thrown off most teams and led to a blowout loss, the Bee's hung tough and only fell 3-2 in a heartbreaker.
The Bee's refused to let it throw off their concentration the next day as they opened up the GCC Tournament as a two seed against Shaker Heights. They crushed Shaker Heights 10 – 4 and advanced to the second round of the tournament May 4th with the opponent yet to be named.
This weekend's action brought Medina's overall record to 15 – 8 as they head into the stretch run of the season. In other news and notes, rumor has it that SS / 2B Collin Winters has made his verbal commitment to college, NEO Sports Insiders will be all over this late breaking story the second the pen hits the paper to finalize it. We will have re-action from player, mom, dad, coach and with any luck the number one Diamond Doll.
You can follow Vince McKee on twitter at VinceTheAuthor