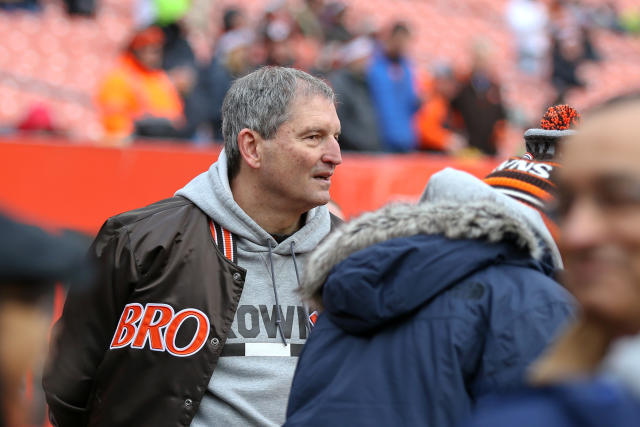 Cleveland, Ohio- Cleveland Browns legendary quarterback Bernie Kosar, who had a role on the Browns radio network was relieved of his duties allegedly due to making (and losing) a $19,000 legal bet on today's Browns/Steelers game. Kosar, the Browns quarterback from 1985 until 1993, made the bet as soon as sports betting became legal in Ohio at the stroke of midnight ushering in the New Year.
Steelers GameDay yet once again I was informed by the Browns that my services are no longer desired or needed. I will not be doing todays radio program.I am shocked & disappointed 😢Brown & Orange is my life 🏈 #UMatter https://t.co/a834Gs3FSU @BernieKosarShow Go #Browns

— Bernie Kosar (@BernieKosarQB) January 8, 2023
It is being reported by some media outlets the Kosar was fired because the bet was against his Browns contract, and also against NFL policy. If that is indeed the case, the former Browns quarterback had to have known that his bet could possibly cost him more than money, yet he still made the bet.
If you are asking where the hypocrisy is, I am glad you asked. There are a couple items that to me are at least borderline hypocritical to say the least.
The first is that the NFL is all about sports gambling now, and have sportsbooks inside stadiums where that type of betting is legal. But yet, betting on the NFL by employees that have nothing to do with the game's outcome is against NFL policy. Pick a side NFL, are you for or against gambling on your sport?
The second, and most controversial, is the fact that Kosar gets fired for doing something that is legal in Ohio where he lives and works, but yet the Browns give 230 million dollars to Deshawn Watson, despite the fact that multiple women have sued Watson. Those women have accused Watson of sexual misconduct and assault. As a result of those allegations, which Watson has denied, he was suspended for the first 11 games of the 2022 NFL season, fined a record 5 Million dollars, forced to undergo evaluation by behavioral experts and complete a treatment program.
As much as I understand that Kosar's bet was against the rules and probably deserved some sort of discipline, I think the Browns and the NFL itself are sending a totally wrong message that it is totally okay to fire an employee for making a bet, but they only suspend another employee (Watson) for being at least accused for sexually assaulting multiple women while he was the quarterback for the Houston Texans. Some will undoubtedly say that Watson was never charged for any of the allegations. Although that is true, he did settle most of the cases by giving the accusers an unknown sum of money. For someone who still claims to this day that he did absolutely nothing wrong, paying off the accusers screams that there was at least SOME truth to the accusations.
Should Watson be fired for those accusations? That is up for debate, but the fact that the Browns have paid him a record amount of money, and gave away multiple draft picks for someone who at least as of right now is a hated man by many, is not a good look by the NFL or by our Browns. Whether winning games in the future changes that, we may never know since winning and Browns usually do not make a great combination.
This is a hypocritical decision in my opinion. 

NEO Sports Insiders Newsletter
Sign up to receive our NEOSI newsletter, and keep up to date with all the latest Cleveland sports news.