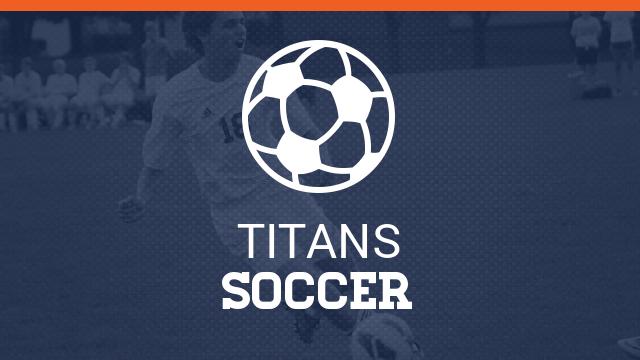 The Titans (4-0-2) welcomed the Comets (1-3) of Amherst Steele to Groza field on Wednesday night for another SWC battle.
The Titans would get on the board first tonight after defender C. Sevastos beat his defender down the left side and sent a dangerous ball across the box where senior C. Munsterman was waiting to strike it past the Amherst keeper in the 12′.
The Titans would not waste anymore time finding another connection when in the 13′ junior midfielder B. Garibotti would find junior midfielder N. Ruggiero on another well played ball into the Comet goal area.
Ruggiero would finish, and put the Titans up 2-0 midway through the first half. The Titans would carry the 2-0 lead into the half. Shortly into the second half 47′ distant lightning would delay the match for 30 minutes.
Second half momentum was difficult for the Titans to obtain as the Comets would get on the end of a ball inside the Titans goal area in a scrum and put in their first goal of the night 53′. The Titans and Comets would go back and forth the remainder of the night each squad would find several opportunities thould would not come to be as well as some quality saves from the part of both D. Baglier and Amherst's keeper.
The Titans would remain on top securing their 4 win of the season and second win at home this year.
Additional Stats from the Match BMHS Shots: 9 Saves (Baglier): 4 Corner Kicks: 3 Amherst Steele Shots: 9 Saves (Rigsby): 4 Corner Kicks: 0 The Titans are back in action this Saturday afternoon at Byers field to take on Valley Forge at 2pm. Hope to see everyone there.

NEO Sports Insiders Newsletter
Sign up to receive our NEOSI newsletter, and keep up to date with all the latest Cleveland sports news.