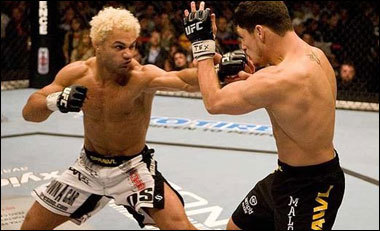 Bellator and Spike TV are at it again Saturday night as Bellator 172: Fedor vs. Mitrione will  take place at the SAP Center in San Jose, California. The event will air live in prime time on Spike TV in direct competition with the NBA's All Star Saturday Night.
The main event is once again a gimmick match that will be sure to overshadow decent matches before it.  A trap that Bellator has fallen into several times already.  However, I will say this, any match with Fedor in it has a chance to deliver, despite his advanced age and ring wars behind him.
That fight aside, it still appears to be a strong card, lets break down some of the better matches.
UFC veteran Josh Koshcheck vs Mauricio Alonso
Well, at one point Koshcheck was the number one contender and challenger to GSP's Welterweight title.  That was back in December of 2010 however, since losing that match convincedly to GSP, things have go downhill drastically for him.  He lost his last five straight UFC appearances, and 2 of them were by KO while 2 of them were by submission,  not a good run for Koshcheck.
Prediction – Koshcheck stops the losing streak at 5, and gets back on the winning side of things with a decision win over Alsonso.
Cheick Kongo vs Oli Thompson
Kongo has been extremely successful since coming to Bellator, also active as he has fought 9 times, winning 7 times.  Kongo has a history of getting close to reaching title challenger status, then losing convincingly before having to start all over.  He is on that path again with three straight wins.
Prediction – Thompson is a MMA veteran of 26 fights at 17-9 and could pull off the upset here.  However, he won't as Kongo with cave in his glass chin in the second round.  Kongo by knockout.
Josh Thomson vs Patricky Freire
Josh Thomson is one of those guys who wins everywhere he goes and looks great doing it, except the UFC where he had major struggles.  That being said, this match is not in the UFC and his caliber of competition is less than stellar in Freire.
Prediction – Thomson by first round KO
The ladies will be in action as it is Veta Arteaga taking on Brooke Mayo.
Hold the lettuce, add some cheese and watch the Mayo as she takes this one from Arteaga by way of second round submission.
Fedor Emelianenko vs Matt Mitrione
Fedor Emelianenko is arguably the greatest MMA fighter off all time.  I say "arguably" because out of his 36 career wins, none of them ever came in the UFC.  To that same point, neither did any of his 4 losses.  He has won his last 5 fights, but lost his last 3 straight against actual competition before that and appeared to have lost a step.
Mitrione has all the talents and skills below the head to be a good MMA artist, even at the age of 38.  What hurts him is lack of intelligence.  It will show yet again after he gasses out Saturday night.
Prediction – Mitrione is a knockout artist with both of his Bellator wins coming by his heavy hands, and 10 of his 11 career wins coming by KO.  On the flip side, 4 of his 5 losses have come by way of submission and KO.  That trend will continue as Fedor will win by submission in the third round.

NEO Sports Insiders Newsletter
Sign up to receive our NEOSI newsletter, and keep up to date with all the latest Cleveland sports news.