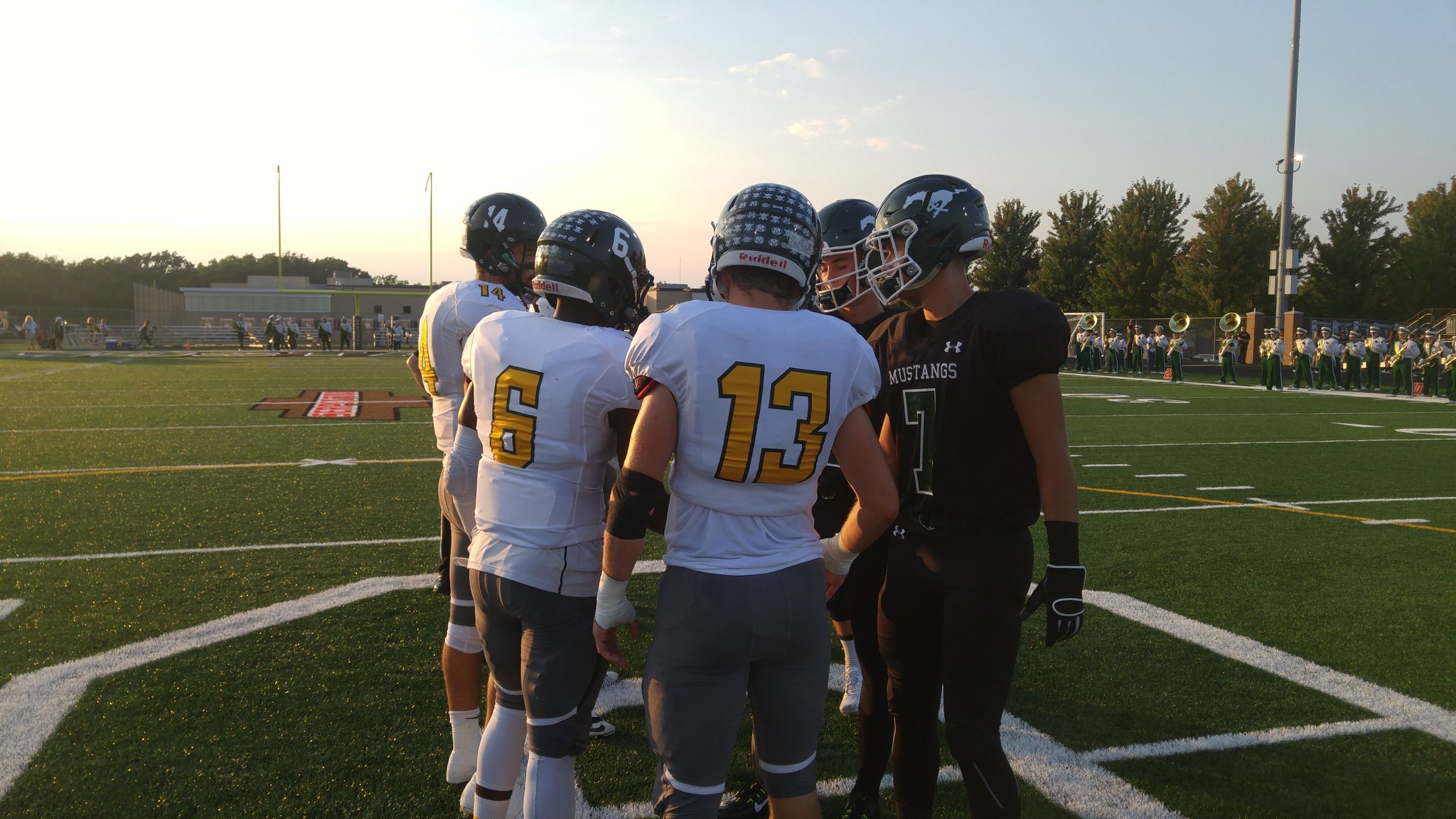 This game recap is brought to you by Mullins Construction. http://www.createns.com/mullins_construction/
The 4-0 Medina Bee's invaded Pat Catans Stadium in Strongsville to take on the 1-3 Mustangs tonight.
It was a packed crowd tonight to witness this heated rivalry.
John Curtis lit up the Strongsville defense to the tune of 243 yards, 4 touchdowns in a 42-23 victory over Strongsville. Curtis was on fire from the very start and never got unhinged despite two interceptions along the way.
However, things would turn south when he got knocked out of the game with 3:27 left in the game. No word yet on the injury but fingers are crossed it is not too serious. The team will now be led by Gavin Montgomery.
Jimmy Daw continued his hot start to the season as he ran for 125 yards, and also caught 111 yards with two very long touchdowns. He had a touchdown on the ground as well, bringing his season total to a whopping 20.
Sophomore quarterback Johnny Major for Strongsville also had a strong outing. He will be a bright spot for years to come. Major threw for 161 yards and ran for 2 touchdowns.
The game began with a bang as Dylan Fultz of Medina took the opening kickoff 87 yards to make it 7-0 in the blink of an eye. Moments later, Fultz took a John Curtis touchdown pass 77 yards for another score less than two minutes later and put the Bee' ahead 14-0.
The Strongsville Mustangs rallied back to score 14 of their own on a 16 yard TD run by Quarterback Johnny Major. They would also give Medina a dose of their own medicine when Joe Gillette returned a punt 72 yards to even the score at 14 on the opening play of the second quarter.
The game would not remain tied long, as the Bee's scored on their very next possession. It was a long drive capped off by a 15 yard touchdown pass from John Curtis to Alex Whittaker. The Bee's would punch it in again when John Curtis hit running back Jimmy Daw streaking down the field wide open making a beautiful spinning catch for a massive 45 yard touchdown strike. The beautiful pitch and catch from Curtis to Daw would make it 28-14.
Throughout the first half Medina had a great pass rush up the middle to keep Johnny Major scrambling. The problem for the Bee's was Major was great when throwing on the run and burned them several times to keep the Mustangs in the contest.
This point was proven the very next time the Mustangs had the ball as Major used his legs and arm to march Strongsville down the field. Major would cap off the drive with an 8 yard scramble, to score a touchdown and make it 28-20 as the ensuing extra point was missed. The game would remain 28-20 at the half.
Strongsville would start the second half with the momentum as they picked off Medina's John Curtis to get the ball quickly in Medina territory. However, a major defensive push by the Battling Bee's defense would force a 3 and out. Strongsville would capitalize on their next drive however, with a 40 yard field goal by Jared Anderson to make it 28-23.
Big John Curtis would make up for his pick on the last drive as he came out gun slinging the next time he touched the ball. Daw caught a Curtis pass and took it 66 yards to the house to put Medina up 35 – 23 after the PAT. It was his fourth touchdown pass of the night. The Bee's would tack on one more Jimmy Daw rushing touchdown late in the fourth to finish the scoring.
Box Score
Medina – 14-14-7-7-42
Strongsville – 7-13-3-0-23
Scoring Summary
M – Dylan Fultz – 87 Yard TD Kickoff Return – 11:49 1rst qrt
M- Dylan Fultz – 77 yard TD catch from John Curtis – 10:20 1rst qrt
S – Jonny Major – 16 Yard TD Run -1:17 1rst qrt
S – Joe Gillette – 72 Yard Punt Return TD 11:44 2nd qrt
M – Alex Whittaker – 15 Yard TD from John Curtis 7:04 2nd qrt
M – John Curtis 45 yard TD Pass to Jimmy Daw 2nd qrt
S- Johnny Major 8 yard TD Run. xp no good – 2:10 2nd qrt
S – 40 yard FG by Jared Anderson. 2:56 – 3rd qrt
M – 66 Yard TD Pass John Curtis to Jimmy Daw – 1:55 3rd qrt
M- 6 Yard TD Run Jimmy Daw – 2:1 4rth qrt.
Next week Strongsville will travel to Euclid High School, while Medina visits Brunswick.

NEO Sports Insiders Newsletter
Sign up to receive our NEOSI newsletter, and keep up to date with all the latest Cleveland sports news.