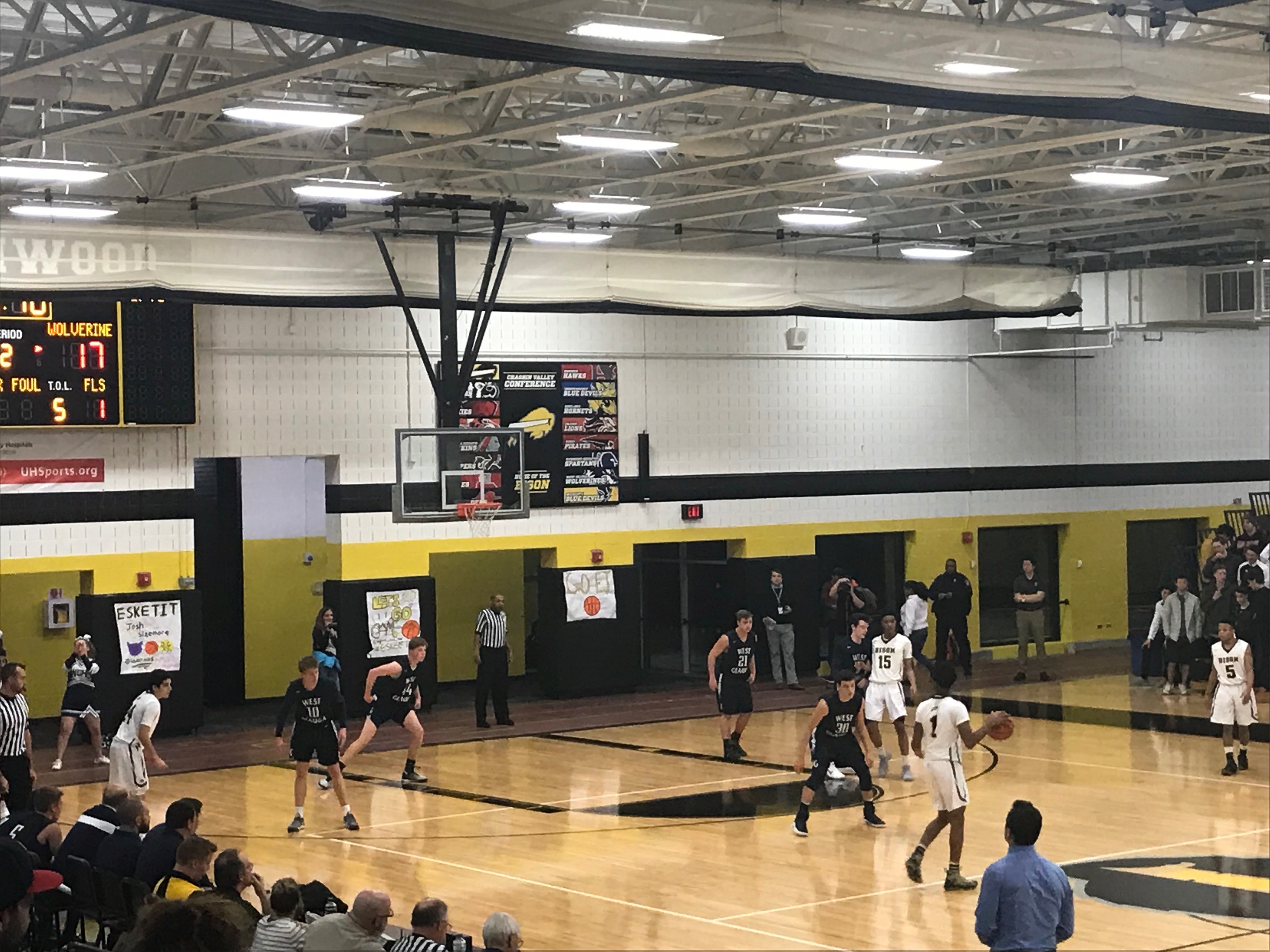 BEACHWOOD, OHIO – Beachwood's season has not started off on the right track after losing their first three games of the year heading into Tuesday night. An early lead is what kept the Bison rolling all night as they would never look back from the opening tip-off. The 82-67 conference win against West Geauga is now Beachwood's first win of the year.
West Geauga would start the game off in a zone to try to slow down the guard-oriented Bison. Early transition points came around from the Bison as the high-paced offense would beat the Wolverine defense down the floor for easy points.
That is one thing head coach Jon Mannarino emphasized at the beginning of the year was pushing the tempo and pressuring the ball.
"West G is a bigger and longer team," Mannarino said. "Our job was to really pressure them. The main focus right now is the defensive side of the ball. The offense, I mean we can just play basketball and it will be there."
In a game where injuries and illnesses headlined the Beachwood team, coach Mannarino needed one of his underclassmen to really step up to lead them to a win. It was freshman Collin Albert who led the Bison in scoring as he contributed a game-high 24 points Tuesday night.
"For a freshman he is just so poised," coach Mannarino said. "Nothing rattles him. He plays the game very emotional but he is a constant competitor. He is a special talent for sure."
Caleb Ramey would score the first points of the second half for the Wolverines. After that bucket, it would be back-and-forth basketball after that as both teams traded off points during the third quarter.
Beachwood would maintain a solid double-digit lead for most of the quarter, as solid shooting from the Bison would keep the deficit in the high teens for West Geauga through three quarters.
Facing an athletic and uptempo team like Beachwood, West Geauga head coach Jeff Javorek knew he had to make a special game plan that would prepare them to beat their half-court pressure as well as their solid transition game.
"It was a good test for us," coach Javorek said after the game. " We knew if we were going to execute that game plan it was going to have to be in our favor and unfortunately we didn't do it tonight."
Ramey would lead West G in scoring as he put up a solid 14 points. Freshman Josh Irwin contributed in a big way by scoring 13 points. Seniors Mark Sexton and Nico Morgano would add 10 and 9 points respectively.
As for the Bison, they had four different players score in double figures. Freshman Collin Albert led the way with 24 points followed by 17 points from Josh Sizemore. Senior Cam Thomas came away with 11 points as well as freshman Sirr Hughes.
Coach Mannarino was proud of the way his kids fought against a very lengthy West Geauga team. What was most important though, was capturing the teams first win of the year.
"I don't think there is anyway if we went 0-4 that it was going to be much easier to come into tomorrow and kind of keep the momentum up," Mannarino said.
"Getting that first win just shows that we are able to do it and we are able to play the way we want to play. The first win is always nice. Going 1-3 is a lot better than going 0-4."