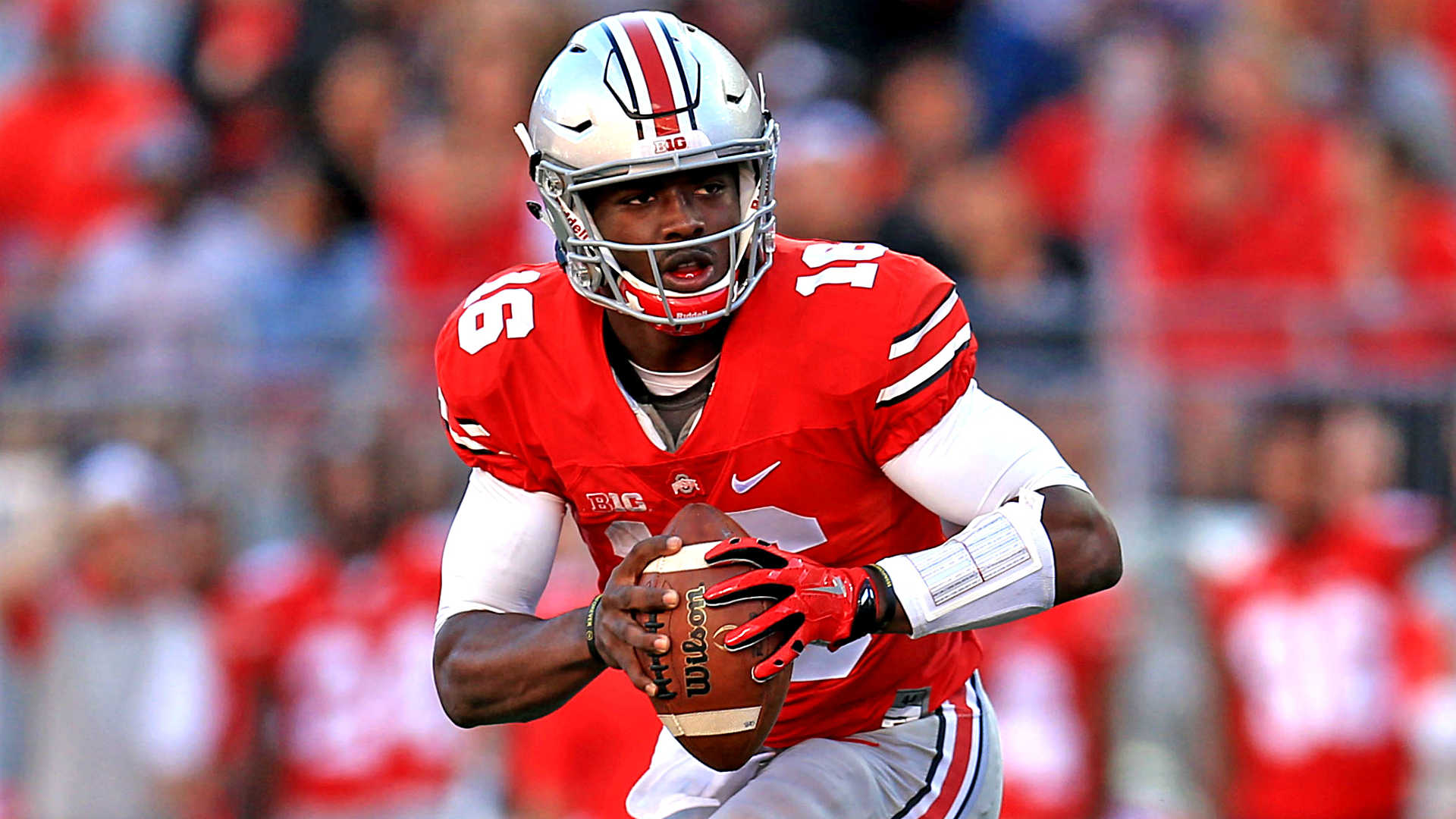 By Michael Bohm
Since suffering a devastating defeat to the Oklahoma Sooners on their own turf, the Ohio State Buckeyes have bounced back in a big way, demolishing anyone in their path en route to a five-game win streak.
There is no doubt that the Silver Bullets have improved since the embarrassing debacle, but the same question remains: Can Ohio State hang with the elite teams in college football?
Going back to week two, there were a number of issues that were clear on that sobering Saturday night.
For one, quarterback Baker Mayfield exposed a Buckeye secondary that – despite having to replace three first-round draft picks – had shown plenty of promise.
Remember, defensive coordinator Greg Schiano called the unit the greatest defense he had ever coached.
Secondly, new coordinator Kevin Wilson, in his first year with the Buckeyes, had put forth a gut-wrenching gameplan. This, after being considered one of the greatest offensive minds in football.
But perhaps the most critical concern of all, the execution of redshirt senior quarterback JT Barrett. The three-time captain brings plenty of big-time ability to the table, and yet, so too does he struggle with some of the most crucial characteristics of an elite-tier signal caller.
Last season ended for Ohio State with a 31-0 defeat to the hands of the eventual national champion Clemson Tigers. The difference? Then-leader of the Tigers Deshaun Watson could make all the necessary throws when his team needed them most.
The intermediate to deep passing game of Ohio State has endured serious struggles ever since, well, the Buckeyes' last victory over the Sooners in 2016.
These problematic traits bled over into the current season, as Barrett has continued to show indecorous inconsistency in his deep balls.
At times, the questions appear answered. Then, just as quickly, they reemerge.
Look no further than Saturday night's matchup against Big Ten opponents, the Nebraska Cornhuskers.
Barrett's stat line looked immaculate, but the on-field play indicated that this was far from the case.
The Buckeye offensive line did a spectacular job of providing Barrett with so much time, the quarterback could have tied his shoes before any pressure would have come remotely close to reaching him.
Herein lies one dilemma. Be it the young supporting cast taking too much time to find an opening, or hesitation from Barrett, but a championship-caliber team should not require that much time so frequently.
Sure, there have been plenty of well-thrown passes, but they often occur on plays in which Barrett is provided with loads of time. Even though he has managed to find his guys more regularly than not, some of Barrett's most highlight-worthy passes are far from flawless.
Case and point, the longest scoring pass of Saturday night's obliteration over the Huskers, a 31-yard bullet to wideout Terry McLaurin.
Not only was the ball thrown late, McLaurin had to stutter before the sideline and reach back to haul in the pass. To Barrett's credit, it was zipped to where only McLaurin could bring it in, then again the man in coverage had also fallen behind.
Further, on a 16-yard sling to tight end Rashod Berry, Barrett waited until after Berry made his cut toward the corner before releasing the ball, thus taking more time than he should have, eerily alike the pass to McLaurin.
This will be a problem when the quarterback is faced with tight windows where there is only a matter of milliseconds to get a pass off successfully.
Unfortunately, these are not the sole examples that have been spotted throughout the season.
Barrett is an unparalleled leader who has showcased poise and careful decision-making that few can match. And, on the shorter passes, he has the ability to thread the needle.
But, the verdict on his overall game is still in query, as the fifth-year quarterback has continued to show a gradual improvement.
One thing is for certain, the potential is through the roof, and this Buckeye team will go as far as Barrett will allow them.
In two weeks, when Penn State makes their way through the Shoe, Barrett will have to match the offensive capabilities of a Nittany Lion offense headed by Heisman front runner Saquon Barkley, and will not be able to afford such costly calamities.

NEO Sports Insiders Newsletter
Sign up to receive our NEOSI newsletter, and keep up to date with all the latest Cleveland sports news.