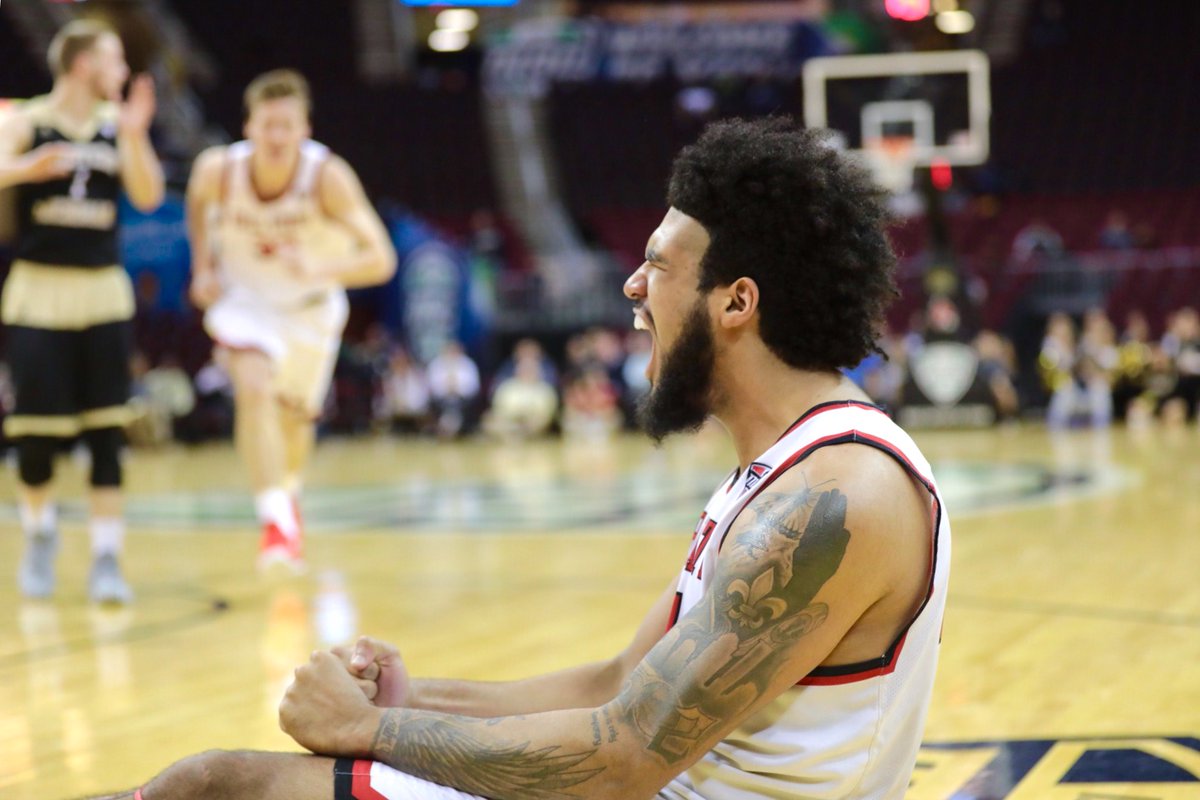 CLEVELAND – Ball State had a tough match up today in the second round of the Mid-American Conference Tournament. Coach James Whitford's bunch were matched up against Western Michigan (winners of nine in a row), and had to figure out a way to contain one of the better point guards in the country in Thomas Wilder.
Then, if things weren't tough enough, Eagles lost their starting point guard, Tayler Persons, in a nasty collision that put the Sophomore in the hospital with a concussion and cut to his head.
Undaunted, the Eagles sent the Broncos back to Kalamazoo with a 66-63 win in the second game of the day of MAC Tournament action.
"I couldn't be more proud of my team.  We were a man down, obviously without Tayler, and guys were logging heavy minutes, and I thought we won the game with incredible heart," Coach Whitford told reporters. 
Even before the injury, both sides were evenly matched from the first whistle on. Besides a quick start for the Broncos, neither side had more than a 5 point lead for most of the game.
"Obviously a hard-fought ballgame.  Back and forth, the numbers look even all the way across the board except for free throws.  It was just tough going out there.  Just tough going," explained Broncos Head Coach, Steve Hawkins. "They created just enough plays to pick up the win."

Wilder managed to make an impact, contributing 24 points, five rebounds, and five assists. The Eagles looked to let Wilder play his game, and concentrated their efforts to stop the rest of the herd. Freshman Forward, Brandon Johnson was the only other Bronco to break double digits on the score sheet.
Coach Whitford didn't see it as bad offense for the Broncos, but a stellar defensive effort by his Eagles.
"I thought it was an incredible defensive effort. They're so big and so physical, and our big guys, the way they play, they had to set so many pick and rolls. Over the course of 40 minutes, it can really wear us down physically and mentally."
In addition to the defensive play, back up point guard, Francis Kiapway performed admirably in his understudy role. The Junior led the team with 16 points, stabilizing the Eagles after the scary collision involving  Persons. Kiapway, who was Ball State's starting point guard a year ago, was prepared to lead his team to the next round, even if he wasn't planning on it on the way to the arena.
"I think it was going at Tayler in practice every day. You going that second team All Conference guard every day in practice, coming out of the game it makes it easier. " said the Eagles' leading scorer. "I just had to take the challenge and that's what it was."
Person's status for the Eagles' next game, against the number one seeded Akron Zips, is unknown. The Sophomore was sent to Cleveland Clinic and has entered concussion protocol.
"He just said he's in a concussion protocol.  They took him to the hospital to do all the precautionary checks that you have to do and that you should do, so that you don't accidentally put somebody out there with a concussion," explained Whitford. "The cut is not a big deal.  It's a bunch of stitches, but he's had plenty of stitches.  I don't think that's an issue.  I think it's just a matter of getting through the concussion protocol that we're concerned about.
After today's adversity, Ball State will be prepared for anything that is thrown their way.

NEO Sports Insiders Newsletter
Sign up to receive our NEOSI newsletter, and keep up to date with all the latest Cleveland sports news.