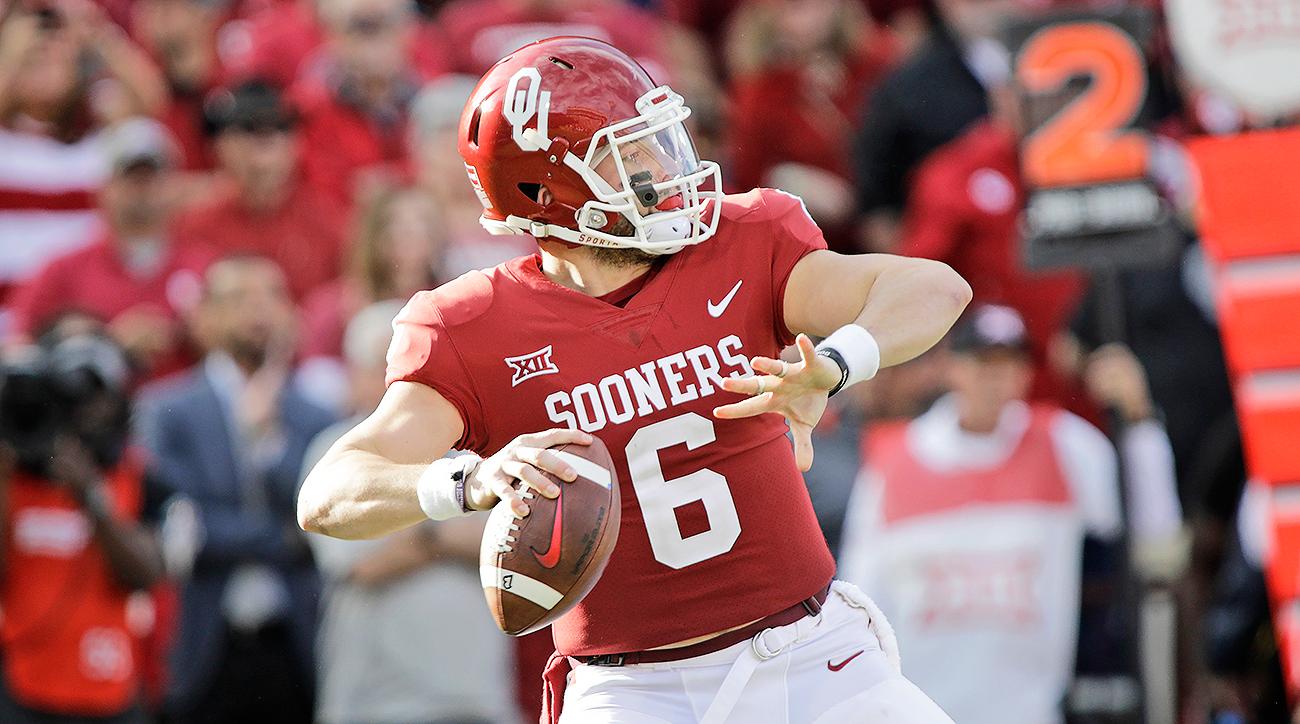 CLEVELAND– Quarterback Baker Mayfield was drafted No. 1 overall Thursday night in the NFL Draft.  Mayfield beat out Sam Darnold and Josh Allen who at one point or another looked like the top pick.
"First of all, an unbelievable feeling, a surreal feeling; something that I only could have dreamed of and actually becoming a reality is amazing," Mayfield said.
"I am so thankful that I am here. Throughout meeting and talking with the coaching staff, they were a great group of guys from the management to the owners. Just being around them, being myself and being upfront about the mistakes that I have made and what I have learned throughout the process. Also, the one great part about the interview process is that you get to sit down and talk football and show what you are capable of knowing as they quiz you on certain things. It has been great."
The Browns' plan all along was to sit their rookie quarterback and start Tyrod Taylor. Taylor took the Bills to the Playoffs for the first time in 17 years last season. Mayfield said at the NFL Combine that he didn't want to sit a year as planned, however.
"For me, I know exactly what they said and exactly why they said that," he said. "That is a veteran that has been in the league, a guy that I can sit behind and learn from. When I say those types of things, it is because I am competitive. If I came in with the mindset of just being happy that I got drafted and just to settle for a backup job, that wouldn't be myself.
"I am going to come in and compete but also with the hunger to learn from a guy that has been in the league that has seen things that I haven't seen. I have said multiple times that the best things that happened to me throughout the process at Oklahoma was sitting the year after I transferred. It was a great year for me to be on scout team, to learn from going up against great defensive coaches in Coach Mike and Bob Stoops every day in practice. I was able to develop things that I needed to with my body and my mind."
Mayfield has been compared to former Browns' quarterback Johnny Manziel by some but Mayfield doesn't see the comparisons.
"Johnny and I are two completely different people," said Mayfield. "That is nothing against him, but what I have been able to do is be able to be up front and honest about who I am during these meetings. I am confident that I have shown that with this coaching staff and with the management and throughout the process. For me, moving forward, it is just being myself. I am not going to go out and try to prove that I am not Johnny. I am going to be myself. To me, that is going to take care of the rest."
Ohio State fans certainly remember when the Buckeyes lost to Oklahoma and Baker Mayfield early last season and so does No. 4pick and former Ohio State Player Denzel Ward
"He is an unbelievable player, a guy who has been obviously been great for them the past couple of years," Ward said. "To be able to move forward with him and to be able to be a part of that draft class with a great player from a great program, I am looking forward to it to go up against him in practice and grow and learn together."
Mayfield also addressed the incident with the Oklahoma flag post-game last season against the Buckeyes, when he tried to plant the Sooners flag in the middle of Ohio State's field.
"I'm looking forward to playing with Denzel, like I said, learning and growing with him," Mayfield said. "I talked about it earlier this season after it happened. It was an emotional win, one that I had burned in my memory after they can and had absolutely crushed us on our own home field. It was an emotional win. It shouldn't have happened at midfield, but I am looking forward to hoping that I can change some of the eyes and opinions that (Ohio State fans) have. Now, we are all in it together."

NEO Sports Insiders Newsletter
Sign up to receive our NEOSI newsletter, and keep up to date with all the latest Cleveland sports news.