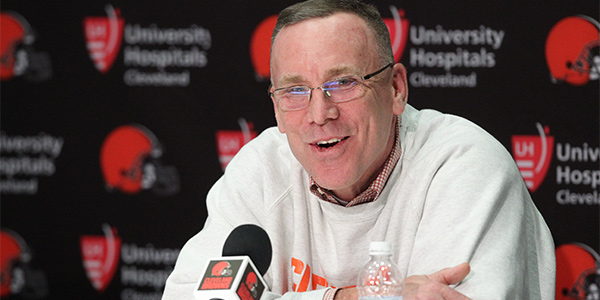 John Dorsey seemed to enjoy toying with the other 31 teams throughout the offseason. The Cleveland Browns general manager kept the entire NFL and its fans in the dark on who he was taking with the No. 1 overall pick. It wound up being Heisman Trophy-winning quarterback Baker Mayfield, for better or for worse.
Three picks later at fourth overall, Dorsey faced endless opportunities now that he had his QB. Elite pass rusher Bradley Chubb was still available out of N.C. State. There were a number of reports suggesting the Browns would look to trade out of that spot as well and they surely fielded offers. Ultimately, Dorsey opted for staying put and taking top-rated cornerback and Cleveland native Denzel Ward out of Ohio State.
The latter of the two moves was easily the most stunning, with the common belief being that if the Browns were staying at four, Chubb was the obvious choice. But after hearing and seeing USC product Sam Darnold mocked to Cleveland at No. 1 for months, even the Mayfield selection rubbed many fans the wrong way. Darnold felt like the safe pick at this point, while Mayfield – with his 6-foot-1 stature – was a risk. His arrogant "antics" played into that as well.
Dorsey pulled the trigger anyway. And in the end that's all that matters.
No matter how you feel about Mayfield or Ward, keep in mind that Dorsey isn't making these picks in spite of the groupthink outside of team facilities. His job is at stake here, and how we view Mayfield especially, but also Ward, three years from now, will determine whether or not Dorsey is still general manager of the Cleveland Browns or not. It's not as if he made these picks just on a whim. In Dorsey's mind, these are two great prospects who will become elite NFL talents.
In Mayfield, the Browns are getting an impeccably accurate quarterback with some flare. In each of his last two seasons Mayfield completed over 70-percent of his passes and his completion percentage over the course of his four-year tenure, which includes a freshman season at Texas Tech and three at Oklahoma, is 68.5-percent. Incredible.
Mayfield can make all the throws and he can do it under pressure better than almost everyone in this class quarterback class. According to Pro Football Focus, only three quarterbacks posted a higher completion percentage when pressured than Mayfield. Sure he's a little rough around the edges. He pushes the boundary between confidence and cocky, but in this case I think it is fair to chalk it up to him simply being hyper-competitive. It's that exact trait that allowed him to rise from two-time walk-on – first at Texas Tech and then at Oklahoma – to Heisman Trophy winner, to No. 1 overall pick. And if your take is that he's Johnny Manziel 2.0, that's a lazy comparison.
Don't punish Mayfield because Manziel was a lazy, self-absorbed cancer that the Browns also happened to draft. They're different players on top of the fact that Mayfield has had to work for everything he's earned. He'll bring that same mindset to Cleveland, unlike Manziel, who was far more content with just haveing reached the promised land. There is truthfully very little to dislike about Mayfield overall and if height is your concern, I direct your attention towards Drew Brees and Russell Wilson. Mayfield is taller than both by the way.
Size seems to be a concern for people in regards to Ward as well, but let's be honest here, anyone upset about the Ward pick, are upset that the Browns balked at the opportunity to form a dynamic pass-rushing tandem of Myles Garrett and Bradley Chubb.
Any argument for drafting Chubb at four was a sound one. The N.C. State product was considered one of the top three non-quarterbacks in this draft and you have to get after the quarterback in this league to win. That said, the importance of having a lockdown cornerback cannot be overstated. Think Richard Sherman with Seattle all these years or Darrelle Revis during his stints with the Jets and New England for a single Super Bowl-winning season in 2014. The Saints are certainly feeling blessed to have drafted Ward's former Buckeye teammate Marshon Lattimore last year.
In Dorsey's case, coming from Kansas City where he drafted Marcus Peters in the first round of the 2015 draft, it's easy to connect the dots and realize how he settled on a corner. There is immense value in having a shutdown corner who can take away one-third of the field and Dorsey knows that. So to land Ward – considered the best at the position in this 2018 class – what's not to like?
Ultimately, if you went to bed on Thursday night, or I guess early Friday morning, believing these picks were just another dose of "the Browns being the Browns" buffoonery that has plagued the franchise for years, you're sadly mistaken. For once, a Browns GM opted for taking talent and addressing needs rather than trading back and accumulating draft capital. These moves were calculated and respectable, and the team is better for them.

NEO Sports Insiders Newsletter
Sign up to receive our NEOSI newsletter, and keep up to date with all the latest Cleveland sports news.