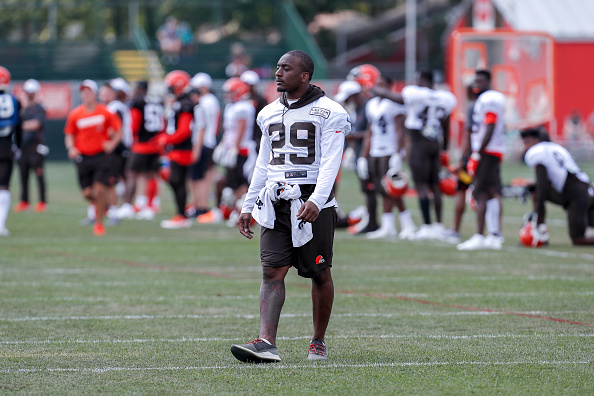 Outside of the hype surrounding the Cleveland Browns, there was one training camp narrative which never seemed to go away. I'm referring, of course, to the saga surrounding running back Duke Johnson's trade request.
Said saga finally came to a close today, as Johnson was dealt to the Houston Texans.
Frankly, it's difficult to find any gripes with how the Browns brought it to an end. John Dorsey put his GM skills on display once again, pulling off a move that was a win across the board for Cleveland.
Consider the situation Dorsey was dealing with here.
He had a player who was openly requesting to be dealt, and who also played a position the NFL has been devaluing for years. This created a market where underwhelming offers were certainly all Dorsey was going to get.
As a result, he held strong, with both he and coach Freddie Kitchens continually assuring Johnson was going to play a prominent role in the offense this season.
Despite that, Johnson's stance remained unchanged, as his new agent Drew Rosenhaus paid a handful of visits to Browns training camp in attempt to grease the wheels on a deal. Some believe the hamstring injury Johnson has been nursing recently was partly an attempt to hold out until a trade was made.
As a result, it didn't seem crazy to assume Cleveland would eventually just move him for little to nothing solely to get rid of an unneeded distraction.
That's not what happened.
Instead, Dorsey got a higher return than many expected, landing a conditional fourth-round 2020 pick from Houston. If Johnson is active for ten games this season, the pick becomes a third-rounder.
Honestly, it's difficult to view this trade from any angle and not see the Browns coming out as a winner.
To start, they removed what could've become a significant disruption from the team. Johnson wasn't shy when claiming he had no interest in changing his mind, spending an entire mini-camp presser stating his desire to be moved. While he still showed up to camp and maintained a professional approach, his agent paying multiple visits to the team facility just added more to the sideshow.
Now, Cleveland no longer needs to worry about the situation escalating. With such an important season on the horizon, the last thing the Browns needed was any sort of schism within the locker room.
Dorsey also didn't just trade Johnson for the sake of doing it. Instead, he waited the situation out until he received the best offer he could get. He netted what could become a third-round pick for, let's face it, his third-string running back.
The #Browns got a fourth-rounder that can become a third rounder for Duke Johnson. If it does become a third, I believe it will be the highest RB compensation since Trent Richardson went for a first.

— Ian Rapoport (@RapSheet) August 8, 2019
On top of this, Johnson's absence at training camp allowed up-and-comer Dontrell Hilliard to take the spotlight. The second-year back took advantage of this, wowing the coaching staff enough that they felt comfortable parting ways with Johnson.
While Hilliard still has to prove he can make an impact on game days, he should at the very least help shoulder some of the load with Nick Chubb while Cleveland waits out Kareem Hunt's suspension.
To summarize, Dorsey took a disgruntled player, swapped him for more than anyone would've anticipated, and held out in doing so until he knew for sure he had a back who could replace him.
Again, it's difficult to see any way the Browns came up short in this deal.
If you want to add to this, it's important to note Dorsey also did right by Johnson, too.
He could've used the trade demand as motivation to send him to an NFL bottom-feeder. Instead, he shipped him to a contending Texans team, where he should have plenty of opportunities to thrive.
In the end, assuming Johnson would stay put and contribute for the Browns this season always felt lofty. It was just difficult to believe the trade request would eventually become a thing of the past, that he'd just make peace with staying in Cleveland.
However, his being dealt today shouldn't be viewed as an instance of Dorsey giving in. It's instead a case of him getting an offer he couldn't refuse, which also helped alleviate one of the biggest distractions his team was dealing with.
If you ask me, it's tough to label that as anything more than a massive victory.

NEO Sports Insiders Newsletter
Sign up to receive our NEOSI newsletter, and keep up to date with all the latest Cleveland sports news.