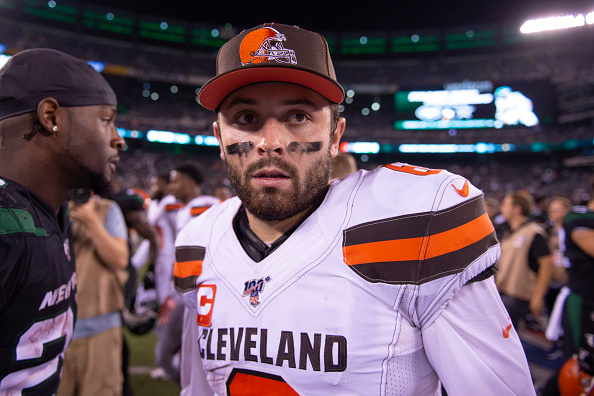 The Cleveland Browns are 1-1, but if you gauge the fan-base, it sure doesn't feel that way.
A 30-point beatdown in Week 1 was followed with a victory, albeit against the extremely short-handed New York Jets. As a result, more than a few supporters aren't quite comforted by the early season results.
One of the concerns appears to be the play of quarterback Baker Mayfield. A year after establishing himself as the franchise QB Cleveland had been seeking for decades, Mayfield has opened 2019 looking a bit uneven and tentative.
I'm not going to sit here and tell you he's been great. I won't even tell you I'm completely comfortable with everything I've seen from Mayfield this year. I'm not.
However, I am saying is it's been two games, and snap reactions on how someone is playing aren't going to do anyone any favors.
Looking at the numbers, it's easy to understand where concerns are coming from.
In two games, Mayfield has thrown for 610 yards, with two TDs, four picks and a completion percentage of 60.3%. It's certainly not a touchdown-interception ratio anyone is going to feel good about.
On top of the stats, we're also not seeing the same, confident quarterback we watched last year.
Mayfield has spent the first two games of the year looking hesitant, patting the ball too often and overall looking unsure of himself. His propensity to hold onto the ball too long has resulted in him being sacked eight times already.
Essentially, he's displaying a lot of the habits he showed early last year, but also habits he appeared to have kicked during the back half of the 2018 season.
So, yes, I understand why anyone would be worried about what they're seeing. With that said, I still think it's too early to be terribly concerned with Mayfield's performance. This is mostly due to the fact he's adjusting to significant change from multiple angles.
One of the biggest issues you tend to see from Mayfield so far is his eagerness to get the ball to his new weapon, wideout Odell Beckham Jr. This is completely understandable, as Beckham is an elite receiver any quarterback would be dying to have in his wideout corps.
That said, thanks to the intense coverage Beckham receives from opposing defenses, waiting for him to get open can take a little bit. As a result, Mayfield is hanging in the pocket too long, while also not looking for check-down options. This has often resulted in sacks or incompletions which stall the offense.
For what it's worth, Mayfield has acknowledged this issue.
"I need to be better at checking the ball down and getting completions," he said. "Getting the ball in our guys' hands, putting them in a good position, keeping the chains moving."
On top of his desire to get the ball to Beckham, also consider the fact Mayfield has now worked with three different offensive schemes in the past year. He learned Todd Haley's offense to start last season, shifted to Freddie Kitchens' updates when Haley was fired and is now working with a playbook designed by Kitchens and new offensive coordinator Todd Monken.
The fact is no amount of training camp and preseason reps were going to have Mayfield fully comfortable with the offense heading into this season.
It's also important to note Mayfield is now leading a team which is no longer flying under the radar. The Browns are in the spotlight now, and opponents aren't sleeping on them anymore. It's easy to acknowledge this off the field, but actually facing the opposing team's best shot every Sunday is a completely different story.
All in all, there are just too many factors to consider when looking at Mayfield's early-season performance. Acknowledging them should also help alleviate any urge to overreact to his struggles, as everything mentioned here should be resolved with time.
Mayfield hasn't looked himself so far this year. It's certainly been a bit jarring to watch. That said, assuming this means he's not as good as we thought, that he's coming back down to earth, that he's afraid of the hype, would be an extreme overreaction.
If we're still seeing significant struggles past the halfway point of the year, we can acknowledge it's a red flag. Until then, just remember we're talking about a quarterback who just wrapped up the 16th game of his NFL career.

NEO Sports Insiders Newsletter
Sign up to receive our NEOSI newsletter, and keep up to date with all the latest Cleveland sports news.