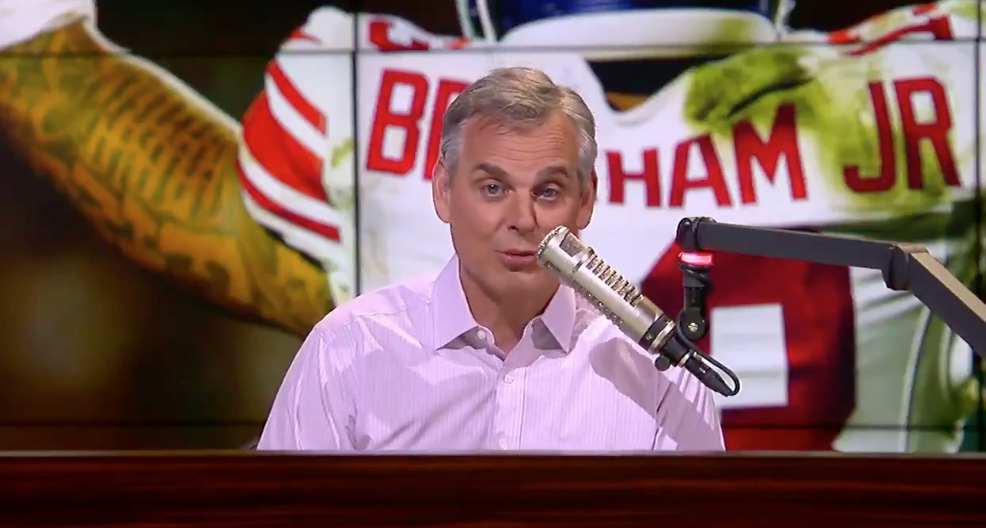 When it comes to the Cleveland Browns and their young quarterback Baker Mayfield, the hate is real from Fox Sports' host Colin Cowherd.
Cowherd has been critical of Mayfield since his senior senior season at Oklahoma and has gone on record saying he'd end up a bust in the NFL. The criticism boiled over last summer after Mayfield was taken No. 1 overall by the Browns. Eventually, Cowherd invited Mayfield on his show in late June to talk it out, however when Cowherd started picking apart Mayfield's college game tape, he took offense and epically blasted the  former ESPN host.
Since then their interactions have been relatively timid. Cowherd was one of a handful of talking heads who called out Mayfield for showing up his former head coach Hue Jackson and the Bengals. On Christmas Eve, Mayfield had a comical tweet wishing everyone a Merry Christmas including, the Grinch, Cowherd.
The feud was far from over though and it was rekindled after Cowherd targeted the Browns yet again. In a week where Cleveland was buzzing from the arrival of Odell Beckham Jr., Cowherd took some time during Friday's episode of The Herd to rain on the parade. Cowherd claimed to have sources who know Beckham Jr. isn't happy about being traded to Cleveland despite what he may have said in his introductory press conference on Monday.
Cowherd went on to say that there is no NFL player "more LA, New York and Paris than Beckham Jr." As the segment continues, he added that with a number of big egos to manage in the locker room and a first-year head coach in Freddie Kitchens, the situation could blow up in their face. :
Enter Mayfield, who saw the four-minute video clip shared and came to defend his city and teammate, as he tends to do. The Browns QB challenged the Cowherd to come to Cleveland and talk to both OBJ and himself in person. Here's his full response:
Come to Cleveland and ask O if he actually likes it. Just because you say you have a source doesn't mean you're not full of BS.
And while you're at it… come see if I'm a baby… #10ToesDown

— Baker Mayfield (@bakermayfield) April 5, 2019
The response will only help Mayfield's popularity here in Cleveland, while the town's disdain for Cowherd continues to grow. At this point it's just his schtick to target the Browns and Mayfield because he knows he'll get a response. To an extend Mayfield is only playing into that. Regardless, the Mayfield-Cowhered feud continues to be the social media gift that keeps on giving.

NEO Sports Insiders Newsletter
Sign up to receive our NEOSI newsletter, and keep up to date with all the latest Cleveland sports news.