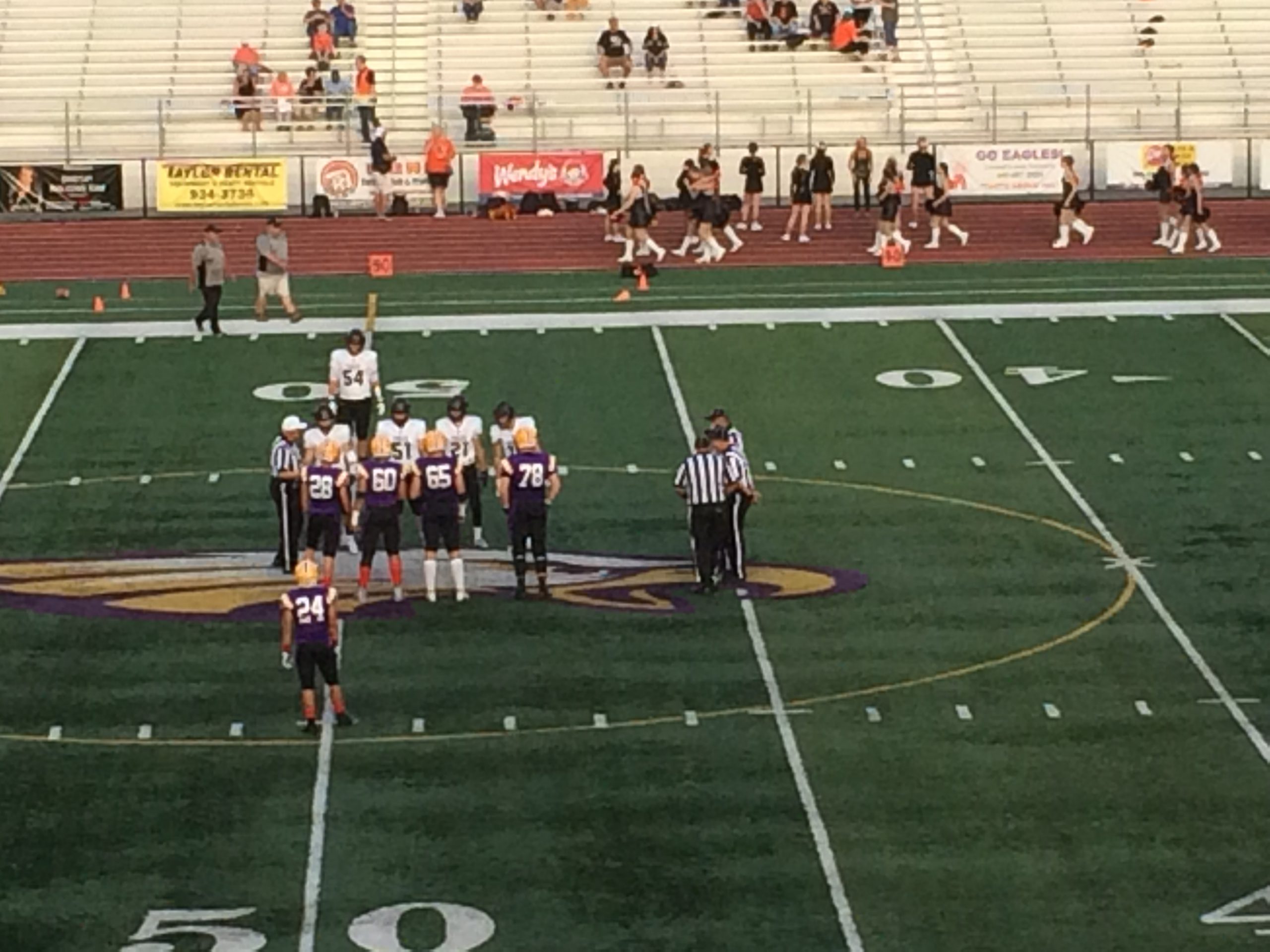 AVON, OHIO – The Avon Eagles defeated the North Olmsted Eagles 49-21 behind a good team effort from the Eagles in SWC action Friday night in Avon.
Things didn't exactly start off well for North Olmsted. The Eagles fumbled at Avon's 3-yard line on the first drive of the game. Avon took over and drove 97 yards capped off by a 28-yard touchdown run from Devon Hunter. Two drives later, the Eagles took advantage of a short field starting at Avon's 47-yard line.
Darren Anders scored on a 14-yard touchdown run a minute and a half later to tie things up at seven. Anders got just 14 carries coming off his 200+ yard rushing game against Midview last week.
Anders made the most of those carries, he finished with 88 yards and one touchdown run. Avon came right back down the field and Hunter scored again for Avon. Things were relatively quiet for a few drives as the teams exchanged punts. Avon's Mark Steinmetz broke loose for a 68-yard touchdown run to give Avon a 21-7 lead.
North Olmsted was driving until Quarterback Liam Fay got hit as he was throwing it and it was intercepted. North Olmsted either turned it over or couldn't score inside Avon's territory three times in the first half.
" We had some calls in the red zone we liked on film," North Olmsted Head Coach Tim Brediger said. "There were some things we saw in some of their previous games that other teams took advantage of and we just weren't able to do it. Whether it was protection up front or missed assignments on routes. We'll take a look at it and try to correct it and secure our game plan a little better next week."
Avon scored minutes later when Ryan Maloy threw a 10-yard touchdown pass with 41 seconds left in the first half. Avon went into the locker room up 28-7.
Avon came out of the locker room firing on all cylinders.
Maloy threw a 51-yard pass to start the second half and less than a minute later, Maloy connected with Steinmetz from 24 yards out to give Avon a commanding 35-7 lead. Maloy threw another touchdown on their next drive, this time from the five-yard line.
North Olmsted came right back with a four and a half minute drive for 65 yards capped off by a Fay touchdown run. Avon capped off their big night with a big play, Mike Matlak ran for a 39-yard touchdown to give Avon a 49-14 lead but North Olmsted would respond.
Anthony Guercio juked several Avon defenders on his way to a 30-yard score.
North Olmsted will travel to Westlake next week while Avon will play at Midview.
The player of the game is Avon QB Ryan Maloy: 11 of 15 for 192 yards, 3 passing touchdowns with 79 yards rushing.
This game recap is brought to you by Frankie's Italian Cuisine.

NEO Sports Insiders Newsletter
Sign up to receive our NEOSI newsletter, and keep up to date with all the latest Cleveland sports news.