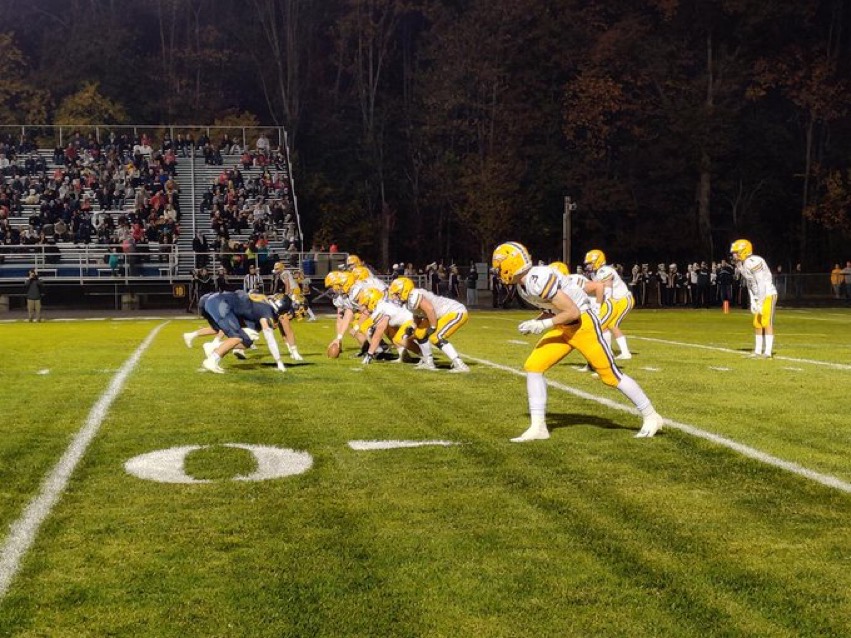 By Mark Perez
OLMSTED FALLS, OHIO – The reigning co-Southwestern Conference champions Avon Eagles have no plans in sharing this year's conference title.
Those plans are still intact as the 9-0, 8-0 Eagles defeat the now 7-2, 6-2 Olmsted Falls Bulldogs 24-14 to spoil their Senior Night.
Offensively, the Eagles relied heavily on Junior running back Devon Hunter who scored all three of their touchdowns.
He finished the night with 26 carries for 182 rushing yards and three touchdowns.
Hunter took over the running back role after the Eagles lost "one of the best players in Ohio" in Nick Perusek, according to Avon's head coach Mike Elder.
The first touchdown tied the game at seven apiece with 7:42 in the first quarter off a 15-yard run off up the middle.
Almost a quarter of play later, Hunter rushed in a one-yard touchdown two plays after he was handed the ball on a draw play in a third and 12 and gained 17 yards.
Per Elder, the Eagles lost at least eight players this season and applauds his players for stepping up.
"You gotta have a next-man-up mentality," Elder said after the win.
"No one is going to feel sorry for Avon, including Avon. We can't feel sorry for ourselves, but there is an emotional toll when you lose seniors and kids you love. There is a lot of love in this program and that's the culture that we've created. When you get kids out of that lineup that you love and aren't able to play, it takes an emotional toll and for our kids to have the courage to continue to come out here and battle and win a road game like this. I couldn't be more proud of them."
Though the Eagles are undefeated, Elder believes people are sleeping on his team.
"I think people yawn when they Avon is 9-0, but this team has been through a tremendous amount of adversity," he said.
"This team has endured more than any human being even imagines and yet they continue to fund ways to win."
The game quickly spiced up in the fourth quarter, which started with a three-yard touchdown run to open the quarter by Hunter to make the score 24-7.
The game was in danger of getting out of hand until the Bulldogs' first snap from scrimmage as Stephen Ellis broke free on a 73-yard touchdown run to put Olmsted Falls back in the game with 11:36 remaining and down by 10 points.
The Bulldogs were holding on for dear life as a holding flag voided a 66-yard touchdown by Avon's Joey Lance on their first play from scrimmage on the following drive.
The drive resulted in an Avon fumble that was recovered by Olmsted Falls' defensive back Robert Kaminowski.
The Bulldog's faced a fourth and two on their own 40-yard line as Ellis ripped off another huge outside run that would have put them inside the five-yard line, if it weren't for a holding call to replay the down from five yards back.
The luck for the Bulldogs' defense didn't end there as Lance fumbled on their next drive, in which they recovered, but the triple option-based offense weren't able to get any points off the turnovers.
"The triple option is a really good offense," Elder said. "
When it's ran well, it's hard to defend and stop. You gotta be very disciplined, you have to do your job. If guys get nosey and they don't take their assignment to heart, you leave the whole defense exposed. They got us a couple of times, but for the most part, I tell people all the time, you don't beat Olmsted Falls on Friday night. You beat them all year round when you get in the weight room… You have to be physical."
Other than the big run by Ellis in the fourth quarter, the Eagles defense had a lot of success against Olmsted Falls' run heavy play style.
They forced two turnovers. One was an interception by Niko Pappas and another was a fumble recovery in the second half, in which they allowed seven points.
Avon has been in control of their destiny of being the sole conference champions of the SWC since Olmsted Falls lost to Midview two weeks ago.
They will have a chance to secure their goal next week as they go on to host Amherst Steele. The Comets were placed just outside the playoffs of Division II, Region 6 in this weeks OHSAA Week 8 Computer Rankings and will be playing for their playoff lives.
Olmsted Falls will have to regroup fast as they will go on the road to face Avon Lake, who has won nine consecutive games with a defense that has shutout six of their last seven opponents.

NEO Sports Insiders Newsletter
Sign up to receive our NEOSI newsletter, and keep up to date with all the latest Cleveland sports news.