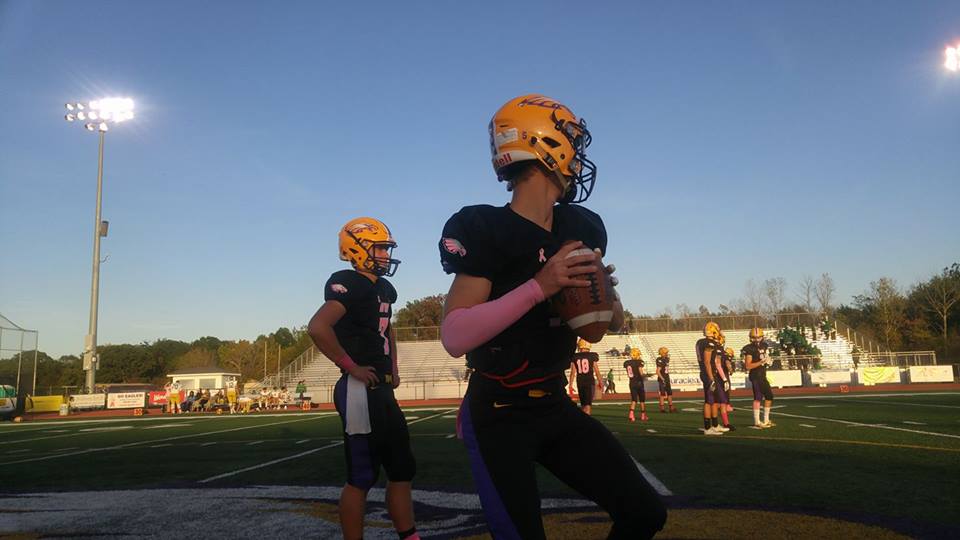 This game recap is brought to you by the premier pizza on the West Side of Cleveland, Crystalina's Pizzeria.
AVON, OHIO– Khennedy Scagliozzo and the vaunted Amherst Comets' run game were shut down by the relentless defense of Avon.  Avon prevailed 35-7 to remain unbeaten with one week left in the regular season. They also wrapped up the Southwestern Conference title in the process. Scagliozzo, one of the best backs in the state, was held to under 50 yards for the first time all season.
Avon head coach Mike Elder opened up about why he feels the Eagles met with such great success stopping the run tonight, and pretty much all season after the win
"It has to be about relentless effort when you're going against a kid like [Scagliozzo] with the talent he has," Elder said. "You have to run to the ball every time.  You have to play harder than they do because if you don't, he will find a seem and make you pay."
Elder has done an incredible job as his team goes for their second straight unbeaten regular season.  His team has been able to keep their focus all season long, never getting complacent despite their undefeated record
"It's all about preparation and we have mature seniors that understand what it takes to win," Elder said. "Sometimes when you're having success people can take that for granite but we don't.  Our guys have raised to the challenge each week."
Junior quarterback Ryan Maloy, who spent some time as the starter last year, continues to get better each week in his first season as the full-time signal caller.  Maloy came up big tonight throwing for 164 yards, on 12-of-14 passing with touchdowns to Chris Mullins of 23 and 35 yards.
Avon was faced with a fourth and one from the Amherst 29-yard line on their opening drive.  They showed no fear and that confidence resulted in a 29-yard touchdown run by QB Ryan Maloy to give the Eagles the early lead they would never surrender.
Amherst was able to get a rare first-half first down and move the ball to the 50 on their opening drive, but a sack and strip fumble at the 7:44 mark ended that momentum quickly.  Avon took advantage of the short field a few players later with a 23-yard touchdown toss from Maloy to his favorite receiver, Mullins.
The Eagles forced a three and out the next time the Comets had the ball and went right back to work with a nice mix of run and pass.  A 34-yard toss to David Orlando put them deep in the red zone.  One player later it was Tony Eberhardt punching it in from six yards out to increase the lead to 21-0.
Ryan Maloy didn't throw his first incomplete pass until midway through the second quarter as the Eagles offense was clicking on all cylinders again tonight.  They blew the game wide open at the seven-minute mark of the second quarter when Tony Eberhardt scored his second rushing touchdown of the night from two yards out on a first and goal.  The score made it 28-0 on a night that was all Avon.  It was a drive that saw runs of 11 and 14 yards from Eberhardt.  The first half would end by that same score.
The Avon Eagles picked up where they left off to start the second half with a multi-play drive that ate four minutes off the clock in the process.  It was capped off by a Ryan Maloy 35-yard touchdown pass to Chris Mullins.  It was their second touchdown hookup of the game making it 35-0 and started the running clock.  Amherst would avoid being shut out late in the game on a 45-yard fumble recovery for a touchdown by Greg Rhodes.
Avon travels to take on Berea-Midpark next week as they try for their second straight perfect regular season.  Amherst, now 5-4, looks to clinch a winning season next week as they host the struggling Westlake Demons.
Box Score
Avon             21      7      7      0 = 35
Amherst       0      0      0      7 = 7
1Q Maloy 29-yard run.  XP Good. @ 9:19
1Q Maloy 23-yard TD pass to Mullins. XP Good. @6:44
1Q Eberhardt 6-yard TD run. XP Good. @3:40
2Q Eberhardt 2-yard TD run. XP Good @5:38
3Q Maloy 35-yard TD pass to Mullins. XP Good @8:44
4Q Rhodes 45-yard fumble return for a TD.  XP Good. @3:11

NEO Sports Insiders Newsletter
Sign up to receive our NEOSI newsletter, and keep up to date with all the latest Cleveland sports news.