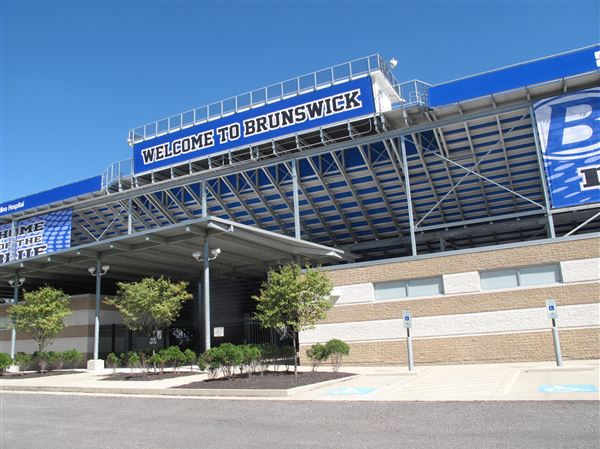 **My weekly Brunswick Blue Devils football coverage is sponsored by MDG Flooring America in Medina. Click on the link HERE to browse their site and download their coupon for either $100 off your purchase or 12 months special financing. Whether you need carpet or you need tile, they go the extra mile.**
MEDINA, OHIO- Anyone who follows either Brunswick or Medina knows that it doesn't matter what win-loss record either team has during the season when it comes to this in-county rivalry matchup known as The Battle of the 330. These two teams always give each other their "A" games and if it wasn't for very costly turnovers, Medina could have walked away with a win. But ultimately, Brunswick came up with the victory tonight, 25-23.
After most of the first quarter was a defensive battle, Brunswick was the first to get on the scoreboard as Cole Zamiska hit Ethan Flanigan on a 20-yard touchdown pass with just over three minutes left in the period giving the visiting Blue Devils a 6-0 lead as the point after attempt was no good.
As time expired in the first quarter, the Brunswick defense came up huge and stopped Medina on a fourth and 11 to take over on downs.
On Medina's very next drive, Brunswick's defense came up huge again as Garrett Laverty recovered a Medina fumble at the Medina one-yard line. Brunswick's Ben Mewhinney Ran it in from three yards out two plays later to put Brunswick up 12-0 after their two-point conversion try failed.
Medina's Dylan O'Dear put the Bees on the board as he plunged in the end zone for a four-yard touchdown run to bring the home team within five with just over three minutes left in the first half.
With 1:28 left in the half, Brunswick recovered a fumble on a punt, and Brunswick made that turnover a costly one as the Blue Devils' Zamiska once again found Flanigan for a touchdown, this time a three-yard TD pass to bring the score to 19-7 just before halftime.
Medina scored on a 27-yard field goal by Andrew Horton as time expired in the half to bring the halftime score to 19-10 in favor of the visitors from Brunswick.
With just over four minutes left in the third quarter, Brunswick's defense stopped the Bees once again on fourth down to end another drive that looked promising for the home team. The Blue Devils took advantage of that turnover as Mewhinney scored on a two-yard TD run to push the Brunswick lead to 25-10 after another failed two-point conversion.
With time running out in the third quarter, Medina's Dylan Fultz threw an errant pass as he was about to be sacked, and Brunswick's Flanigan picked the pass off and ran it back to the Medina 20-yard line to end yet another scoring drive for the Bees. Thankfully for Medina, Brunswick's Zamiska returned the favor by promptly throwing an interception to Nick Chester who returned the ball to the 40-yard line of the Blue Devils.
Medina's Fultz brought Medina to within eight points with a 30-yard touchdown pass to Chris Kelly to make the score 25-17 with just over 10 minutes left in regulation.
After a Brunswick punt, Medina took over on offense with 6:13 left in the game, and Fultz heaved in a 74-yard TD pass from Chris Kelly, but their two point conversion was no good, and that left the score at 25-23 with just over two minutes left in the game.
Medina took over after a Brunswick punt with 12 seconds left in the game, and unfortunately for the Medina Bees, the proverbial clock struck midnight and their comeback attempt was stopped two points shy of tying the game.
Scoring Summary:
1st quarter:
B- Zamiska 20 yard TD pass to Flanigan (Kick no good)
2nd Quarter:
B- Mewhinney 3 yard TD run (2 point try failed)
M- O'dear 4 yard TD run (Kick good)
B- Zamiska 3 yard TD pass to Flanigan (Kick good)
M- Horton 27 yard FG
3rd Quarter:
B- Mewhinney 2 yard TD run (2 point try failed)
4th Quarter:
M- Fultz 30 yard TD pass to Kelly (Kick good)
M-Kelly 74 yard TD pass to Fultz (2 point try failed)
Player of the Game:
Medina's Dylan Fultz: 225 yards passing with 1 TD, 39 yards rushing, and 74 yards receiving with 1 TD
| | | | | | |
| --- | --- | --- | --- | --- | --- |
| |        1 |         2 |         3 |        4 |    Total |
| Brunswick |        6 |          13 |          6 |         0 |         25 |
| Medina |        0 |          10 |          0 |         13 |         23 |
**Please visit MDG Flooring America for all of your flooring needs. They are located at 3812 Pearl Road Suite C in Medina. They can be reached at (330) 391-7184 or online at the link on top of this page.
Please help the Red Cross help victims of the recent hurricanes. Text REDCROSS to 90999 to make a $10 donation today.**

NEO Sports Insiders Newsletter
Sign up to receive our NEOSI newsletter, and keep up to date with all the latest Cleveland sports news.