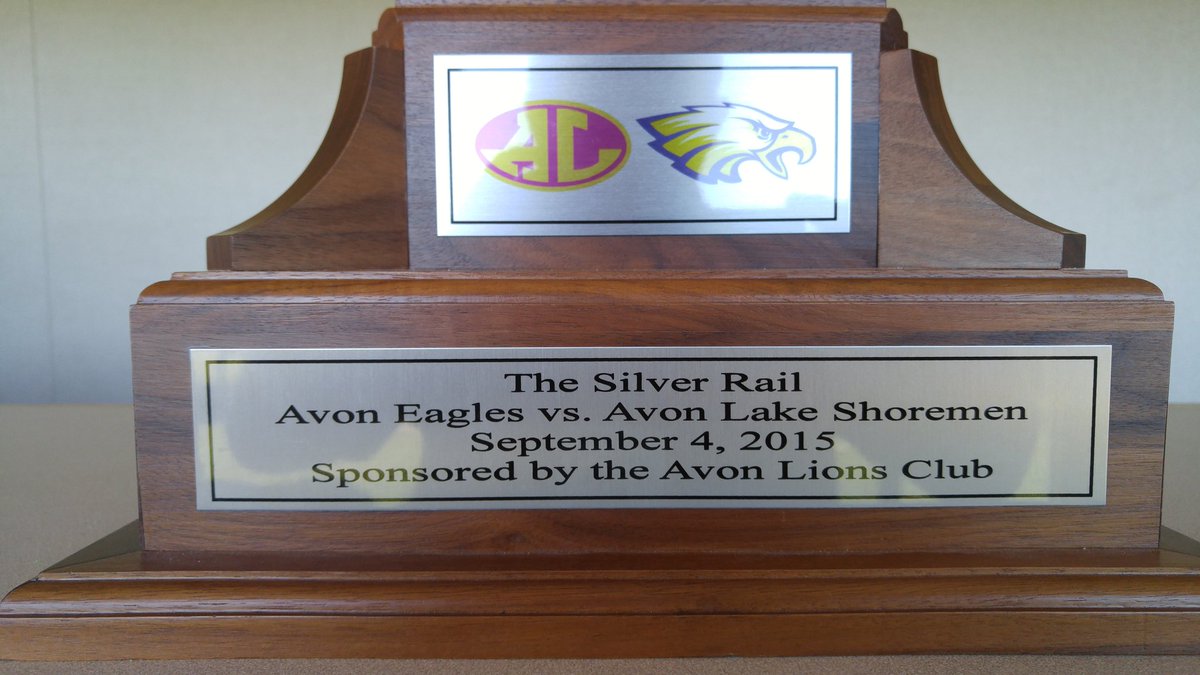 This game recap is brought to you by Mullins Construction. You can visit them at http://www.createns.com/mullins_construction/
AVON LAKE, Ohio – Avon Head Coach Mike Elder had a tough choice on his hands coming into tonight's cross town rivalry game for the Silver Rail Trophy. His team ventured to Avon Lake to take on the 1-0 Shoremen in front of a hostile crowd.
The choice for Elder was between staying with the hot hand of Sophomore Sensation Quarterback Ryan Malloy and continue to rest original starting quarterback Matt Kelly who went down to injury in the preseason. Or start Matt Kelly and let the senior lead them. Coach went with the senior and it paid off with a 31-7 victory.
Both would get their chance to shine however, and both awarded the coaches faith and led the Eagles to a big win over the Shoremen. Kelly passed for 84 yards on 3 of 6 passing and a TD pass. He also had runs of 4 and 9 yards including a touchdown on the ground, and one in the air.
Malloy went 3 of 5 for 69 yards and ran for a touchdown, Malloy showed off his legs with 43 yards on the ground. He brought the aura of mobility the coach wanted from him.
Helping take the load off of Kelly and continuing to impress was Senior Running Back Mason McLemore who has had some big shoes to fill after Gerrett Choat graduated last year. McLemore ran for 74 yards on 15 attempts. He also scored on a 11 yard catch.
Not to be ignored was Junior running back for Avon, Tony Eberhardt who ran the ball 4 times in the third quarter for a whopping 105 yards and a touchdown. Watch out for Tony Eberhardt the rest of this season.
Coach Elder explained his choice of going with Kelly, but also the choice to split time with Malloy, "Our Senior Matt Kelly has earned that right to be our starting quarterback. He played behind a great player in Jake Sopko for two years and learned behind him. He also led the JV team to back to back unbeaten seasons."
He also had high praise for his sophomore back up Malloy, "The kid is one of the most athletic players I have ever coached, and he too has earned the playing time we gave him. He brings an added element to the game with his legs and can make any throw on the field. He is just learning and growing as a decision maker."
Avon Lake Quarterback Matt Pappas was also very active tonight throwing for 149 yards on 16 of 30 attempts, but it wasn't nearly enough to help the Shoremen. His main target was Carson Toy who finished with 89 yards on 7 catches.
The scoring began in the first quarter when Avon Lake jumped ahead 7-0 on a Carson Toy 1 yard touchdown off of a direct snap to him. The drive was kept alive earlier by a costly pass interference call on the Eagles when it was 3rd and 17 to go for Avon Lake.
The first quarter would end with Avon Lake up 7-0. It was a sloppy quarter that saw each team commit 3 penalties. The first quarter also saw both quarterbacks struggle. Avon QB Matt Kelly went 1 of 4 for 18 yards while Avon Lake QB Mark Pappas went just 3 of 9 for 30 yards.
The Eagles would get on the scoreboard early into the second quarter following a blocked punt which gave them the ball at the Avon Lake four yard line. Elder inserted his versatile sophomore Ryan Maloy to sneak it in for the score. Tying the game at seven a piece.
The Avon Eagles then made the best of a two minute drive led by Sophomore sensation Ryan Maloy to close out the first half with a Mitch Cooper 27 yard field goal as time expired. Cooper had just caught a 45 yard strike from Maloy a play earlier to get them the last second kick with 4 seconds to go. It gave the Eagles a 10-7 lead headed into the half.
Coach Elder went back to his Senior to start the second half and it instantly paid off with a 45 yard passing strike to Will Kocar to set up a touchdown run, also by Kelly to give the Eagles a 17 – 7 lead.
Avon would then get the ball right back and march down the field on the strength of 3 runs totaling 72 yards by Junior running back Tony Eberhardt to give the Eagles a commanding 24-7 lead. Eberhardt saw his first carries of the game and made the best of them.
Minutes later the Eagles got the ball back and went back on the attack. Ryan Maloy would cap it off with a 11 yard touchdown pass to running back Mason McLemore. This would blow the game open and make it 31-7 Avon over Avon Lake. This would bring the third quarter to a close with the Eagles outscoring the Shoremen 21-0 in the frame. The game would finish with the same score.
Tonight was the second annual battle for the Silver Rail Trophy. Avon won last year 38-7.
Avon will look to improve to 3-0 next week as they host the visiting North Olmsted Eagles. Avon Lake will look to get back on track as they travel to Westlake to take on the Demons.
Avon 0-10-21-0 =31
Avon Lake 7-0-0-0 = 7
Scoring plays
1 Yard TD Run Carson Toy Avon Lake. XP Good. 7-0 5:42 1rst Quarter
4 yard TD Run Ryan Malloy Avon. XP Good 7-7 11:04 2nd Quarter
30 YD FG Mitch Cooper Avon 10-7 0:00 2nd Quarter
4 yard TD Run Matt Kelly Avon XP Good 17-7 3rd quarter 11:07
16 yard TD Run Tony Eberhardt XP Good 24-7 3rd quarter 8:22
11 YD TD Pass Maloy to McLemore Avon XP Good 31-7 1:36 3rd quarter

NEO Sports Insiders Newsletter
Sign up to receive our NEOSI newsletter, and keep up to date with all the latest Cleveland sports news.