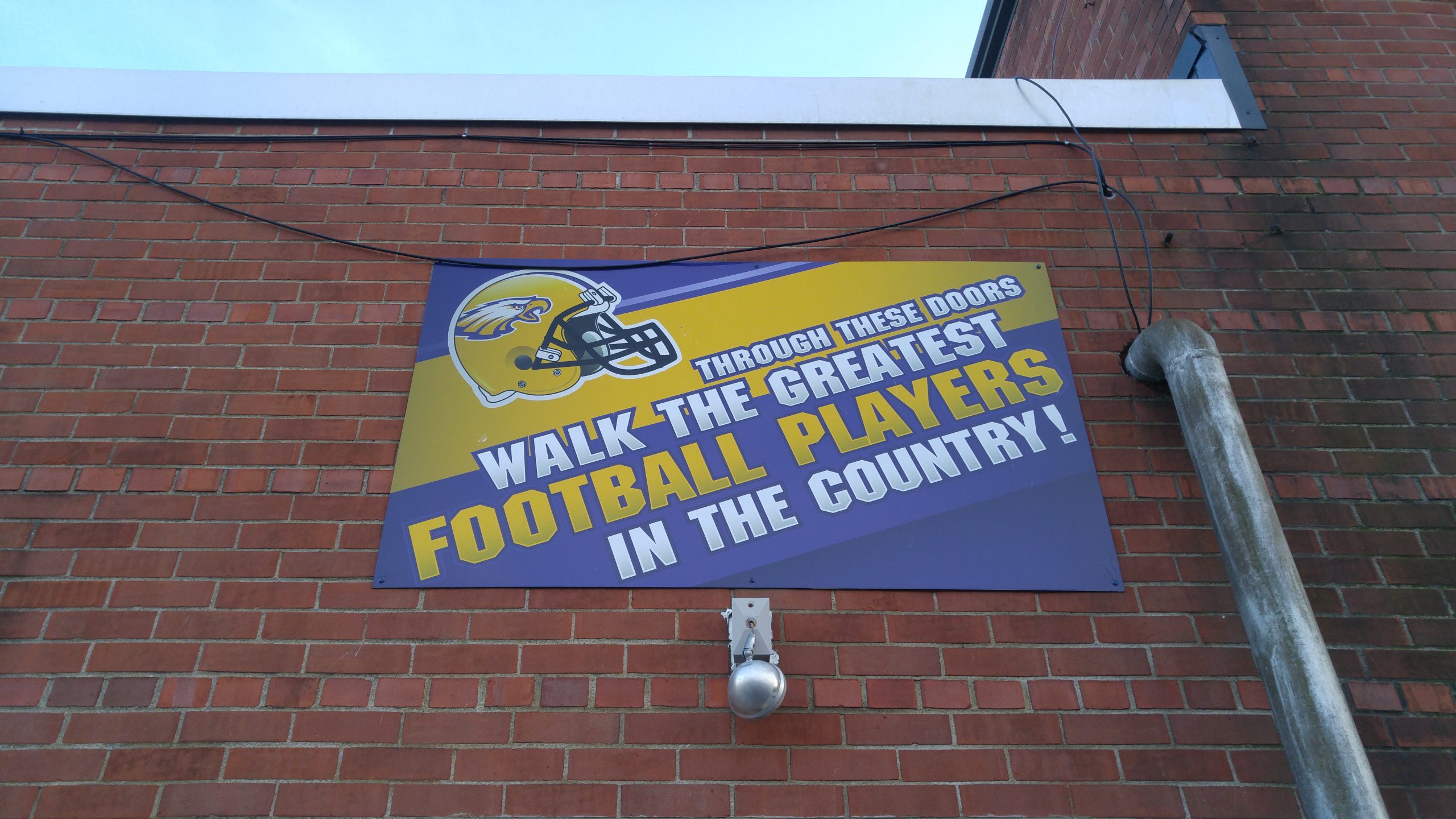 This game recap is brought to you by Mullins Construction which can be visited at
http://www.createns.com/mullins_construction/
AVON, Ohio – The Avon Eagles finished off a 10-0 unbeaten regular season with 42-19 victory tonight over the pesky Olmsted Falls Bulldogs. Olmsted Falls came in at 7-2 and fighting for their playoff lives.
The Eagles once again relied on a balanced attack of two great running backs combined with the QB combo of starter Matt Kelly and very active and mobile backup Ryan Maloy to defeat the Bulldogs.
Kelly threw for 209 yards on 6 of 9 attempts for 4 touchdowns passing and he also had the one running. Just a huge night for Kelly! Maloy chipped in with his legs, rushing for 52 yards
As it did last week against Berea Midpark, their two headed running back attack in the back field of Mason McLemore and Aaron Endrizal piled up the yards.
Mason McLemore continued his huge season with 95 yards, on 10 carries and scored on a 38 yard reception time. Aaron Endrizal finished with 67 yards on 6 carries and scored on a 17 yard run.
Olmsted Falls kept it close all night on the strength of a balanced running attack of their own as they have had all season. A huge reason behind their seven wins were the strong running combo of Spencer
Linville, Luke Lombardo, Josh Jaeckin and Jack Spellacy.
Linville had another big night tonight, rushing for 156 yards and scoring his 19th and 20th touchdowns of the season on 28 carries.
The scoring started when following an Eagles 3 and out to open up the game, the Bulldogs wasted no time driving down the field on 8 straight runs, capped off by a 4 yard sweep for pay dirt by Josh Jaeckin.
The Eagles answered with their own duel attack at Quarterback. Ryan Maloy came into the game and broke a 38 yard QB scramble. Followed by Matt Kelly lighting it up with long completions of 14 to Chris Mullins and then a 36 yard touchdown toss to Mitch Cooper to tie the game.
It wasn't long after that Kelly hooked up with Cooper again, this time from 37 yards out to make it 14-7 with 90 seconds left in the first quarter.
On the next Bulldogs possession, they were faced with a fourth and three from the Eagles 26 at the 10:55 mark of the Second Quarter. Before they could even snap the ball they were hit with an illegal procedure.
Coach DeLuca rolled the dice, and went for the 48 yard field goal instead of trying the fourth and long. The kick was dead center but just short.
The Eagles just kept rolling along the next time they touched the ball. A beautiful 16 yard quarterback draw from Maloy kept the Bulldogs on their toes and guessing. This was proven on the next play when Maloy ran the option, this time giving it to Aaron Endrizal with a 17 yard touchdown. This extended the Eagles lead to 21-7.
A two yard touchdown run by Olmsted Falls Spencer Linville managed to cut into the lead and make it 21-13 at the half, following the missed extra point. That drive was aided by two long third down conversion passes from lefty Brett Hutkay to Braden Galaska. It was only his third and fourth catches this season.
The Eagles started off the second half with a bang the first time they touched the ball. The highlight was a 39 yard run by Mason McLemore. This would set up a 16 yard touchdown scramble by quarterback Matt Kelly to make the Eagles lead 28-13.
The Bulldogs would attempt a drive of their own but it would stall out on downs near the 50 yard line after a gutsy call on fourth down failed. The Eagles wasted no time taking advantage of the great field position, scoring on their first play of the drive, a 54 yard touchdown strike from Kelly to tight end Vlasi Pappas.
Kelly would remain on fire on the next drive, this time tossing a 38 yard touchdown toss to speedy tailback Mason McLemore to put the game out of reach at 42-13. A one yard heavy rumble by Spencer Linville would get the Bulldogs back on the board late in the fourth quarter, but it was too little too late.
The Eagles will begin the playoffs next weekend at home, while the Bulldogs will have to sit back and wait to see if the computer points allow them to keep playing into November.
Box Score
Olmsted Falls 7-6-0-6-19
Avon 14-7-14-7-42
Scoring Summary
1Q – Jaeckin 4 yard run. XP good. 7-0 @ 7:10
1Q – Kelly to Cooper for 36 TD. XP good. 7-7 @ 5:19
1Q – Kelly to Cooper for 37 TD. XP good. 14-7 @1:30
2Q – Endrizal 17 yard TD. XP good. 21-7 @7:27
2Q – Linville 2 yard TD. XP no good. 21-13 @0:19
3Q – Kelly 16 yard TD. XP good. 28-13 @8:43
3Q – Kelly 54 yard TD pass to Pappas. XP Good 35-13 @5:21
4Q – Kelly 38 yard TD pass to McLemore. XP Good 42-13 @10:23
4Q – Linville 1 yard TD. XP no good. 42-19 @5:36

NEO Sports Insiders Newsletter
Sign up to receive our NEOSI newsletter, and keep up to date with all the latest Cleveland sports news.