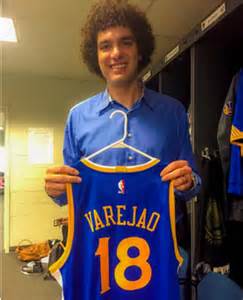 My colleague Brandon Larador pointed out on our weekly show, "The CavsLand, Ohio Podcast," he was concerned about the Anderson Varejao trade "adding on to Cleveland's curse."
I laughed when Brandon said that, but the last week has made me think… What if he's right?
Since Varejao was traded, not much has gone the Cavs' way. The Cavs are 1-3 since Channing Frye made his debut. They lost out on coveted free-agent Joe Johnson. Their next target on the shopping list, Kevin Martin, is reportedly interested in San Antonio.
The Cavs signed a D-League player who practically nobody had heard of to fill one of the open roster spots. Frye made an impact in one of his first four games. Obviously it'll take time for him to be a difference maker if he ever becomes one, but does anyone really think in their heart of hearts that Frye is going to put the team over the top?
I hope he proves me wrong and hits a buzzer beater in Game 7 of the Finals, but I'm not holding my breath on that.
Meanwhile, Golden State and Varejao have had literally nothing but success since he arrived.
Since the day Varejao signed, Golden State is 4-0. Who cares if he only played 35 minutes in three games? It's Andy. What the Wild Thing brings to a team is more than just "great hair" (like Luke Walton said when they acquired him) and along with that great hair is being a great teammate.
First came a story about how Varejao was fitting in with his new team one day after signing with the Warriors.
Here is an excerpt from the SFGate.com article by Rusty Simmons:
About five minutes after the Warriors' 102-92 victory over the Hawks on Monday night, Draymond Green made his way to the visitors' locker room.

Waiting for Green at the door was Anderson Varejao — all 6-foot-10 and 273 pound of him, full of dap and praise.

Varejao just kept standing at the door, waiting another 10 minutes as his new teammates mocked the seemingly curious act.

When Stephen Curry finally arrived at the locker room, Varejao was still at the door and ready with a similar greeting for the point guard.

With all of the Warriors in the locker room and having been congratulated on win No. 50, Varejao felt it was finally OK to sit.

"You've got to respect that," Green said.

Varejao hasn't played a second for the Warriors yet, and he's already had a positive impact on the league's best team.

"Everybody loves him," Warriors head coach Steve Kerr said. "… He'll be great in our locker room, and he'll get a chance to play."
The thing that stuck out to me was that Varejao had not even played in a game yet and was already showing how great of a teammate he is. Some would say "Who needs that? We're trying to win a championship." Well, a team poised to win its second-straight championship seems to value that intangible factor Varejao brings.
As if that wasn't enough, a new story came out on Friday, in which Varejao compares the atmosphere and culture of Cleveland to Golden State.
According to the Wild Thing, it's night and day.
"I'm glad I came here because I can tell they love each other," Varejao told CSN Bay Area's Monte Poole earlier this week. "When you want to win, you have to be like they are. Friends have fun out there, fun in the locker room."
At first glance that may seem like a guy who is happy to be with his new team, but what does that tell you about the environment of the Cavalier locker room and chemistry of the team? The Cavs won plenty of games this season before Andy was traded. Third-most in the league, in fact.
But Varejao's statement implies that love between teammates and camaraderie that is so apparent with the Warriors may not be there in Cleveland. At least not to the same degree, anyway.
And if anything, over the 12 years we have known Andy in Cleveland, you would expect him to be someone who brings the locker room together. Who doesn't love Varejao? There are few guys as universally loved in Cleveland sports, not just by fans, but universally admired even by media members who cover the team.
One would be hard-pressed to find a negative trait of Varejao.
He's injury-prone and overpaid. Ok. But think about this. Who in their right mind would have CHOSEN to stay in Cleveland through all the turmoil, the 26-game losing streak, and the four years of irrelevance? Did you see Varejao requesting trades?
He wanted to be a Cavalier for life. A rare trait in all of sports nowadays.
When Johnson left the Nets, he chose to go to sunny Miami rather than play for a chance at a championship in Cleveland. Presumably because Cleveland is that unattractive of an option, even when they're in a championship hunt.
Dan Gilbert has spared no expense with this Cavalier roster. It's one of the highest-paid in the history of the NBA. Tristan Thompson and Kevin Love make more combined salaries than quite a few starting lineups.
In the grand scheme of things, the Cavs are still going to have to pay Frye, so what would paying Varejao more than he deserved have really cost Gilbert and his fellow owners in the long-run?
Financially it makes sense. So did Art Modell moving the Browns. So did changing the name of Jacobs Field. But this move is just another in Cleveland sports history that may come back to bite the city and be remembered along with "The Drive," "The Fumble," "The Decision," "The Shot," "The Curse of Rocky Colavito," … Could it be "The Curse of the Wild Thing?"
There's more than a fair chance that Varejao will be facing the Cavs in the 2016 NBA Finals. It's even possible he hoists the Larry O'Brien Trophy on the Cavaliers' home court.
How bittersweet that would be for him. And how bitter would that be for Cleveland?
When it's all said and done, Varejao's #17 jersey might be hanging right next to Zydrunas Ilgauskas #11 in the rafters. And his only ring might be with the hated Warriors.
(Z was an injury-prone, fan-favorite who played hard for Cleveland his whole career, too, before joining Miami, coincidentally.)
As someone who has grown up in Cleveland, watching Varejao play in a Cavs jersey for half of my life, I can't even be mad at him. The Cavs screwed him over. He's not going to be broke because of it. He won't go hungry because of it. But he was rewarded for his loyalty by being kicked out the door, finding out via text message, and thanked for his 12 years of service by essentially being told "You're not worth the money."
In the end, Gilbert may have done him a favor. Right now he's in the best position to get a title.
But it's not often you find a special individual who pours his heart and soul into the city of Cleveland, a place where winters are cold, free-agents stay away, and is generally a laughing stock of major cities with sports franchises.
So what do the 2015-2016 Cavaliers do when that person is on their roster? Take them and their more than a decade of service for granted.
It took a little over a week for this to really sink in for me, but watching Varejao from a distance and seeing the direction Golden State is headed, while the Cavs continue to falter, it has become clear that whatever the Cavs had to gain by trading him did not outweigh the significance of what he has contributed and what he meant to this franchise.
Maybe Johnson's decision to sign with Miami was the tipping point. If he chose to come to Cleveland and take up one of the two open roster spots from the trade, maybe it would have made more sense. But that backfired right in the Cavs' faces.
I don't mean for this article to be interpreted as ill-will towards Frye. His role on the Cavs makes sense. But was he such a coveted target that the Cavs had no other way of getting him? If this comes across as a cheap shot then so be it, but Frye could have been bought out a week later by Orlando anyway. He did practically nothing in the weeks before the trade.
Orlando found a way to get some assets for him.
The whole situation is sad. I wish Andy nothing but the best. I hope Frye proves me wrong. But if the Cavs lose in June, remember what my good buddy Brandon said, "The Curse of the Wild Thing."

NEO Sports Insiders Newsletter
Sign up to receive our NEOSI newsletter, and keep up to date with all the latest Cleveland sports news.