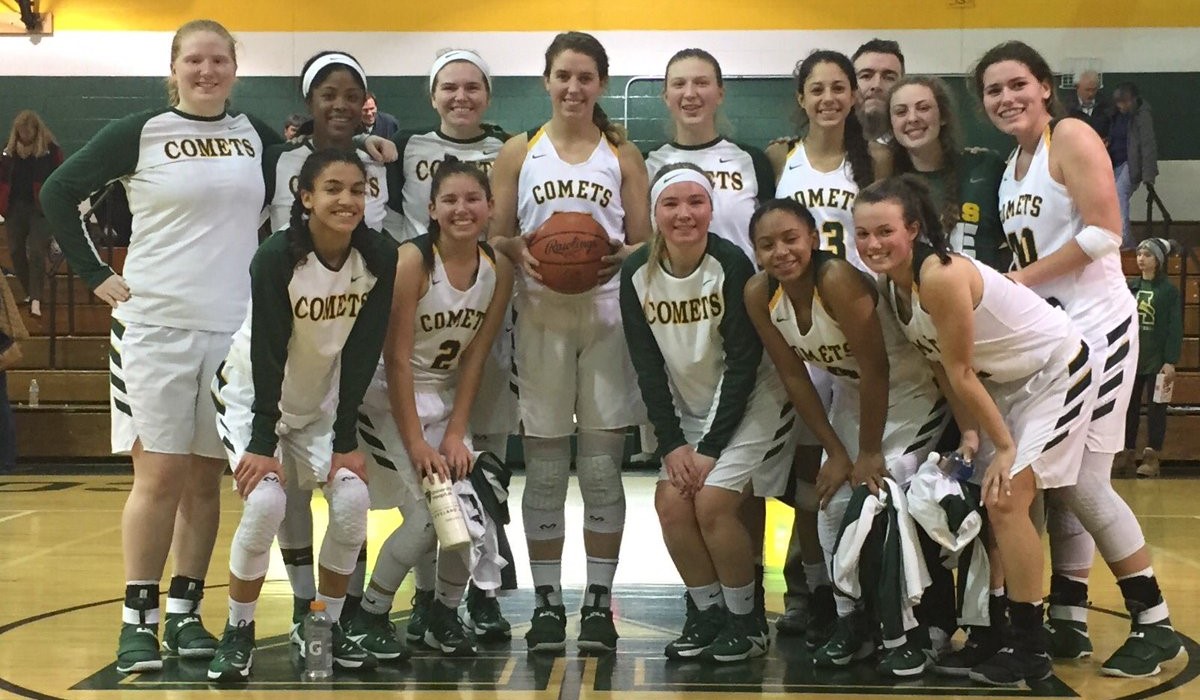 Amherst Steele senior Sydney Roule made history on Jan. 11, reaching the 1,000 point milestone in a 63-40 win over North Olmsted.
Roule, who averages 17.8 points, 6.5 rebounds, 3.4 assists and 3.3 steals per game, will be heading to IUPUI to play college ball, but in the mean time, she has led the Comets to a 10-2 start, and looks to help Amherst avenge a devastating tournament exit from one year ago.
After hitting the 1,000 point milestone, she told Morning Journal Sports, "It's a huge accomplishment. Coming into the season I knew it was attainable, if I just played my game."
She is now third in school history in scoring (1,018 points) and put up a game-high 24 in the win over North Olmsted.
Amherst coach Kevin Collins could tell she was anxious to reach that 1,000 point mark as soon as the game tipped off.
"She pressed big time," said Collins.
"She hit a three 18 seconds into the game and then she went 1-of-7 after that."
Coming into the game, Roule was six points shy of reaching the mark.
"I was talking to our athletic director today and he even said 'every time the ball left her hands, you could just feel the anticipation.'"
That anticipation built up to this basket, the culmination of an impressive high school career for Roule, which is still far from over at the midway point of the regular season.
Sydney Roule scores her 1,000th point! Congratulations! @AmherstGBB #CometPride #1000 pic.twitter.com/G0ySkwUW9t

— Michael J. May (@MMAYMHCS) January 12, 2017
The weight was lifted after that.
"The amazing thing is she went 5-of-5 in the second half and went on to finish with 24 points. It was a pretty cool night," said Collins.
Part of what made it such a special night was playing in front of Amherst's home crowd and also having some future Comets in attendance to watch greatness.
Future Lady Comets!!!!! @AmherstGBB pic.twitter.com/C7wXe9IDrX

— Mrs. Lowe (@mrsloweteacher) January 12, 2017
"It couldn't have gone any better," the coach stated.
"We actually had all of our youth travel teams there, as well. Our third through sixth graders were there and they made signs. We wanted them to see it because it's a pretty big deal and we wanted them to get excited about basketball, too."
Perhaps Amherst's next 1,000 point scorer was holding a sign for Sydney somewhere in the crowd and got a chance to see part of what it takes to be that kind of leader.
However, the work that Roule puts in away from the crowd is what separates her from the rest.
"I've never met anybody with a better work ethic," said Collins.
"She's a gym rat. If we have days off, she's calling me and asking if I can get her in the gym. Even in the summer, we saw her every day getting shots up. It's a testament to her work ethic and I think that has rubbed off on her teammates, who see this is how hard you have to work to accomplish these goals."
For her first few seasons at Amherst, keeping her nose to the grindstone and letting her play do the talking seemed to be the M.O. for Roule, but as a senior, she has stepped up in an even bigger leadership role.
"She's our biggest leader. She makes her teammates better because she's not a selfish player. She does everything and is willing to put her own individual accomplishments to the side in order for our team to be successful. As a coach, that's a dream player."
"She was our biggest 'lead by example' player for the last few years, but this year, she has become that vocal leader. It started with a heartbreaking loss in the tournament last year in Avon. We lost right at the end of the game and had a chance to win. Since that moment, Sydney has been motivated."
"She feels confident knowing this is her team and knows she has teammates who want to be successful, so she can tell them 'this is what it takes to win,' and she can lead in that sense."
The Comets are certainly following her lead, as three other players average double-figures scoring, and the team is tied for first place in the competitive Southwestern Conference with eight wins and one loss.
Aside from an early season loss to Westlake (9-2, 7-2), Amherst has made quick work of most of its conference schedule, and Collins called that one loss a "wake up call."
"You have to show up every single night in our conference and I think that's what it was with Westlake," said Collins.
"We didn't show up the way we know we need to and we caught a good team, who shot something like 60 percent that night. The message was clear that we have to show up every single game and I think we've done that since that point."
The Comets host the Demons on Jan. 18 in a match that will make a big impact on conference standings, as Berea-Midpark (10-1, 8-1) and Amherst are currently one game ahead of Westlake, the defending conference champions.
Amherst defeated Berea-Midpark on Dec. 17, but the Titans were missing their leading scorer, Jada Marone, and there's a chance that the two teams will have a deciding game down the road on Feb. 1, but until then, there's quite a bit of basketball to be played.
NEO Sports Insiders will be following along with the competitive SWC title chase all season and we'll be keeping a close eye on Roule and the Comets.
One of Roule's individual goals has been reached and now the Comets look to accomplish bigger and better things as a team.

NEO Sports Insiders Newsletter
Sign up to receive our NEOSI newsletter, and keep up to date with all the latest Cleveland sports news.