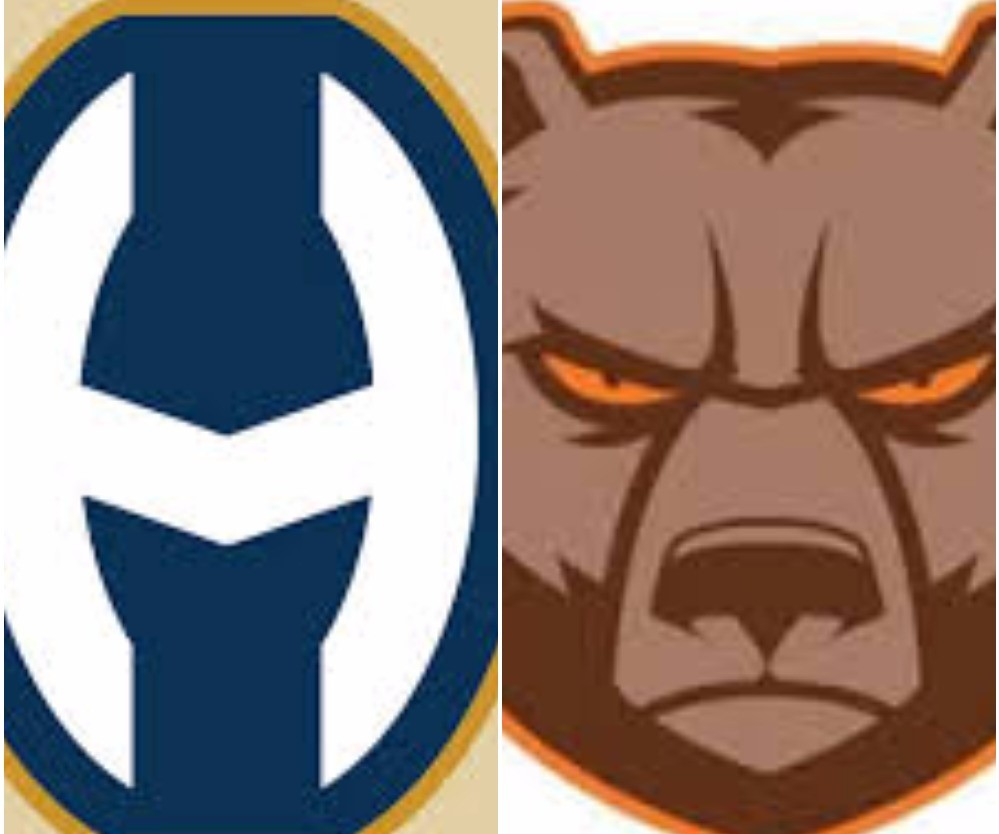 When the Archbishop Hoban Knights (7-5, 2-1) host the Padua Bruins (11-1, 3-0) in a North Coast League showdown on Jan. 14, there will be more than a few interesting storylines on display.
Along with this game being a battle for first place in the NCL: Blue Division, the match features two star senior players, who are members of an exclusive thousand-point club, and also a meeting between Hoban head coach Scott Callaghan and his former-assistant, Dan Brown, who took the job at Padua prior to the 2015-16 season.
It will be Brown's third head-to-head game of his career against Callaghan, and Hoban got the better end of last year's two matches, winning one of the games by only two points.
Hoban went 8-0 in conference play in 2015-16, while Padua (7-3) finished second. The Knights are two-time defending conference champions and have won the NCL in three of the last four seasons.
This year, Padua is on top of the conference and Hoban has a chance to even things up in the standings.
"They're the team to beat in our conference," said Callaghan.
"For us, there is a tremendous amount of urgency because we're playing Padua at home. We love to play at home. We have a great gym with an awesome atmosphere and we know we have to win to stay on pace to have a chance to win our league."
You Are What Your Record Says You Are
Hoban started the season 3-4, playing some close, competitive games against tough teams and bounced back in recent weeks, winning four of its last five games.
However, Callaghan does not make excuses for his team, which lost six seniors from last year's class.
"I kind of believe you are what your record says you are. We have not been handled in any game. Our biggest defeat was less than ten points, but we lost some big leads in second halves this year."
"I really like our talent. I love our athleticism and when we play hard and secure the basketball, we can be very good."
"I don't think youth can be used as an excuse or a reason for why you're not successful, but what we've attempted to do this year is re-establish our culture and become tougher, mentally and physically."
"Sometimes when you lack toughness, you have a hard time finishing. That's why I'm so impressed with Padua this year. That's the level that we want to get to in the second half of the season."
While Padua's record speaks for itself, the team has evolved over the course of the season.
The Bruins have four senior starters, but are led by Elena Rouhe on offense, who averages 19 points per game.
Early in the season, it was not often that more than two players would reach double figures scoring in a game, but lately, the entire team has been playing with a more balanced attack.
"The other night against Lake Ridge we had three players in double figures," said Brown.
"We haven't had that all year and it was really nice to see. Even my athletic director pointed it out and said, 'that's the most balanced you guys have been all year,' and he's right."
While both of the teams are going to look to limit the star scorers from having a big day, this game could come down to which team receives more contributions from a wide variety of players.
Mirror Image?
Brown and Callaghan know how one another think. Their years of experience together factor into that from a basketball standpoint, but it's more than schemes and playcalling that make these two coaches similar.
"He's my mentor," said Brown.
"I've learned so much about not just coaching, but about how to handle players and different situations. When you see us play on Saturday, you're going to see a lot of things that are identical."
"That's not a coincidence. I was scouting them against St. Joseph Academy earlier in the year and one of my players was with me and she goes 'Hey! That's our play! We run that inbounds play!' I'm not that unique."
"That's why this game is going to just come down to who executes better. It's going to be a little bit of a chess match. I love Scott, he's always going to be a great friend of mine and he's such a great coach and if I could be half the head coach he's been throughout his career, that'd be a huge accomplishment."
Battle of the 1,000 Point Scorers
This match will feature a pair of seniors, who have combined to score over 2,000 points in their high school careers.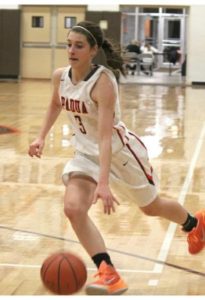 Padua Guard Elena Rauhe: 19 points, 5.0 steals per game (1,000+ career points)
"Elena does so many things for us," said Brown.
"Even when she's not scoring, she's doing a lot of things for us. She has the capabilities to average 20-25 per game and shoot lights out, if we arranged things differently, but she's just a competitor."
"She's a good defender and she doesn't take too many possessions off. She's a great rebounder for her size (5-foot-7) and distributes the ball. She's got a lot of different tools and whatever school lands her, they probably won't know what they have for the first couple weeks because she does so many different things."
When Brown first took the job at Padua in 2015, Callaghan told his former-assistant he was going to be coaching the best point guard in the North Coast League.
"I was wildly impressed with her as a freshman. She's the most impactful player in our league," said Callaghan.
"She's really athletic. She's really strong and creates great pace for them offensively. She scores in a myriad of ways. Defensively, she does so many great things for them, creating turnovers, and igniting them (into) their fastbreak."
"Through this point of the season, she has played like the most valuable player in our league. We have never been real successful at dealing with her, so that's certainly one of the things that we're going to have to do tomorrow – to try to contain her and take something away from her because she makes everybody on her team better."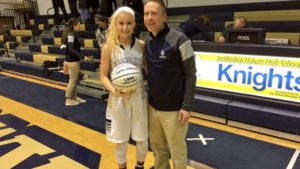 Hoban Senior Guard Rachel Chessar: 1,000 + career points (All-time leader in 3PTM in school history)
"Rachel's a four-year starter for us. She's the fifth-leading scorer in the history of our school and she's going to play (college basketball) at Mercyhurst. She's an 'A+' student and an even better person," said Callaghan.
"She represents everything that we try to build our program through as far as commitment, loyalty, and hard work. She's the only senior in our rotation and has a tremendous amount of responsibility for our team."
"It's not just scoring points or making plays on the floor. She's kind of responsible for being an extension of the coaching staff. She takes that seriously and is invaluable to us. We're trying our best to create a team that honors her senior year because she's very deserving of going out a winner."
Brown coached Chessar for her first two seasons and echoed similar sentiments.
"Rachel is just a gamer. She's so dangerous from a variety of positions on the floor. A lot of people look at her and say 'oh, she's just a shooter,' but a lot of people don't notice what she does defensively. Even when she's sitting on the bench, she's the most energetic kid on the roster," said Brown.
"We have to know where she is at all times on the floor, that's a given. She's developed a lot of different things in her game throughout the years. I remember her as a freshman and she's just improved so much and that's just a credit to how hard she works."
Rivals on Gameday, Friends off the Court
"The unique thing about those two is they played AAU together last spring,"
"They developed a nice friendship. Rachel came and watched us play against Walsh last Saturday and we all got a chance to talk after the game, but I won't talk to her for a couple hours this Saturday, I know that much," joked Brown.
Other Players To Watch
Hoban Sophomore Guard Emma Tecca
"Emma started last year for us as a freshman. She comes from a great basketball family. Her older sister, Rachel, was two-time MAC Player of the Year at the University of Akron," said Callaghan.
"Emma's our most highly recruited player. She's our best two-way player and she's going to have a great high school career and she's going to be a really good college player."
Hoban Sophomore Forward Lanasia Brewer
"She had a game earlier this year where she scored 19 points and had 25 rebounds. When she plays well, we are very, very good."
"She's got a great personality and when she lets that personality out on the floor, she's a very good player."
Padua Senior Guard/Forward Alainna Conroy 
"In the last two or three weeks, she has just come on strong," said Brown.
"She's got so many tools. She can attack the basket, she can shoot, she's a good rebounder (6.0 rpg) and a quiet leader for us."
Padua Senior Guard Ali Medaglia
"Obviously Ali's a threat anywhere on the perimeter (16 3PTM), but she's also put the ball on the deck a lot this year."
"Last year we kind of really started to work on that because the year before, she didn't put the ball on the floor at all before I got there. It was just catch-and-shoot and I told her 'you're more than that. You have to start doing things to get yourself more involved,' and the other night, she had three attacks to the basket, which is something she probably wouldn't have done about a year ago."
Padua Sophomore Guard Alex Pillin
Pillin stands at 5-foot-5, but plays with perhaps the biggest heart and most energy of anyone on the court, averaging 6.1 rebounds and 2.9 steals per game.
"She is just a workhorse. It sounds crazy, but if there was a street fight, I'd take her with me," joked Brown.
"She's so physical and I've challenged her defensively. Earlier this week I put her on Lake Ridge's best guard and she was all over that kid."
"But now, I've challenged her and said, 'I love that you play defense, but I don't want that to be the only thing about your game,' and she's starting to do that."
Where to Watch
The game tips off at 2:30 pm on Saturday afternoon at Archbishop Hoban in Akron. Follow @HobanAthletics @HobanGirlsHoops @PaduaAthletics and @PaduaHoops on Twitter for more information on the teams and updates from the schools.
Follow our coverage @MedleyHoops for live updates from the game and we'll recap all the action here on NEO Sports Insiders.

NEO Sports Insiders Newsletter
Sign up to receive our NEOSI newsletter, and keep up to date with all the latest Cleveland sports news.