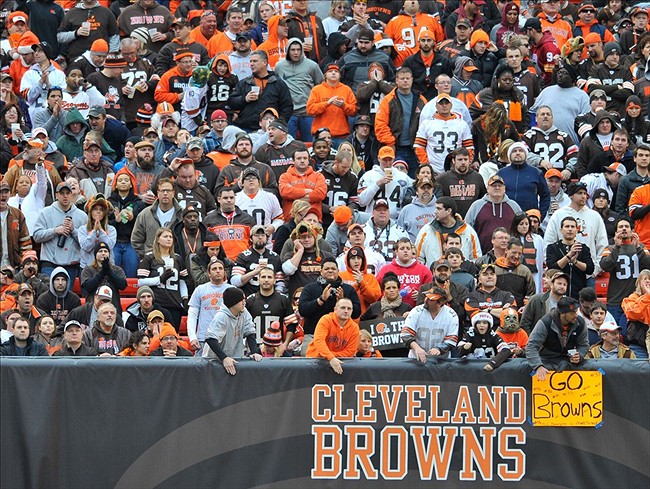 By Matt Williamson
Whoa – that was ugly.
For a team that has hopes of improving upon an unlikely 7-9 record a year ago, the Cleveland Browns first test on the road this season left a lot to be desired. An inability to stop the run, unforced turnovers and dropped balls (sound familiar?) were all recipes for a Browns disaster in the NFL's opening week.
The unsettling part is the first half of this game was actually kind of competitive.
Browns starting QB Josh McCown was knocked out of the game in the 1st quarter trying to dive into the endzone. This was the first sign that an 11th straight opening day loss for the brown and orange appeared to be in the cards once again.
I also found it funny that the 'veteran' QB that was brought over to teach Johnny Manziel how to play the position got put out of the game for being injured on a play that Manziel would've been overly scrutinized had he made the same mistake. I digress.
Losing like this (31-10, ouch) to a team that won a measly four games in 2014 is deplorable. And what's worse is they lost this game the same way they've lost just about every game over the last handful of years.
Can't run, can't stop the run. Can't pass, can't stop the pass. In Cleveland we may as well call this clockwork.
Perhaps my words are a bit harsher than they should be. After all, it is only one game.
But – at least for me – this seemed so much bigger than just one game. It doesn't matter who the hell is playing QB, if your starting rusher can't amass more than 20 yards on 12 carries – I'll rephrase – if your starting rusher gets outrushed by two of your quarterbacks and the backup running back then your team has issues.
That's right. Isiah Crowell had 20 yards on 12 attempts. Backup and rookie Duke Johnson Jr. had 22 yards on 7 attempts.
Quarterbacks Manziel and even McCown led the team in rushing with 35 and 23 yards respectively.
That's just embarrassing.
I know the flashes that Crowe showed last season, but if I'm Coach Pettine I'm lobbying hard to get Ray Rice in here for a looksy.
The inability to run the ball set the stage for a long day. The inability to stop the run pretty much sealed the deal.
Jets running backs Chris Ivory and Bilal Powell did whatever they wanted, accounting for 153 yards and 2 TDs. Prized rookie nose tackle Danny Shelton had 2 tackles.
Sheesh.
It's gonna be a long year, everybody. Let's hope this game turns out to be an anomaly.

NEO Sports Insiders Newsletter
Sign up to receive our NEOSI newsletter, and keep up to date with all the latest Cleveland sports news.