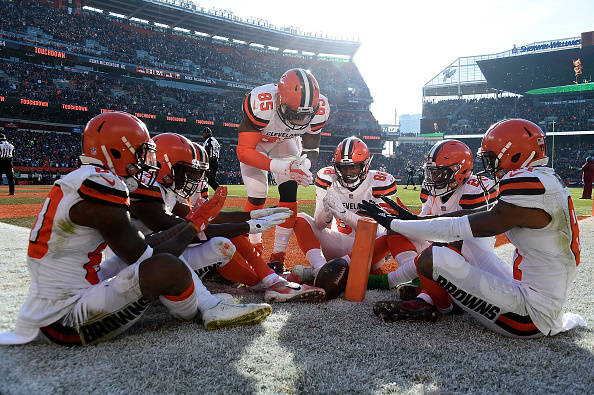 It's not the end of the world if the Cleveland Browns lose their regular season opener this Sunday.
That sounds like a pretty understandable thing to say, I know. After all, the Browns have won one Week 1 contest since 1999, and it occurred 15 years ago. By this point, Cleveland falling on opening day is practically routine.
Still, it's important to remember a loss in Week 1 doesn't derail an entire season, especially since many will be quick to overreact if this iteration of the team falls flat in its first regular season game.
That's because these Browns are dealing with something very few before them carried into Week 1 – massive expectations. As a result, adversity will be coming their way the second it looks as though said expectations were misplaced.
Before most season openers, words like "playoffs" and "Super Bowl" are only tossed around as jokes at the Muni Lot tailgate. Not this one, though. This time, people are genuinely expecting big things for the Browns.
Cleveland has four nationally televised games this year. The team seems to have finally found a franchise quarterback in Baker Mayfield. The second the Browns swung for the fences in a trade for Pro Bowl wideout Odell Beckham Jr., many began predicting home playoff games and a division crown.
Their first attempt to live up to those predictions comes this Sunday, as the Browns host the Tennessee Titans.
The game, on paper, looks winnable. Tennessee is viewed as a potential .500 team at best, and will be taking the field without suspended left tackle Taylor Lewan. This certainly hints at a big day ahead for Cleveland defensive end Myles Garrett.
All in all, it feels safe to assume the Browns can kick off the 2019 campaign with a win.
That said, all it would take is yet another Week 1 defeat to unleash a stream of "maybe they aren't as good as we thought" narratives from both local and national perspectives. If Cleveland felt the hype was no big deal over the summer, just wait until it's resurfaced after a season-opening defeat.
One would think this would result in local media jumping to ask various players and coaches if the increased expectations are already getting to them, or if the excitement heading into this season was too much to deal with.
Equally prevalent will be initial questions about whether first year coach Freddie Kitchens is truly ready to lead this team through such an important year. Many are already wondering if he'll be able to handle a team with so many personalities, and do so while guiding it to the playoff berth the fan-base has been practically guaranteeing all summer long.
Meanwhile, it doesn't feel like a leap to assume an opening day loss to a not-terribly-imposing Titans team would result in national pundits publicly pondering if perhaps the Browns were overrated this offseason.
Mind you, none of these speculations will be legitimate after one loss. Any sort of reaction like this should be deemed extreme to say the least.
At the same time, this likely won't stop those narratives from creeping in, nor will it prevent everyone from the Browns being asked about it.
Unfortunately, that's life for this offseason darling. So much time has been spent proclaiming the Browns as a legit contender. As a result, the minute doubt appears, everyone will be quick to double-back and question if the hype was merited.
As crazy as that'll seem, it'll also serve as an early dose of adversity for Cleveland.
After months of being publicized as the NFL's new "it" team, people would suddenly start to wonder if the Browns are able to deal with such lofty expectations. They'll have dropped a winnable game right before their schedule intensifies with two prime time bouts and a contest against the division rival Baltimore Ravens. Things could get ugly earlier than anticipated.
Long story short, while Mayfield may have been off when suggesting everyone wants to see the Browns fail, they'll certainly jump at the chance to question all the hype the second it appears as though they can't live up to it.
This team is officially in new territory. Losses are no longer expected, they're supposed to be a thing of the past. As a result, the Browns will already be dealing with scrutiny if they fall flat in Week 1 yet again.

NEO Sports Insiders Newsletter
Sign up to receive our NEOSI newsletter, and keep up to date with all the latest Cleveland sports news.