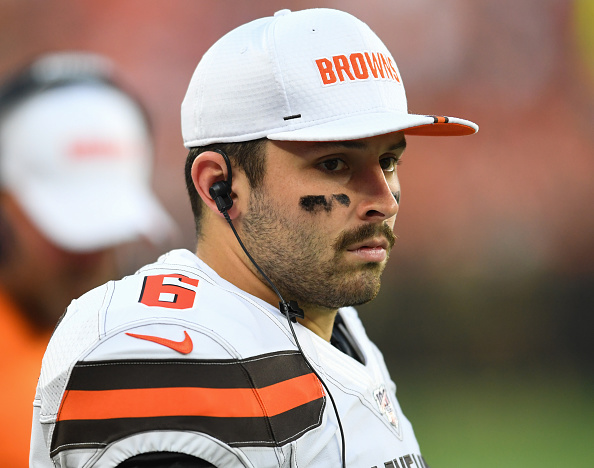 Understandably, a headline like this comes off a little contradictory. However, this essentially sums up my feelings on the latest comments from Cleveland Browns quarterback Baker Mayfield.
Mayfield noted the wave of attention the Browns have been getting over the past few months doesn't add increased pressure on the team. What it does, he claimed, is give doubters more fuel against himself and his teammates.
Per Mayfield, "I think in the media and everything that comes with the hype around our team right now, people want to see us lose, just because the hype is so real."
Many have been quick to point out that, while there are a few naysayers out there, the implication that everyone is rooting for Cleveland's failure is inaccurate. I don't disagree with that sentiment, as the number of doubters may have been a bit inflated by Mayfield.
Yet, I still don't have a problem with his comments. Whether or not you agree with his thoughts on the hype, his approach should at the very least ensure the Browns stay motivated.
Coming into this season, my biggest concern has always been this young team getting too punch-drunk on its own hype.
I'd get why, considering how vastly improved this roster is compared to two years ago. Expectations have shifted from "maybe they'll win a game this time" to "playoffs or bust" seemingly overnight. It'd be completely understandable for this to affect the team's mentality.
Still, assuming this is a playoff team without winning any games yet is a dangerous approach to the season ahead. It's something both coach Freddie Kitchens and GM John Dorsey have been attempting to manage since well before training camp started.
Mayfield's "everyone wants us to lose" mentality may not read as him pumping the breaks on the hype. That said, it should have a similar impact.
The Browns need to avoid taking the field with the belief that wins are guaranteed simply because their roster looks great. Avoiding this approach should be one of their biggest goals every Sunday.
What better way to do so than fuel a narrative that everyone wants you to fail?
Again, Mayfield seems a bit off in his belief that the media wants Cleveland to lose. The team has its critics, there's no denying that. Is there an overwhelming groundswell of media members rooting for Cleveland's failure? Not really.
However, if he believes otherwise, and he's using it as fuel to inspire his team, then I'm all for it.
Mayfield may be viewing the comments of few as a full representation of what everyone thinks of the Browns, but he's still doing so with his team's best interests in mind. He's ensuring his teammates remain driven by any means necessary, a tricky feat to accomplish during the dog days of training camp.
In the end, I don't see the problem with Mayfield's comments. Yes, there are inaccuracies with his portrayal of the media. If you want to gripe about that, I'll leave you to it.
That said, I see this as yet another route Mayfield is taking to drive his team ahead of an important season. If doing so involves waging a war against select doubters within the media, so be it. Whatever it takes to ensure Cleveland stays motivated and doesn't approach the upcoming season under the mentality that playoffs are a certainty.
It may not be conventional, but what about Mayfield is? All that matters is he's working to keep his team inspired, regardless of what route he takes in doing so.

NEO Sports Insiders Newsletter
Sign up to receive our NEOSI newsletter, and keep up to date with all the latest Cleveland sports news.