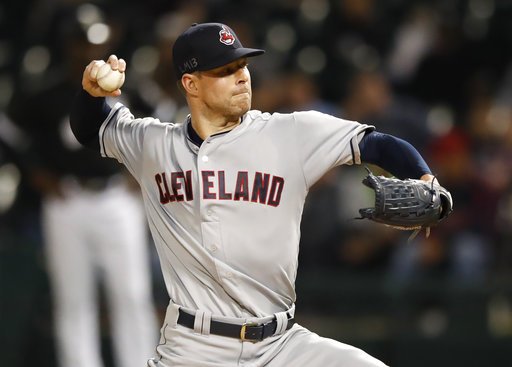 Most days when the Indians offense puts up eight runs and Corey Kluber is on the mound, you can almost always put a notch in the win column.
Sunday was not one of those days.
Kluber (for the second time in four starts) was chased early, and while the offense had a shot with the game tied in the ninth, they couldn't get it done in a Tribe 9-8 loss to the lowly Royals.
The loss is the third straight, and fourth in five games for the Indians, who now have to travel to Seattle to play a Mariners team who come into play Sunday at 13-4.
There's a lot of layers to this loss, the biggest of which has to include what exactly is going on with Kluber?
Let's get into it with some takeaways as the team now has been the part of sweeps the last two weekends – a winning sweep last weekend, a losing sweep this weekend.
1. Corey Kluber – What was That?
Kluber, who historically seems to not get run support, got three runs to work with in the first, but then gave it all away in a hurry, allowing four runs in the Royals second.
Here's the line on Kluber, 2.2 innings, six runs, six hits, five walks, four K's and two homers. His ERA now after four games sits at 6.16.
He walked five, including four walks (two with the bases loaded in the third inning). It was the most walks and shortest outing in 26 career starts against Kansas City.
Maybe the most alarming stat about this outing for Kluber comes from Cleveland.com's Paul Hoynes:
Kluber has thrown one pitch at 90 mph to the last two batters. Every other pitch has been at 88 mph or lower.

— paul hoynes (@hoynsie) April 14, 2019
Uh oh.
Of course the question is going to be the same as it was after the White Sox outing in which he went 3.1 back on April 3rd, and that is 'are you hurt'?
Right now in four starts, every other start is a complete disaster, and that's not good. It will be interesting to see what comes of this start – and if Kluber can find a way to get things righted.
Or if he really does have something going on injury wise.
2. The Pitching Could Have Still Won the Game
Three of the Indians relievers, including closer Brad Hand who took the loss, allowed runs, and oddly enough if the pen would have done their job, they would have won the game.
Credit Nick Wittgren and Adam Cimber who each had scoreless outings, including two scoreless innings from Cimber.
Hand did himself in with a walk, and then a bad throwing error by Roberto Perez allowed pinch-runner Terrance Gore to go to third, and former Twin Brian Dozier won the game with a single with no outs.
It's odd to think that this may have been the best game for the offense, but the worst game for the pitching staff, who for most of the weekend let the Royals have way too many chances at the plate.
The Royals entered the weekend 2-10 – they outscored the Indians 20-9 in three games. No way to sugarcoat this one.
3. Well the Offense Showed Up
Yes, as stated above the offense may have had their best game at the plate this season – eight runs, 11 hits, three walks and just four K's.
Highlights included:
Leonys Martin 3-for-5 with a homer to lead-off the game, his third homer, now hitting .271.
Carlos Gonzalez's Indians debut – went 1-for-5 playing left field.
Tyler Naquin 1-for-3 with two RBI, now hitting .268.
Jake Bauers with a big two-run RBI single that tied the game at eight, 2-for-3 with two RBI, hitting .191.
The team also was 3-for-5 with runners in scoring position, which is much better than what they had been hitting over the first 14 games of the season.
It will take time to see how this offense performs with Gonzalez and it sounds more and more like Jason Kipnis will be with the team soon, and Mandy Bell of Indians.com tweeted out that Francisco Lindor "left right after the game to hop a flight to Louisville. He'll join Triple-A Columbus to begin his rehab assignment."
More good news – it would have been great news if they would have won Sunday though.