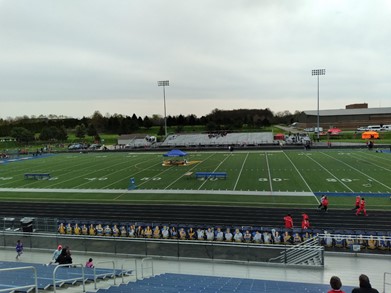 Field Events
It was a day of ups and downs for both the Norwayne boys and girls track teams. In the pole vault there was a trio of Bobcats who scored with Kendra Berger (8-00.00) coming in 5th place, Jon Graham (10-00.00) in 6th, and Caleb Erhard (11-06.00 finished first capturing gold for the boys. In the shotput brothers Colby (57-10.50) and Dillion Morlock (57-04.00) placed first and second overall, while Allison Morlock (38-05.25) and Grace Sparks (36-01.50) placed 1st and 3rd overall. Colby Morlock would break the meet record of over 20 years old while continuing his path of destruction on his way to a potential state championship. In the discus, Allison Morlock (115-02) and Grace Sparks (106-00) would place 2nd and 5th overall, while on the boy's side Colby (185-02) and Dillion Morlock (157-07) would place 1st and 2nd again. In the high jump the girls would not place as the fell just short at 9th place, but the boys would grab some revenge led by Mason Booth (5-06) and Justin Rupp (5-06) placing 6th and 7th. Finally, in the long jump both the boys and girls would place with Isaiah Portis (20-06.25) placing first and Shelby Vaughn (15-04) placing 4th.
Relays
Both the boys and girl's teams had a up and down day in the relays. In the 4x800m relay the girls (11-49.22) would unfortunately place 9th just missing out on 8th place, while the boys (9-20.59) would also place 9th. In the 4x200m relay the girls (1:48.65) and boys (1:34.77) would both do their jobs placing 3rd and 5th. Next was the 4x100m relay where both the boys (43.95) and girls (52.18) placed 3rd and 5th. Finally, in the last event of the day the 4×400 meter relay with the girls (4:09.10) and boys (3:40.38) finishing 1st and 4th. The relays had an up and down day but were able to place multiple times helping their chances of winning against several division 1 schools, while in divisions 2 and 3.
Sprints and Distance Races
There were several highs and lows in both the sprints and distance events throughout the day. In the girls 100-meter hurdles Elise Uhler placed second with a time 16.54 seconds earning a personal best. In the boys 110-meter hurdles Connor Preattle would place 7th with a time of 17.55 seconds. Next would be the 100-meter dash where Sydney Elmer would place 5th with a time of 13.39, while both Brady Lendon (11.48) and Isiah Portis (11.66) would place 5th and 8th. In the 1600-meter run no girls or boys would place in the top 8 due to an extremely talented field and an unfortunate illness for former state qualifier Annabel Stanley. In the 400-meter dash the girls would place with Lacey Hess finishing first with a time of 1:00.36 seconds, while the boys would have to settle for 10th with no points as a result. Next arguably one of the toughest events was the 300-meter hurdles where both boys and girls would place. Derek Berger (43.64) and Jack Maibach (44.84) finished 4th and 5th. The girls would take a first-place finish from Elise Uhler with a time of 47.99 seconds. In the 800-meter run, Jaylee Wingate would dominate breaking the meet and school record once again with a time of 2:12.82 winning by a whole 15 seconds. Unfortunately, the boys would not place inside the top 8. The 200-meter dash was next with Lacey Hess placing second with a time of 26.91 seconds, while both Roman Portis (23.10) and Brady Lendon (23.78) would place 3rd and 5th.Next was the dreaded 3200 meter run with Jaylee Wingate once again placing first with a time of 11:34.11 seconds, while the boys would not place with a 9th place finish by Parker Metsker.

NEO Sports Insiders Newsletter
Sign up to receive our NEOSI newsletter, and keep up to date with all the latest Cleveland sports news.