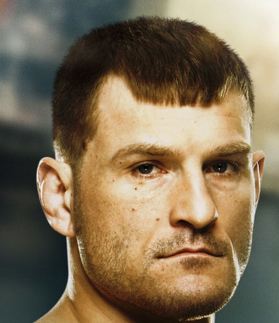 The Subject of this article, "Stipe Miocic", is also known as the star of my book "Ohio Warriors", sold everywhere. Ohio Warriors will be on sell Saturday May 14 at Ari's Restaurant from 9-11 am. Ari's has been a staple amongst North Olmsted eateries since 1978 when Mr. Likakis fulfilled a life long dream. Ari's has everything a hungry customer could want, including excellent customer service. Come join us at Ari's Saturday May 15 from 9-11 am at 27195 Lorain Rd, North Olmsted OH, 44070 and celebrate great food along with Ohio Warriors!
Try the 3 eggs & gyro meat. I promise you won't be disappointed whatsoever. Great food at great prices!
NORTH OLMSTED, Ohio – I recently had the chance to speak with fellow North Olmsted High School Alumni about Cleveland's own Stipe Miocic who will challenge Fabricio Werdumn for the UFC Heavyweight Title May 14 at UFC 198 in Brazil.
Goldberg, was quick to put Stipe over and explain just why he is so special and will give the current champion a serious run for his money.
Goldberg had the following to say about Stipe, "The thing about Stipe which is the most important element of his arsenal is his overall athleticism. He batted .344 in 2005 with 43 RBI for Cleveland State. He was a draft prospect by several Major League Baseball teams. He is such an incredible athlete that he earned eight varsity letters in high school. He was a nationally ranked wrestler for Cleveland State as many people know. He was a Golden Gloves champion, the dude is an athlete, he is a good as any athlete as we have in the heavyweight division.
He is the triple quad of talent out there; he can just do it all! He was on a feature with the Cleveland Browns in which they show him throwing a ball forty or fifty yards as he is messing around with the guys out in Berea at the Browns training facility. His athleticism is only half of what he brings to the table. He is also a tough, hard-nosed, proud Croatian. Stipe Miocic has that firm, blue collar, Cleveland workman like attitude that so many from Northeast Ohio have. He is so mentally tough as well from his time spent as a fireman because he is trained to go in and save people in a fire. That makes him even more mentally tough than most normal fighters.
His toughness and his athleticism are also complemented with his open mindedness to try and get better all the time. These are just some of the reasons as to why he has been so successful thus far. He truly is a combination of being a good old fashioned Croatian kid from Cleveland who grew up watching his mother and father work so hard. He has earned everything in his life that he has. He is a firefighter when he is not in the cage and takes that important job very serious. He is an athlete in every sport he tries. He wants to get better every day and that is why he has such a bright future in this sport.
Mike Goldberg goes on to explain even further how Stipe Miocic only being 32 years of age, is actually considered a young 32 because of his low amount of career fights and overall physical condition as opposed to most 32 year olds in the sport, "Stipe Miocic has a bright future in this sport.

He is 32 years of age but he only has 14 fights. His odometer at 32 is pretty clean as opposed to fighters like Wanderlei Silva and Mauricio Rua who both have the bodies of men with 100,000 miles on them.. He is still pretty fresh which will help him achieve high levels of success in Mixed Martial Arts."
Mike Goldberg has been around the UFC for twenty plus years and has seen the greats all come and go. If he says that Stipe is the real thing, then this MMA reporter is inclined to believe him. We will see more of what Goldberg is talking about when hopefully Stipe brings the title back home to Cleveland!
You can follow Vince McKee on twitter at VinceTheAuthor

NEO Sports Insiders Newsletter
Sign up to receive our NEOSI newsletter, and keep up to date with all the latest Cleveland sports news.