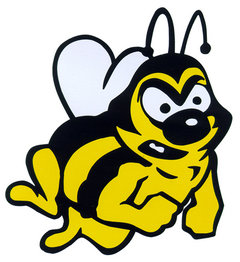 BRUNSWICK, Ohio – The Bee's evened the score tonight with the Brunswick Blue Devils as they took game two of the series 3 – 1 behind a powerful 2 run homerun in the top of the seventh by Dillon Munoz that sent the swarm into a frenzy!
The Bee's were down 1-0 at the time and down to their last three outs. After a leadoff walk by John Curtis, it was Munoz stepping up and playing hero as he smashed one of the scoreboard. Later in the inning it was back to back singles by Fryer and Alfano that scored Winters who was already on base from his single following the Munoz homerun! It was drama at its best and Munoz capped it off brilliantly.
Not to be lost in this dramatic finale was the fact that Spencer "No C" Aukerman went the distance tossing a one run gem! Spencer struck out 12 batters and was close to being unhittable. A 7 inning game contains 21 outs, consider that more than half of the outs he recorded where from strikeouts and it tells you just how dominant he was.
The win improves the Bee's record to 14-7 and they will play again this Friday at North Royalton.
The starting lineup is as follows
P – Aukerman
C – Peterson
1B – Curtis
2B – Masek
SS – Winters
3B – Fryer
LF – Munoz
CF – Fultz
RF – Provost
You can follow Vince McKee on twitter at VinceTheAuthor