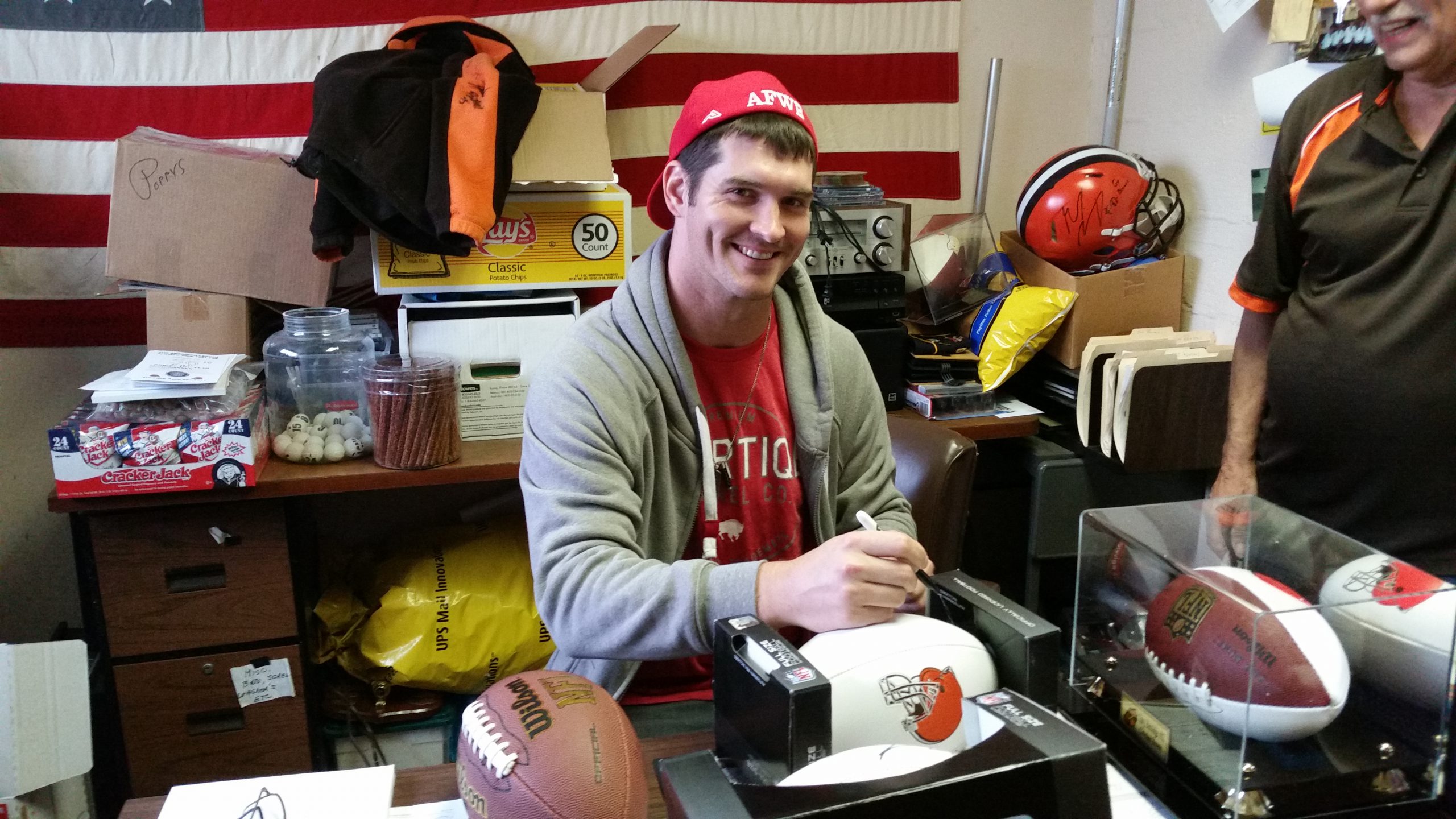 Fairview Park – Browns TE Gary Barnidge was honored Tuesday evening as "Pro of the Year" by the American Legion Post 738 in Fairview Park. The award has been given out for over 50 years now, and recipients include the likes of: RB Jim Brown, QB Otto Graham, and in more recent years LT Joe Thomas, and C Alex Mack.
It's easy to understand why someone like Barnidge would be the recipient of this award with all of the charity work he does in not only the community, but overseas as well with the American Football Without Barriers program. AFWB is a non-profit program founded by Barnidge, Breno Giacomini, and Ahmed Awadallah. The focus of the program is aimed to help disadvantaged kids discover healthier lifestyles and higher education. I was able to speak with Barnidge briefly before the night's festivities began.
The family-style dinner honoring Barnidge was catered by KD Party Center in Parma.
Adrienne: "What is it about AFWB that keeps you involved and going back year after year?"
Barnidge: "It's actually something that me and two of my college buddies started. We started it and we run everything that has to do with it, and it's just awesome to give back. We do this because we want to do something different, that nobody else is doing. Nobody is going overseas and starting on the ground level and trying to build the sport internationally [on the ground level]. They're doing it viewership wise. The NFL is trying to do it by going to get viewers. We want to do it by these kids getting the same opportunities we have. They get the chance to play the sport they enjoy watching and actually get to learn from us and the proper way of playing, so that way they know how to do it. Eventually, hopefully, we really want to get them where they can get a chance to get a scholarship here and go to college."
Adrienne: "Have you had any kids start in that program yet where they get the scholarship and come over?"
Barnidge: "We had two kids we brought over from China after our first camp and one was offered a D2 scholarship on the spot but he turned it down because he wanted to go to Stanford for school. We're actually about to bring over two kids from Turkey and a kid from Egypt to one of our camps this summer and we're hoping that leads to something.
Adrienne: "So you and DeAngelo [Williams] are pretty close and I saw you took a trip to Egypt – can you tell me about that? Was that the first time there for you?"
Barnidge: "It was actually my second time to Egypt. Egypt was my number one vacation spot I ever wanted to go to because I'm huge into archaeology. I think that was a huge thing for us because one of our founders is Egyptian so the fact that he was able to go back to his home country was awesome.  That was one of our initial plans to do Egypt as our first camp but the Revolution broke out so we postponed it. We've been to China, Brazil, Turkey, and now Egypt and we're looking forward to this year's!"
Adrienne: "You signed a contract extension with the Browns. What is it about the new coaching and leadership that has you so excited for this upcoming season?"
Barnidge: "Very energetic… and they want to change things now! They don't want to change it tomorrow, they don't want to change it next week, next year, they want to change it now. You can see that with the way they're coaching and how they want to get things done, and I'm looking forward to it it's going to be a lot of fun!"
You can check out some photos from the event below!
The event was sponsored by KD Party Center – 6085 State Road in Parma.

NEO Sports Insiders Newsletter
Sign up to receive our NEOSI newsletter, and keep up to date with all the latest Cleveland sports news.