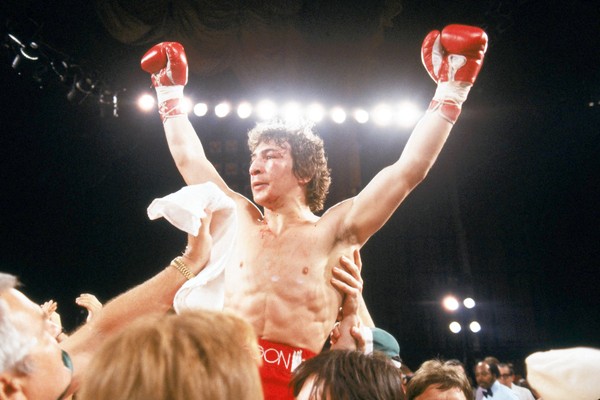 YOUNGSTOWN, Ohio – I recently had the chance to catch up with my good friend and Northeast Ohio's own former WBA Lightweight boxing champion of the world Ray "Boom Boom" Mancini and discuss some of the flaws currently in boxing that are keeping American fight fans from tuning in, and American boxers from being successful.
Ray Mancini is never shy when it comes to talking about ways to fix the sport of amateur boxing and also goes into his time in the amateur ranks and explains why he was able to be so successful,"In the late 70's and early 1980's they began to kill the amateur system of boxing. They absolutely killed it and now the amateur system is crap, which is also why they are now going back to the old ten point must system. They are going back to the ten point must system to be like the pro's because they have too. That is why the amateurs were having such struggles turning into pro's because they were still fighting amateur style.
The Cubans come from a capitalistic society where you need to slap the "expletive" out of someone to survive. They understand that they get paid for their work and to them this is not some damn show. They are here to fight and win, however, boxing is also a business and you almost have to give them a show. This is where some of the American promoters able to succeed at even though the talent may not be as strong."
Ray Mancini goes on to explain why the amateur scoring and round system failed so many young American boxers once they reached the pro level, "since the amateur system has been so bad and we have been getting our ass kicked by the other countries, finally the people in charge woke up about it and decided that a change in the system is needed and coming. It is vital that they go to the pro system of the ten point must system if they are ever going to get these kids ready for the pros. Again, this is exactly why they fail in the pros because all of a sudden they are told to change their styles and try to make it fan friendly. They are told in order to stay in the limelight they have to keep the fight entertaining and get they get completely away from the only style they have known. They don't have to change it, they just have to add to it. If you're a master boxer, no one is telling you to be a banger, they just want you to throw more combinations and make it more exciting."
Ray Mancini also see's the political side of amateur fighting and further explains what he had to go through at the time he was making his way through in hopes of reaching the professional level. He also explains how it was a chance encounter during the 1979 National Golden Gloves Championships with famed boxing trainer Murphy Griffith that changed his life forever. Ray explains exactly what happened and his views and the issue with amateur sports, "There is nothing more political in this world than amateur sports, not just boxing, but all of amateur sports. They had told me two years prior to turning professional to go and get my passport because they wanted me to go overseas and to fight internationally. I was ranked in the top three of the lightweight class at that time. I had been in the top five since 1978 and had gone to the semi-finals or finals of every international tournament. The problem was, I didn't have the amateur style that they wanted.
So after the last tournament, the National Golden Gloves in March of 1979 in Indianapolis, that is when Murphy Griffith saw me. He explained that he didn't know what I wanted to do, but that I would never win a National title, however I would be a great professional fighter. I let him know of my desire to wanting to turn professional and that I didn't want to fight amateur anymore and that is who we hooked up and he started training me. It was by chance that we even met that day because Griffith would explain to me later on that the boxing manager David Wolfe sent Griffith down to Nationals to find the best pro prospect. Wolfe wanted him to find the top 3, Griffith said that I was the number one prospect he saw. He also discovered Gene Hatcher and Leroy Murphy that day as well, who both went on to become World Champions. I think he had a pretty good day, (laughs), the guys knows his talent when he see's it. Murphy Griffin saw that I had the professional style and I was tailor made for the professional ranks. My biggest thing even as an amateur was to attack the body. In the amateurs when it is only three rounds at the time, it was hard because after awhile starting in the 1980's they stopped counting body shots all together. This was a total disservice to guys like me and another reason I was smart to turn pro.
Mancini goes on to explain the importance of having a good manager early on in your career to get you noticed much like the way David Wolfe was able to do for him, "It happened because my manager Dave Wolfe did a masterful job moving me all over the country, but still did a masterful job of showcasing me in my hometown when he could. I began with a knockout in Struthers, Ohio of Phil Bowen. From there I beat Lou Daniels in Phoenix, Arizona, knocked out Ricky Patterson in Washington DC. From there it was on to Dallas, Texas to knockout Roberto Perez, followed by another first round knockout, this time of Dale Gordon back in my hometown of Youngstown.
Wolfe just kept me moving as we traveled and won in Jackson Mississippi, Indianapolis Indiana, Vegas, and then back home again in Steubenville and Warren Ohio. So the key was to keep me moving, as I fought 16 times in my first year in on the professional level. Because of my exciting style networks kept putting me on television. Dave Wolfe was a genius because he had me box around the country and in front of people that normally wouldn't get the chance to see me fight. It should also be noted that David Wolfe put a lot of his own money into making this happen and there is nothing wrong with that.
I don't envy managers for that reason. Managers don't make a lot of money. They need to have that one kid who gets big and makes it worthwhile for them to make some money. Fighters love to claim they get ripped off, but I feel managers deserve what they get because they put all the money into and they are the ones who get you noticed. This was in the matter of year to a year and in a half."
Mancini has advice for any young fighters looking to make an impact in the sport and get noticed, "You need to have a manager who is going to keep you fighting regularly. The sad thing is most fighters today refrain from doing that. When you're a young fighter you want to fight regularly because it is going to help you learn your craft, and that is the only way you're going to learn you're craft, by staying active! Then you will get to a point where you don't have to fight as often once you get the experience and become established.
Now a days, fighters only fight twice a year because they have managers who wait for television. Stop waiting for television bouts! Screw television, fight off of television. Don't wait around for television, fight off television, and fight in your damn backyard if you have too. Fight anywhere you can get a fight! They are too worried about the money instead of focusing on learning their craft. They are not concerning themselves with becoming the best fighters, they are concerning themselves with making the most money and that is not what this about. If you're good at your craft, you can make the money, but there aren't any shortcuts."
Fighters don't turn fights down, fighters should want to fight! Those fighters were worried about his style, but we thought it was the perfect tailor made style for us because we knew he was going to try and stand in front of me and bang with me."
With Rays history in the fight game, a recent boxing Hall of Fame Inductee in June of 2015, the boxing world would be wise to take his advice!
Vince McKee can be reached at VinceTheAuthor on twitter.