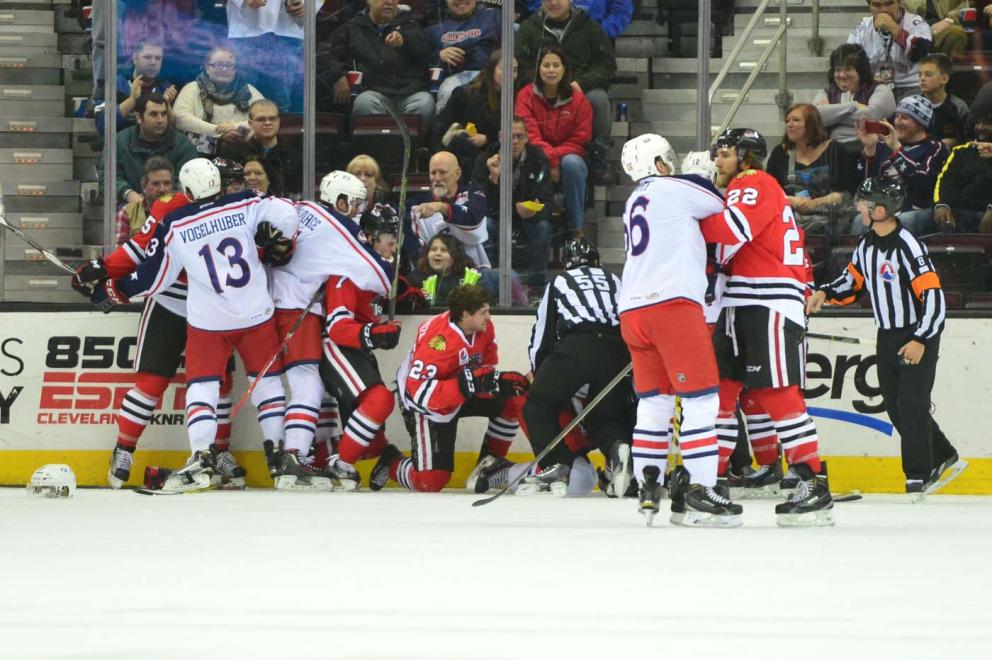 As the playoff push continues, The Lake Erie Monsters are firing on all cylinders and delivered a two game wallop to The Rockford Icehogs.
The Monsters ended up winning back-to-back games on home ice here in Cleveland. Thursday night's 4-2 victory set the stage for another opportunity to wow the home crowd on Good Friday.
Last night's action was fast-paced and as heart-pounding as any game between these division rivals, but it seemed like The Icehogs were frustrated with the way things were going for them resulting in a very chippy game.
Exclusive post-game interview with Head-Coach Jared Bednar and talks about team performance, the crowd and the keys to success going into the playoffs.
The gloves game off a few times during the 2nd period as The Monsters seemed to score at will. Here is a gallery of pics from a couple scuffles that occurred as play began to become more aggressive. Josh Anderson (77) and Dane Walters (16) get tangled up and Walters gets up-ended.
The next gallery contains images of Anderson and Lebre, as well as, a few more of from each team. Four players go to the box and one gets ejected. Lebre is sent to the locker room about half way through the 3rd.
Cleveland has to remain strong throughout their last eight games and stay in at least fourth place to play a Central Division team in the playoffs. It's quite possible that this matchup will happen again either in the 1st or 2nd round.
These two teams have met eight times this year with the home team always coming out the victor leaving each team at 4-4 on the season. There was no short supply of hard-hitting hockey last night, so I'm really looking forward to the next meeting of these two adversaries.
The Monsters go on a long road trip starting Saturday with The Grand Rapids Griffiins. They return back home on April 16 after facing Chicago, Toronto, Rochester and Charlotte. They are trying to secure home ice for there playoffs.
Wishing you all a Happy Easter!

NEO Sports Insiders Newsletter
Sign up to receive our NEOSI newsletter, and keep up to date with all the latest Cleveland sports news.