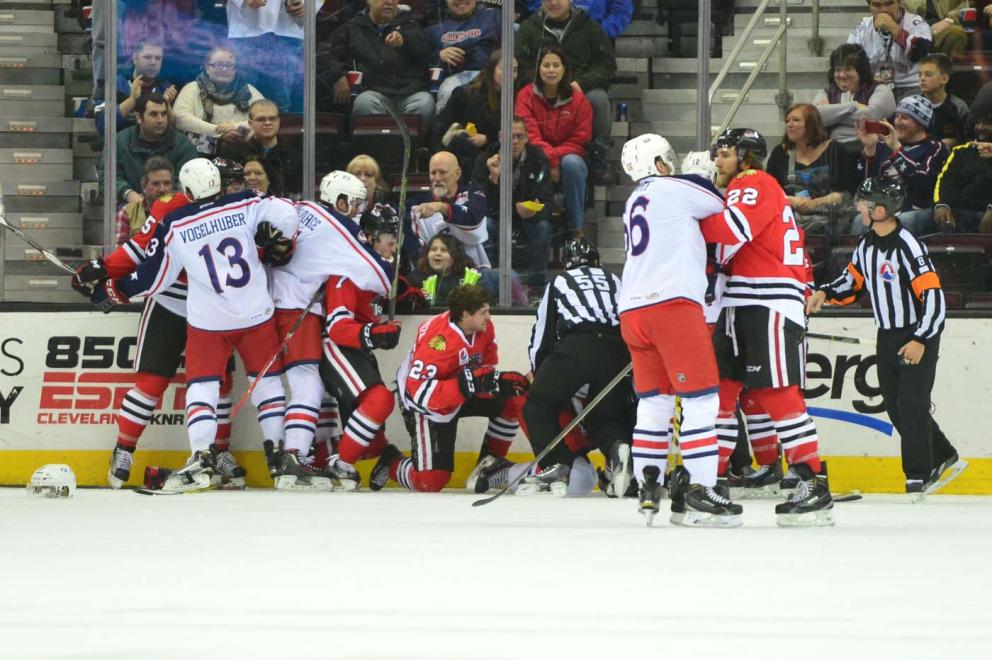 For Sonny Milano Bobble head night, the Monsters took on the Rockford Icehogs for the final time this season. Last night the Monsters took the victory 4-2, and in order to maintain their position in the playoff picture, they would have to come out tonight to face a Rockford team that still had a bad taste in its mouth from the night before.
This time, they would do it in front of the largest home crowd of the season. (13,188 in attendance)
And with that being said, the Icehogs would draw first blood at the 11:59 minute mark of the first period with a goal from David Runblad; his first of the season. But at 17:17 minute mark of the opening frame the Monsters would answer back with a power play goal (4-3 man advantage) from Steve Eminger assisted by Daniel Zaar and Alex Broadhurst to tie the game at 1 going into the first intermission.
The Monsters got things in the middle frame going early by taking the 2-1 lead at the 2:04 mark with a goal from Michael Chaput, recently added to the roster from Columbus, assisted by Daniel Zaar, his second of the game. The Monsters were feeling on top at the 8:33 minute mark as they took a 3-1 lead after Zaar poked the puck over the shoulder of Rockford goalie Drew MacIntyre.
Alex Broadhurst and Michael Chaput would combine for brilliant maneuvering behind the net to assist on the scoring play. The middle frame scoring would continue after Rockford turned it over in their own zone and left Lukas Sedlak all alone in the slot to put the Monsters up 4-1 at the 15:17 mark. Sedlak would get the help from Markus Hannikainen and Josh Anderson who caused the turnover and Lake Erie would head into the final intermission and period with a 3 goal lead.
And just when the Icehogs thought they were off the hook, on the penalty kill, 9:27 mark of the 3rd period, the Monsters Sedlak scored his second goal of the night slipping the puck through the 5-hole of MacIntyre, and getting the assists were Josh Anderson and John Ramage to extend the lead to 4. The 3rd period would provide the crowd with plenty of drama as Anderson for the Monsters and Pierre-Ceddric Labrie for the Icehogs would both get ejected from the game, and both teams combined for nearly 80 penalty minutes.
The game would finish 5-1 with the Monster on top as they now begin a five game road trip starting tomorrow where they take on the Griffins of Grand Rapids. Anton Forsberg made 30 saves on the night.

NEO Sports Insiders Newsletter
Sign up to receive our NEOSI newsletter, and keep up to date with all the latest Cleveland sports news.