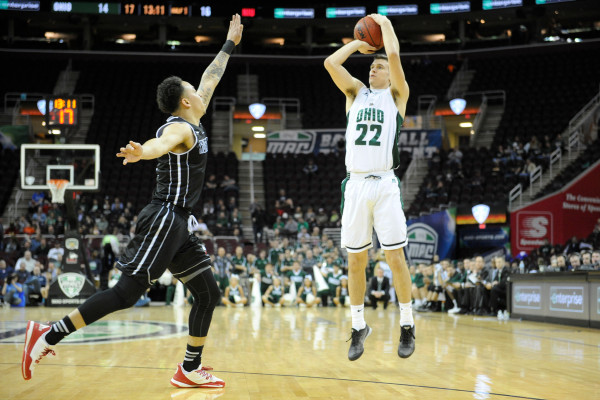 CLEVELAND – The #2 ranked Ohio Bobcats versus the #7 ranked Northern Illinois Huskies was the third quarterfinal game of the day in the 2016 MAC Tourney at Quicken Loans Arena.
The Bobcats came into the match-up with a record of 20-10 and the Huskies had a record of 21-11. Northern Illinois got to this game after defeating #10 Western Michigan on Tuesday night.
Ohio was on the offensive attack early on, jumping out a 9-5 lead. The Huskies were trying to establish the down-low presence, but Ohio was having none of that. The Bobcats had the three-point shot falling for them early, as they made four 3-point shots in the first eight minutes of play in the first half.
The Huskies managed to keep it close thanks to a good shot selection. That good decision-making would help the Huskies cut the Bobcats' lead to 23-22. With 7:20 to go in the first half, the Bobcats led the Huskies 26-22. The three-ball was a momentum-killer for the Huskies, as they could never find a way to stop the Bobcat's long-ball attack.
At the end of the first half, Ohio led Northern Illinois 36-27. The Bobcats' leading scorer in the first half was Antonio Campbell, who had eleven points.
The Huskies' leading scorers were Marshawn Wilson and Levi Bradley, as they both had seven points. The Bobcats shot 43.8% from the field in the first half compared to the Huskies' 37.9% field goal percentage.
The Huskies bad shot selection near the end of the first half really hurt them.
The beginning of the second half looked just like the first half for the Bobcats, as they were knocking down a little over fifty percent with 13:08 to go in the second half.
The Huskies had no consistent answer to the Bobcats' offensive attack, as Ohio led 59-35 with 12:44 to play in the second half. Things didn't change for the Huskies, as they found themselves down 68-53 with 5:50 to go.
The Bobcats had hit 12 three-pointers in the game, with 3:14 still to play in the game. With a 77-56 lead with 2:00 to play, the Bobcats kept the same mentality that got them to the big lead: Shoot the three-ball.
As the Huskies scored one last basket, the Bobcats dribbled the clock out to win the game 79-62 and advance to the semifinals. They will face the winner of #11 Miami and #3 Buffalo.

NEO Sports Insiders Newsletter
Sign up to receive our NEOSI newsletter, and keep up to date with all the latest Cleveland sports news.