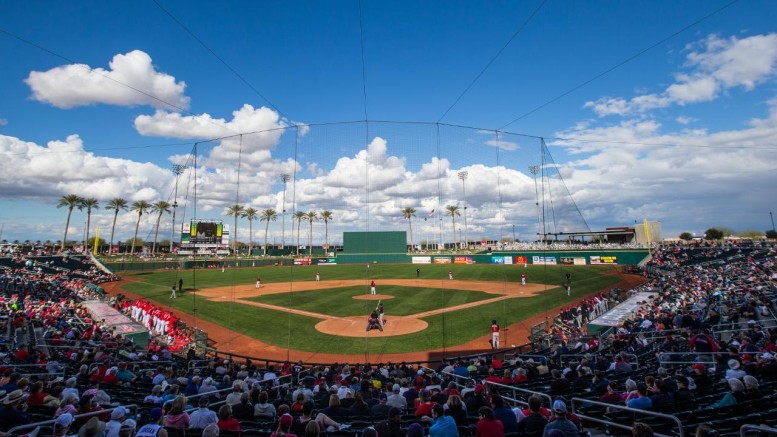 In the midst of all the NFL Free-Agency whirlwind, the Tribe played a quiet, peaceful game in the desert on Wednesday afternoon.
Unlike the Browns, the Tribe came home winners, defeating the Cubs 5-3.
Here are five notes from the game:
1. Shutout Kluber
Corey Kluber made his second start of Spring Training and was impressive again.
Kluber struck out four in three innings of work, not allowing a run.
He has now pitched five shutout innings with seven strikeouts in two games in Spring Training.
2. Naquin Rages on Like the Desert Sun
If this daily column is starting to look like I'm Tyler Naquin's personal fan, I kind of am.
Naquin is off to a fantastic start and I don't want to jinx him, but if he continues to hit like this, we'll be seeing him at Progressive Field.
The left-handed hitting center fielder went 1-for-3 with a triple on Wednesday. It was his second triple of Cactus League action, but more importantly, he is now hitting 8-for-18 through eight games, which translates to a .444 batting average.
We are about one-third of the way through Spring Training. Keep it going, Naquin!
3. Urshela and Gomes Homer
Giovanny Urshela hit his second home run of camp, launching a solo shot in the third inning. He is now batting .357 with 6 RBI in only 14 at bats.
Yan Gomes hit his first bomb of the Spring, a solo homer in the sixth inning. Gomes is 4-for-12 to start the Spring.
4. Middle of the Lineup Looks Promising
First Baseman Carlos Santana had another good day in the desert, going 1-for-3 at the plate with an RBI single.
Santana is 5-for-13 to start the Spring, hitting .385 with 1 HR and 3 RBI. He has doubled twice in five games.
The combination of Santana and Mike Napoli, who is off to a good start as well, could make this middle of the lineup much better than last season.
The duo can provide some pop in the middle of the lineup to follow up what should be a good first three hitters, so if Santana and Napoli can drive in guys like Jason Kipnis, Francisco Lindor, and Michael Brantley (when healthy,) the Tribe can give themselves a good start to games.
Kipnis, Lindor, and Brantley all are pretty consistent when it comes to getting on base.
It'll be up to the middle of the lineup bats to bring 'em home.
5. Three in a Row
After a rough start to Cactus League play, in which the Tribe was winless over their first six games, the Tribe have rattled off a three-game win-streak to improve to 3-4-2 in nine games.
The standings don't mean anything, but it's nice to see the team bounce back from that rough start.
Next up, the Tribe hosts the San Diego Padres in Goodyear on Thursday. First pitch is set for 3:05 PM ET.