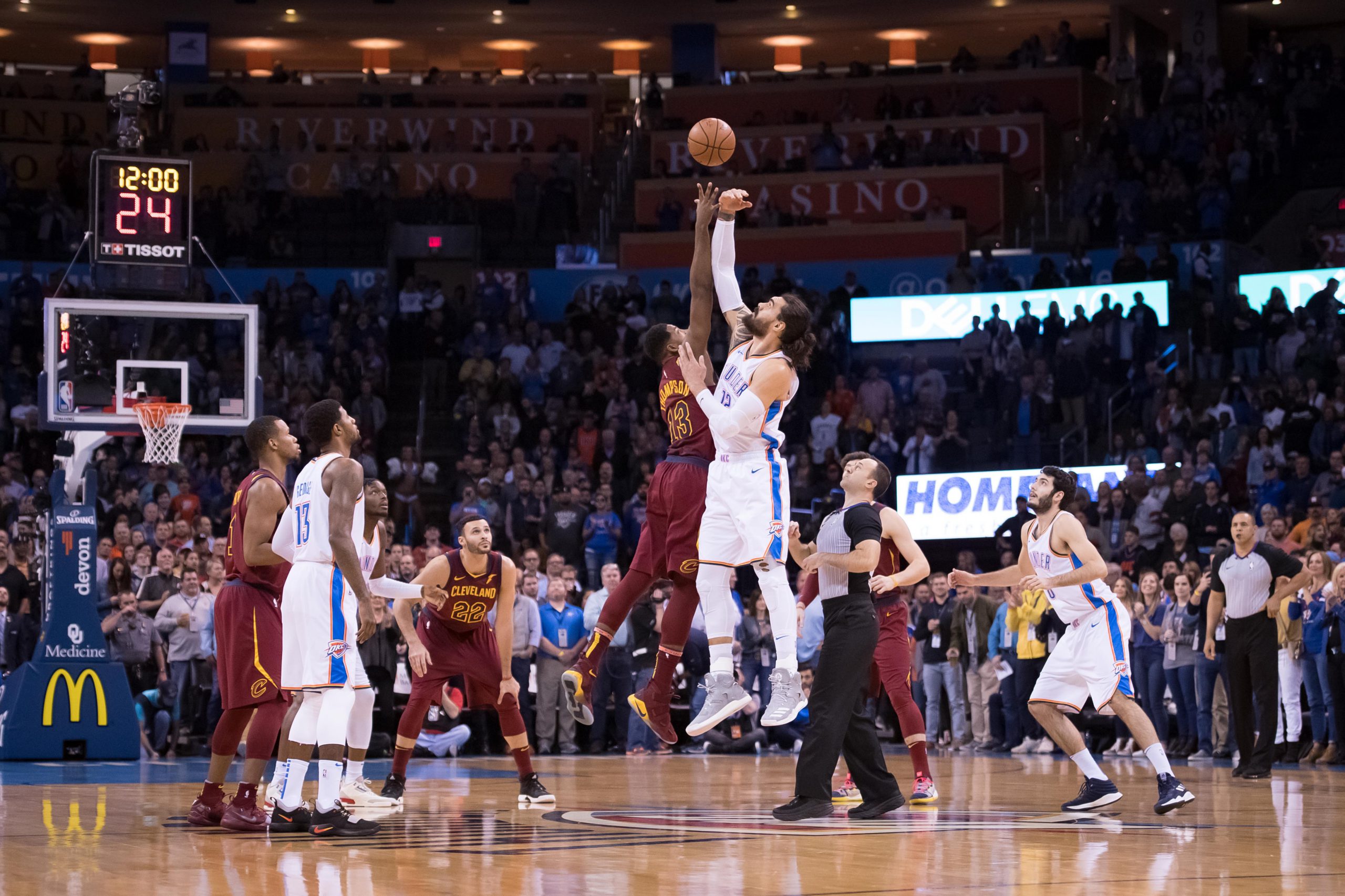 With a one-point lead on the Oklahoma City Thunder at halftime, there's obviously another moral victory for a Cleveland Cavaliers team playing without one of the best power forwards in the league and one of their most consistent perimeter players for nearly an entire month. Especially with the Thunder having gone 7-3 in their previous 10 games, even terrorizing teams like the Golden State Warriors.
However, on Wednesday, the Cavaliers were visited by familiar issues so the lessons learned are simple. They still have plenty of bad habits to kick.
Too much isolation play
Collin Sexton missed 11 shots and had three assists. Jordan Clarkson missed 12 shots and had two assists.
These two players, above all others, were guilty of being too selfish against the Oklahoma City Thunder. Though their aggressive play style is necessary, their court vision is lacking and their tendency to be hell-bent on scoring often led to the Thunder forcing them into a number of tough shots. Out of the shots they made (19 combined), even those were often tough attempts, symbolic of the team's lack of consistent ball-movement. As some have said, the Cavaliers went back to their bad habits on Wednesday night and that didn't just include Sexton and Clarkson.
Second-year forward Cedi Osman has made it a habit to keep the ball when the defense collapses on him in the paint rather than kicking it out and, at times, his court vision looks no better than Sexton or Clarkson's. He had six assists against the Thunder but had he truly been trying to be the playmaker LeBron James was at the small forward position, he would have made more passes to wide open players.
The game got out of control for Cleveland in the third quarter, with Oklahoma City outscoring the Cavaliers 26-15 in the period. Defensively, it seemed odd that Cleveland didn't continue to play bigger players like Osman against Russell Westbrook so that the former MVP didn't have a chance to use his strength to post-up Sexton consistently for easy buckets. However, offensively, there was far too much "hero ball" being played and it yielded poor results for the Cavaliers.
When healthy they may be a problem
The Cavaliers seem to be plagued by one issue above all others and that's the injury bug.
In some ways, the injuries to five-time All-Star Kevin Love, veteran point guard George Hill as well as forwards Sam Dekker and Cedi Osman have been blessings in disguise. Though Love is often a walking mismatch on offense, when he went out of the lineup, Cleveland was able to become a much more defense-oriented group. When Dekker went out of the lineup, it gave the Cavaliers more opportunities to explore Osman playing minutes as a small-ball four while opening up minutes for disgruntled veterans like J.R. Smith. When Osman returned, Smith became inconsolable after losing his starting role and while it would much more professional for Smith to put his head down, go to work and cheer on his teammates no matter his playing time, Smith's drama set the tone for the direction Cleveland would soon be going.
Smith, 32-years-old, will now be traded. 37-year-old Kyle Korver was traded to the Utah Jazz on Wednesday, just prior to the Cavaliers' game against the Oklahoma City Thunder, in exchange for guard Alec Burks and two second-round picks. Even if Cleveland didn't want to trade Hill, his discontent with the Sacramento Kings last season had everything to do with their inability to make the playoffs. Another year older, colder and likely having lost his starting job, it's not too hard to imagine him desiring a trade as well.
Nonetheless, once Love and Hill return, the Cavaliers will have two players who averaged a combined 31.6 points and 6.5 assists per game, adding offensive playmaking to Cleveland's rotation that completely outclasses that of their replacements in the starting lineup.
Alec Burks' arrival will be a definite boost for Cleveland
With the Cavaliers' need for players that break down the defense off-the-dribble and score effectively, newly acquired guard Alec Burks becomes an interesting acquisition for Cleveland. He's a three-position player that can fit beside both any combination of perimeter players but, more importantly, he's a player that can accept whatever role he has to play.
If his focus is to be on facilitating, he can do it. If it's to focus on scoring, he can do it. If it's to focus on defense, he can do it. If it's to focus on all three, effort in one category may wane but he's shown the ability to be an all-around contributor when healthy. Durability being his Achilles heel, no pun intended, Burks may be a player that the Cavaliers see in and out of the rotation at times.
However, and especially if Hill finds himself traded to a playoff team, Burks may be in line for extensive minutes simply because his skillset is different than every perimeter players on the team.
He has better court vision and is better finishing around the rim than Collin Sexton and better at penetrating the lane and finishing around the rim than Rodney Hood. He's more aggressive than George Hill and a smarter passer than Jordan Clarkson. He's also a better three-point shooter and passer than both Cedi Osman and David Nwaba. As a result, Cavaliers head coach Larry Drew will always be able to find a reason to play Burks.
He just has to find out how much and in which lineups.

NEO Sports Insiders Newsletter
Sign up to receive our NEOSI newsletter, and keep up to date with all the latest Cleveland sports news.