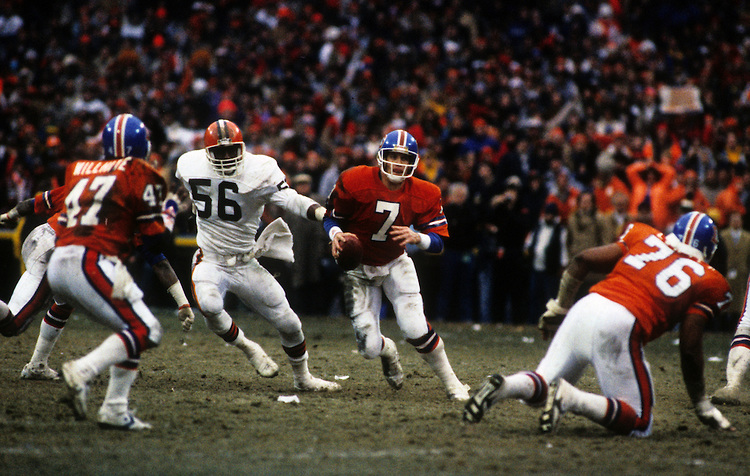 While it's been replayed on TV about 12 billion times over the last 29 years, it still makes Browns fans cringe.
The moment in time that no one will soon forget is close to celebrating its 30th anniversary – as today, January 11th, is the anniversary of the famous sports moment forever known simply as 'The Drive.'
What's 'The Drive' you ask? If you live in Cleveland and root for the Browns for more than a minute, you already know. If you don't, here' the simple explanation from our pals at Wikipedia to tell you:
The Drive refers to an offensive series in the fourth quarter of the AFC Championship Game played on January 11, 1987 at Cleveland Municipal Stadium between the Denver Broncos and Cleveland Browns. Broncos quarterback John Elway, in a span of 5 minutes and 2 seconds, led his team 98 yards in 15 plays to tie the game with 37 seconds left in regulation. Denver won the game in overtime with a field goal, 23–20.

The 98-yard drive ranks as pro football's prototypical clutch performance.[1] Elway and his team spanned almost all of the 100-yard football field. According to an article by Sports Illustrated columnist and Colorado resident Rick Reilly, when Elway started the drive, Broncos offensive guard Keith Bishop said of the Browns, "We got 'em right where we want 'em!" Of note is that Cleveland could not force a fourth down against Denver.
It was a heartbreaking day for all of Cleveland, as after Brian Brennan caught a TD pass with less than six minutes left, the Browns led the AFC Title Game 20-13, and everyone just about had their bags packed for the Super Bow.
It was not to be.
The Browns and their fans instead were the victims of one of the most gut-wrenching losses in history when Broncos quarterback John Elway led Denver on a 98-yard drive that tied the game, and eventually Denver won it in overtime.
Here's the video of possibly the most painful minutes in the history of the Cleveland Browns