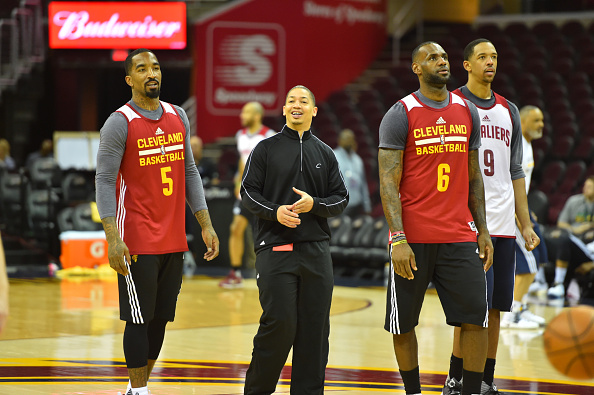 The Cavs made headlines last summer when the team gave out over a quarter of a billion dollars in contracts in free agency. While back then it seemed like an astronomical number that would likely cause some serious regrets, it turns out to look even smarter one year later. While a championship in the city is one way of looking at it paying off, it goes well beyond that.
First and foremost it allows the core of the team to remain. While LeBron James was the big name that opted out of his deal from last year, (don't worry he will resign) the rest are locked up long term. Kevin Love signed for five years 113 million, Tristan Thompson five years 82 million, Iman Shumpert four years 40 million, and that does not include Kyrie's extension from the previous year.
While Love and Shumpert may seem to be overpaid when looking at their contributions over the previous season, the new salary cap has allowed things to get way out of hand. Timofey Mozgov, who was tenth on the team in minutes last year got a four year 64 million dollar deal from the Lakers. Matthew Dellavedova was ninth and he also got a four year 38 million dollar deal from Milwaukee. That's over 100 hundred million for two end of the rotation players. Realistically it would have cost the Cavs over 150 million for those two due to the luxury tax penalty.
Both of those players got significantly overpaid when compared to what they would have gotten last year in the market. With the Cavs still well over the cap it does not allow them to make any big moves in free agency again, which might be for the best. They have a core that will remain together at a contract under what the market will demand for several years. As the cap will continue to increase, the team will slowly start to gain more flexibility in time with their finances.
After one day of free agency, let's look at some other contracts handed out. Nicolas Batum got five years 120 million from Charlotte. Bradley Beal got five years 128 million from the Washington Wizards. Mike Conley got five years 153 million from Memphis. Dwight Howard got three years 70 million from Atlanta.
Jeremy Lin got three years 36 million from Brooklyn. The amount of dollars being dealt out so far in free agency is amazing and the Cavs are one team that benefits from it. While they don't have cap space at the moment to improve the team significantly now, they also don't hurt themselves with bad contracts.
Teams with cap space are going to have to open their pockets up more to get some of these key players on the market and that takes away from what's left to go around to improve the rest of the team. As the contracts get worse and worse, the players that cannot command the big contracts are going to be the ones that get hurt the most. Since they are not going to be a hot commodity off the bat, they will have to wait around and hope that some team has enough room to offer them a deal in the coming months when a hole may still need to be addressed. Those players are also the ones that can fall into the Cavs laps.

NEO Sports Insiders Newsletter
Sign up to receive our NEOSI newsletter, and keep up to date with all the latest Cleveland sports news.