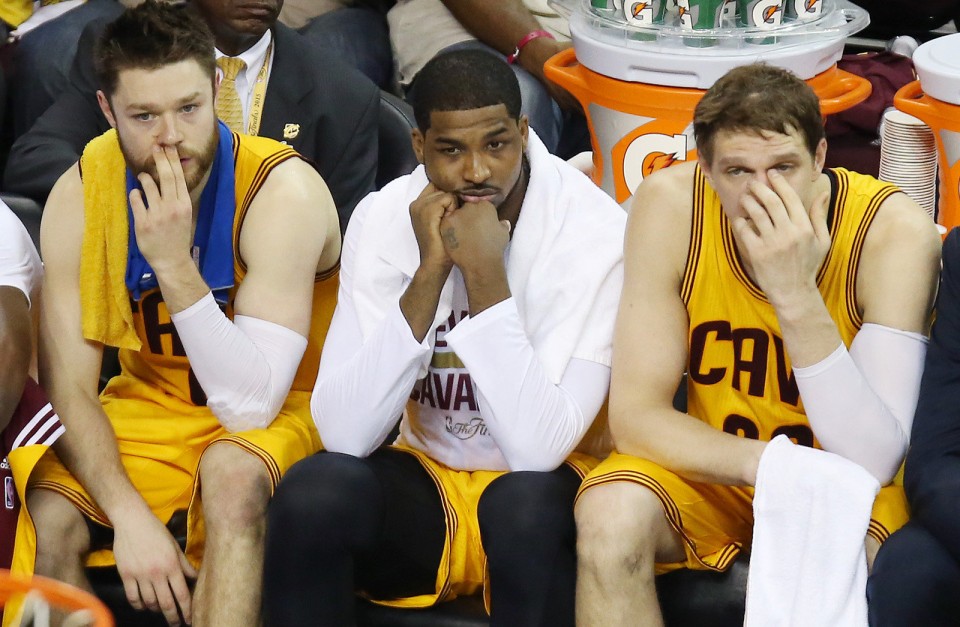 The offseasons of championship teams are rarely exciting. For the most part, they are where they are because they have found multiple star players that fit with their team, and those players cost a ton of money. In a salary cap league, (no matter how high that cap may be) there is little room for a team that has already found a championship formula to add significant pieces. In fact, more often than not, championship teams end up losing pieces to lesser teams trying to pick the scraps of their bench. The key to sustaining the same level of winning is to keep your stars happy and do your best to replace the guys you lose at the cost of winning.
By becoming the first team ever to come back from a 3-1 series deficit in the NBA Finals, the Cleveland Cavaliers fall into this category now.
We've already seen the trimming of Cleveland's bench begin. The Los Angeles Lakers signed Timofey Mozgov to a monstrosity of a contract, and the Milwaukee Bucks hit Matthew Dellavedova with an offer sheet that GM LeBron quickly decided wouldn't be matched via a congratulatory tweet. These aren't losses that sink a team, but the little things can add up.
The good news is Cleveland mostly kept its core together long term last year on deals that will continue to look better as the cap goes up this year and next. The bad news is once LeBron James signs his annual two-year max deal with a second year player option, the Cavs will already be over the salary cap. This means that outside of a few small CBA loop holes such as the luxury tax payer's mid level exception, the Cavs will not be able to add any outside players on non-minimum contracts. However, they can continue to go over the cap to sign their own players (I.E. J.R. Smith).
Smith was inconsistent in the NBA Finals this year and last, but besides that, he's mostly played the best two-way basketball of his career in Cleveland. He's probably going to end up being more pricey than the Cavs would like, but the Cavs don't have any other options, really. The Cavs could deem J.R. too rich for their blood, but then they either go forward with Shumpert as their starting shooting guard (Shumpert posted career lows in field goal percentage and three point percentage last season, per basketball reference.com), or try to convince a starting level wing to take the mid-level exception when they are probably worth three times that on the open market (you've seen the contracts).
Replacing Delly will be hard to do. You might not of thought much of him, but having a back up point guard that isn't a liability on defense and can shoot around 40% from three shouldn't be taken for granted. The point guard market was rough coming into free agency, much less now that a few of the decent ones have been signed. The Cavs might just have to go forward with Mo Williams now, and hope 2nd round pick Kay Felder turns into something. Williams will be fine during the regular season, and he's still a good bench scorer. Lest we forget, this man scored 52 points in a game for the Timberwolves two seasons ago.  But, Williams doesn't bring anywhere near the defensive intensity of Dellavedova. We're nit-picking here, but in the playoffs, every flaw gets highlighted, and every 6-0 run counts that much more.
Mozgov didn't play much last season, but he's a lot better than most 11th men out there. Depth matters, injuries happen. Part of the reason it's so hard for teams to repeat as champions is because injury luck is hard to sustain, and teams lose their depth as their bench players perform more on bigger stages.
The Cavaliers officially have a target on their back in more ways than one. Obviously, they are the champs, they'll get everyone's best effort, yadda yadda yadda. But, their role players are the real targets, and the trimming has begun. There has never been more money out there for average-to-slightly-above-average NBA guys. Heck, even below average guys are too expensive for Cleveland. The Cavs will keep their core together (all the while keeping their ears open in case someone makes a godfather offer for Kevin Love), but the most underrated challenge of continuing to compete for championships is always being able to plug the tiny holes that get left by role players who get plucked off the bench by vultures.

NEO Sports Insiders Newsletter
Sign up to receive our NEOSI newsletter, and keep up to date with all the latest Cleveland sports news.