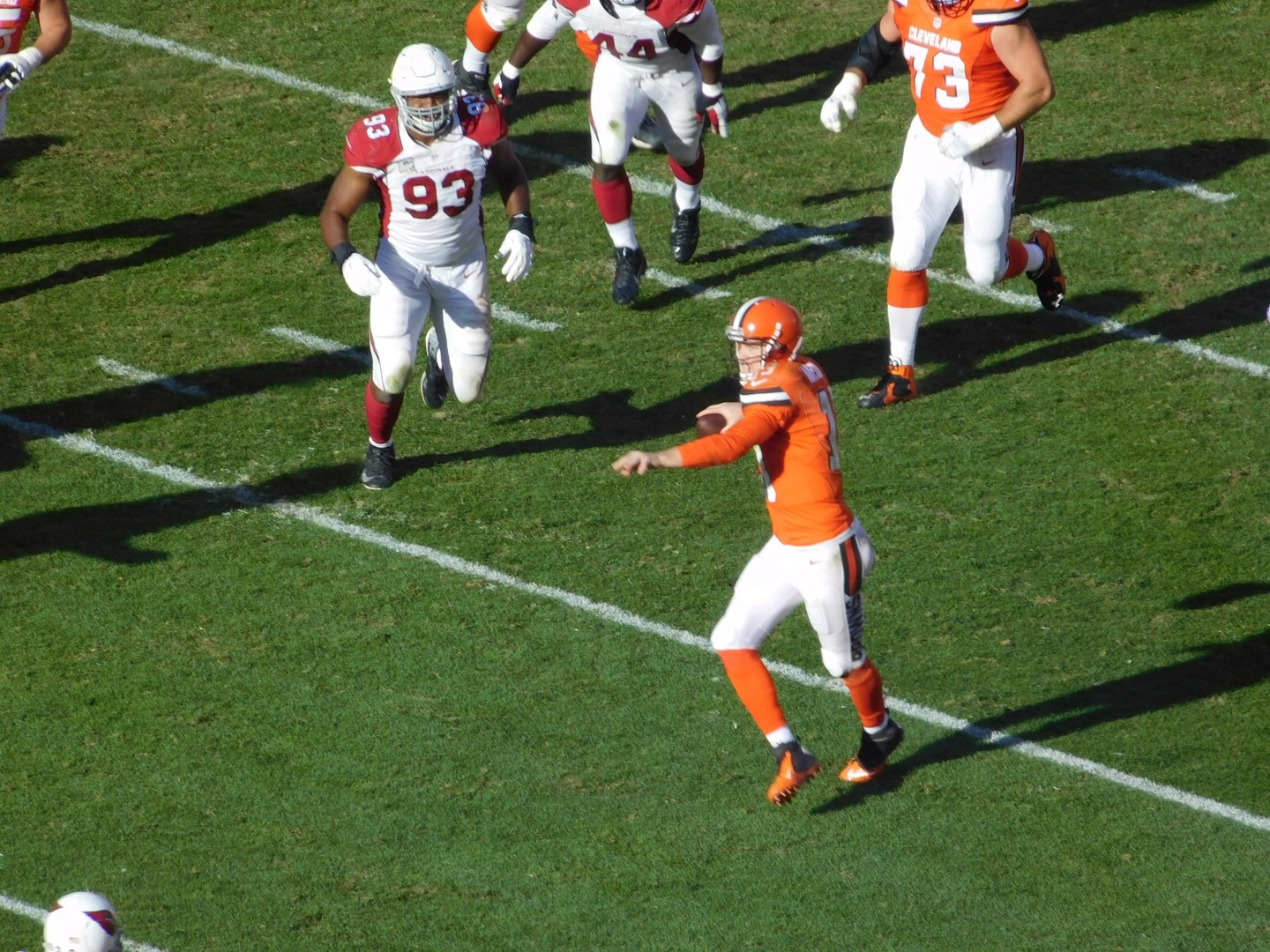 1.) The Quarterback Position is More of a Problem than We Thought
Yes you read that right. It's not meant to be in terms of the on-field play because honestly the QB play for the receivers the Browns have and the protection they have gotten might be the highlight of this team. For that reason though, it becomes a major quandary. McCown was never going to be the long term answer but he has shown that he can step in and still play QB in the NFL. Manziel has shown his good and bad side but now fans will finally get their look at him. If he does well, does he warrant a shot at being the starter next year, or do the Browns in possible contention for a top three pick go for a new franchise quarterback? If he struggles, do you put McCown back as starter with a fresh start and something to play for?
Even if Manziel does well do you want to deal with the off-field stuff with him? Will he fit in the next coach's scheme or will they not want him because he's not their guy? What do you do with Austin Davis that you just gave a contract extension to? Do you go after some free agent QB such as Kaepernick, Cutler, Foles, or RG3 that might be out there? The Browns have gone after veterans in the past like Dilfer, Garcia, Delhomme, and McCown. There are a lot of possible scenarios and factors affecting each one. If they do end up with a top pick do they go QB and get the player but not the need that would immediately help this team win and hope that somehow that QB is the answer. This is going to be a huge problem and major decision for the team going forward. This is right towards the top for quandaries the Browns don't need.
2.) Change is Inevitable
I think the headline says it all. Change needs to happen yet again in Cleveland, but not because ownership is pulling the plug too quick but because it's not working. It starts with the ownership at the top and Haslam saying that he is not going to make any major changes. You have a team that has now lost 13 of its last 15, lost four straight by 14+ and just get slaughtered in the second half. How can you justify keeping this intact until the end of the year. I understand you don't want the backlash of making yet another change, but something has to be mixed up. We know guys are not going to be back at the end of the year, so why not do it now before a bye and give the players two weeks to make adjustments.
Maybe that will light a fire under somebody. Farmer has done nothing to put talent on the field but he gets his own point. Pettine has been terrible at clock management and costing the team several games by not using timeouts when he should or making questionable two point conversions instead of the PAT. He has gotten conservative when the team gets the lead and then the defense almost blows it. The Browns defense gives up the fourth most yards per game and the most running yards per game. Why not fire Jim O'Neil? Everybody knows this staff has done nothing to help this team improve and it shows by seeing every major website dropping us to 32nd in the Power Rankings. Just start the wheels turning and see if you can salvage anything from the season or find some spark at the end.

NEO Sports Insiders Newsletter
Sign up to receive our NEOSI newsletter, and keep up to date with all the latest Cleveland sports news.